Patriotic smoothie! This gorgeous layered Strawberry Banana 4th of July Smoothie will have everyone in your family singing the national anthem!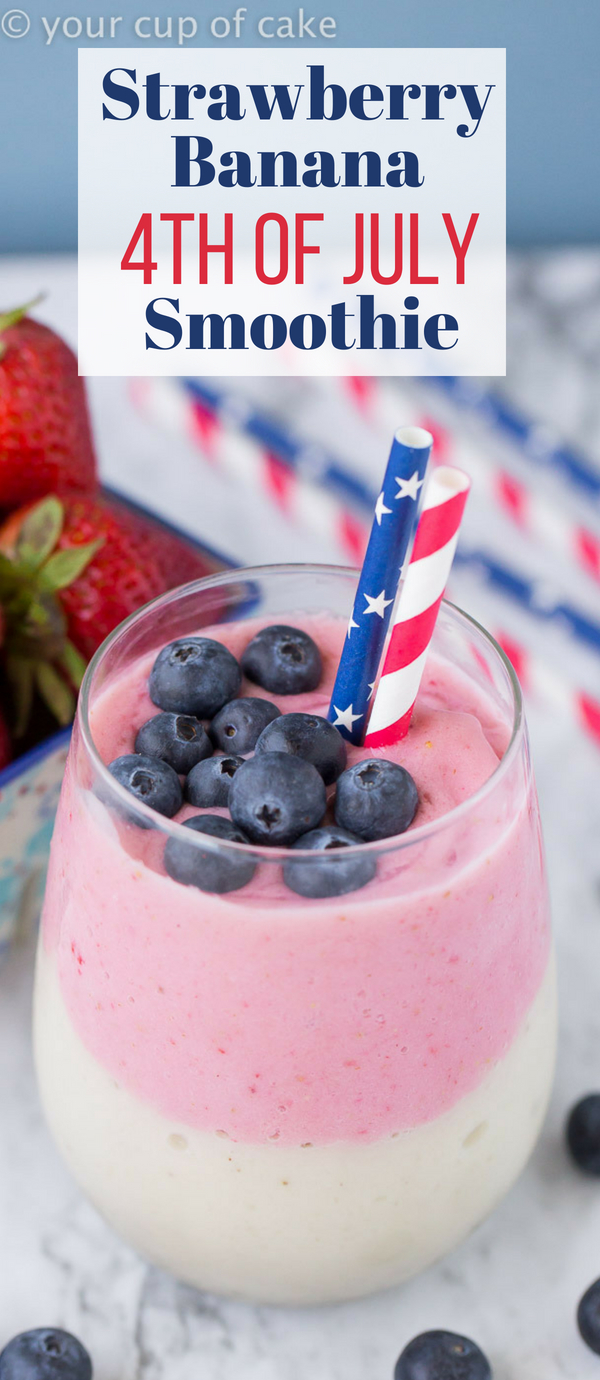 Strawberry Banana 4th of July Smoothie
I love patriotic desserts and foods for the 4th of July!  But I hate having to use a ton of artificial dye to make the colors, so I try to just use fresh fruits and other fun things to achieve the same look!  This Strawberry Banana 4th of July Smoothie has a layer of banana smoothie and then strawberry smoothie topped with blueberries, no dyes in sight! This is the perfect treat, breakfast or snack for the 4th of July! I mean, who can resist a smoothie with those cute straws!? Not me!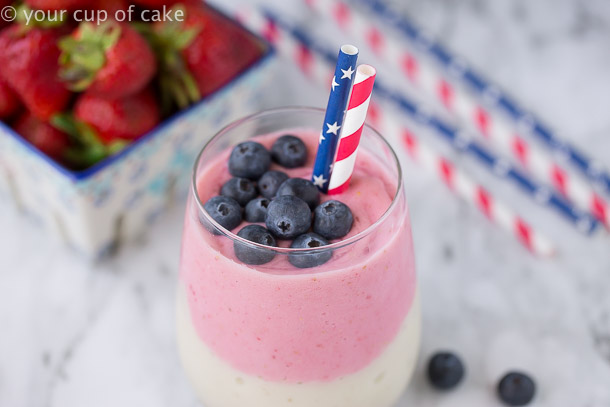 Your Cup of Cake TV
How to Make a Layered Smoothie
There are a few tricks to getting that perfect layered smoothie look.  The first trick is to make sure your smoothies are thick, you can add ice to make sure they don't mix! You can also pour the first layer into your glasses and then give them a quick chill in the freezer.  This lets the top of that smoothie get a little more frozen so it can take the weight of the next smoothie flavor your pour in.  When you pour another flavor on top, do it slowly!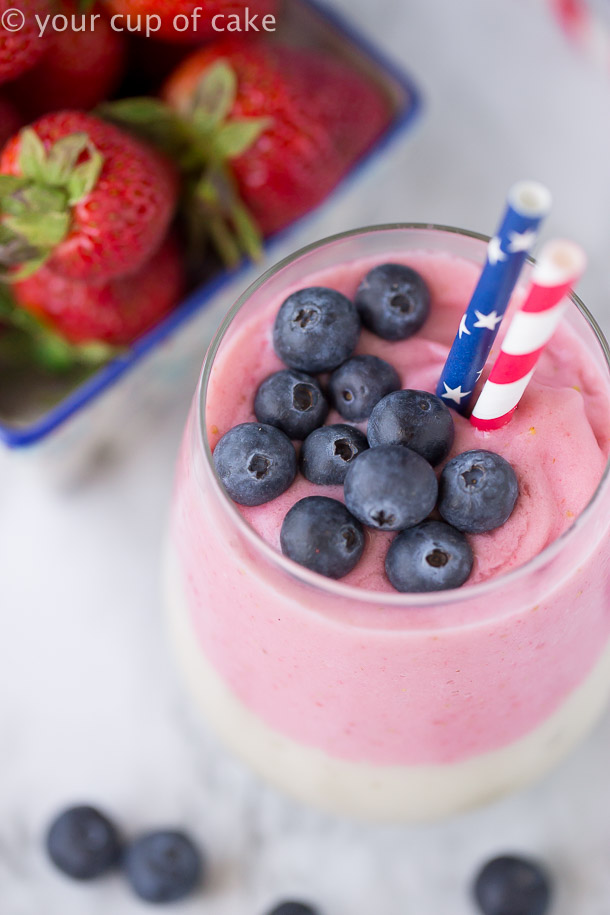 Red, White and Blue Desserts!
I have a handful of fun, easy to make 4th of July cupcakes!  These Red Velvet Cupcakes with blueberries are very popular for all you red velvet lovers out there! I love these Lemon Whipped Cream 4th of July Cupcakes  because I love all things lemon in the summer! These cute Fruity 4th of July Cupcakes would be really fun for kids to help decorate because I feel like the raspberries look like fireworks almost!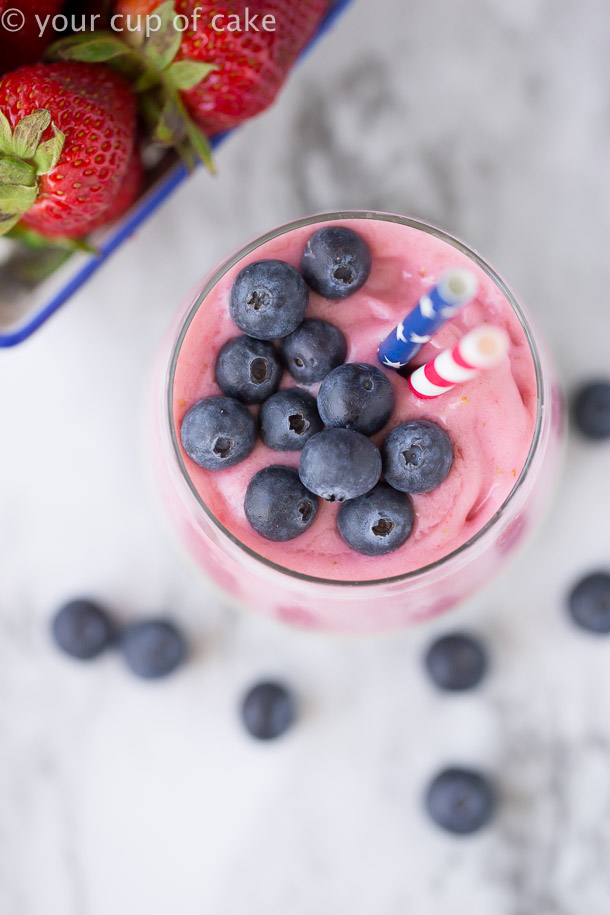 I have a whole bin of these super fun straws and I love being able to mix and match to make the perfect combo for these cute smoothies!  The blue stars with the red stripe looks exactly like the flag! I love it!  All these little details really bring a holiday creation together.  I hope you all have the greatest 4th of July this year!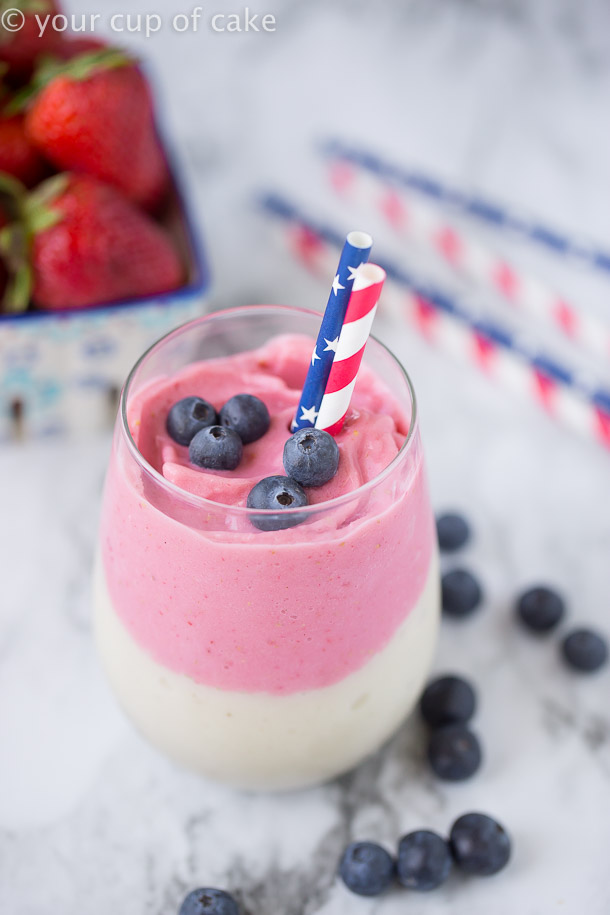 Enjoy my Strawberry Banana 4th of July Smoothie!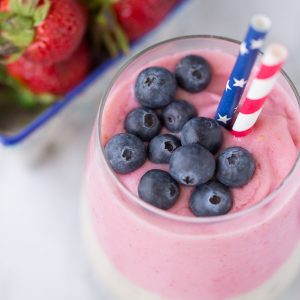 Strawberry Banana 4th of July Smoothie
Ingredients
BANANA SMOOTHIE

1

frozen banana

sliced

1/3

C.

milk

almond milk or coconut milk

1/3

C.

vanilla greek yogurt

1

C.

ice

STRAWBERRY SMOOTHIE

1

C.

frozen strawberries

1/3

C.

milk

almond milk or coconut milk

1/3

C.

vanilla greek yogurt

1

Tbsp.

honey

1

C.

ice

if needed to make thicker
Instructions
1. Blend banana smoothie ingredients together and pour into glasses. In order to make the layered look, your smoothies need to be somewhat thick, add more frozen banana or ice to make thicker it needed.

2. Blend strawberry smoothie ingredients together (no need to wash out your blender after making the banana smoothie) and slowly pour into glasses over banana smoothie layer.

3. Top with blueberries for the perfect red, white and blue smoothie!