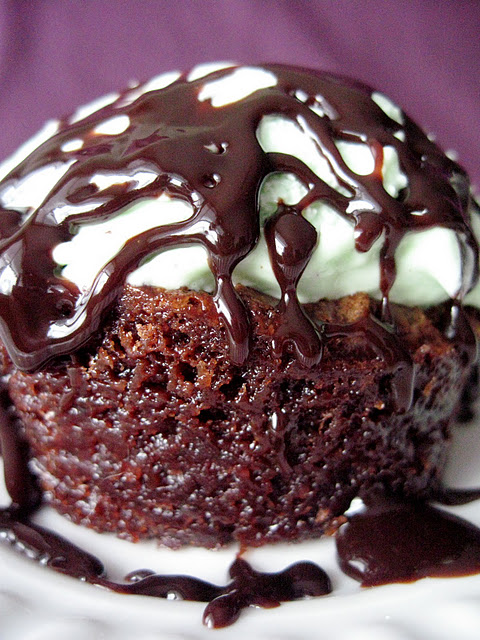 Over a month ago I started to play around with the idea of an ice cream cake. Because I mean, who doesn't love ice cream?
Once upon a time I saw Giada (from the Food Network) make a dessert with a brownie base, ice cream, and then a chocolate layer. So I decided to give it a go… and to call it a cake, when it's really just a brownie with a lot of lovin'.
I first made a raspberry chocolate cake, then a caramel cake with caramel sauce, and then my best friend surprised me with these adorable mint chocolate mini cakes with hot fudge.
You can make it any flavor you want by changing the ice cream, or mixing in jams, jellies, or candies into vanilla ice cream.
Mix in peanut butter, jams, or crunched candy to vanilla ice cream to find your perfect flavor!
5 tablespoons unsweetened cocoa
½ tablespoons lemon juice
3 ½ cups powdered sugar, sifted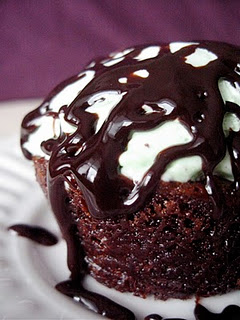 1.
Preheat oven to 350 degrees.
2.
Brownies: Melt butter and let cool (so that it doesn't cook the eggs)
3.
Sift together sugar, cocoa, flour, baking powder, and salt.
4.
Mix in eggs and vanilla.
6.
Using a regular brownie pan, cut a piece of parchment paper so that when you push down the paper into the corners of the pan, it will cover the sides and then stick up about 1 inch past the pan.
7.
Push the parchment paper down into the pan and crease it as well as you can so that when you pour the brownie mix in, it will not creep into the creases. It won't be perfect, but don't stress. (The parchment paper make the cutting process of the cake totally headache free.)
8.
Pour in brownie mix and bake for about 15 minutes. You want your brownie to be UNDERCOOKED. Because once it's frozen, it will be chewy instead of crunchy.
9.
Place the brownie in the freezer once it is cooled and mix your ice cream. (If you don't mix your ice cream, let it sit out so that it becomes spreadable.)
10.
Spread your ice cream over the chilled brownie and put in the freezer for 4 hours or until it becomes firm. (Don't think you can cheat the 4 hours, it will not work out, I tried…)
11.
Ganache: Sift powdered sugar into a bowl and set aside. Melt butter and add cocoa, milk, and lemon juice. Bring to a boil and pour over powdered sugar and whisk until smooth. Stir in vanilla.
12.
Let cool for about five minutes and then pour over ice cream layer and freeze again. This will only take about 10 minutes for the ganache to firm.
13.
To cut cake, lift the cake out using the parchment paper. Serve with hot fudge or caramel.
(If you want to make the mini cakes, bake your brownies in muffin tins, let cool and place a scoop of firm ice cream on each mini cake and freeze until ready to serve.)