The Story:
Maybe I am weird, but I dream of perfect banana bread. You know the kind you can get a beautiful slice of from a bakery or a little coffee shop? Bread that is dark, dense and moist and exploding with flavor…
Well, I did a little banana bake-off this week. I found two highly reviewed recipes and gave them both a shot. The first one was really good, but the second was pure heaven (I've since found the best banana bread recipe ever). You can get the first recipe at All Recipes, and there is a photo of it below.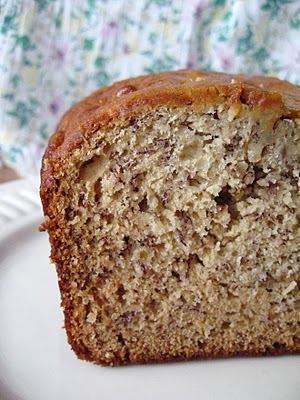 I found the second recipe at All Recipes as well, but I did alter it a little.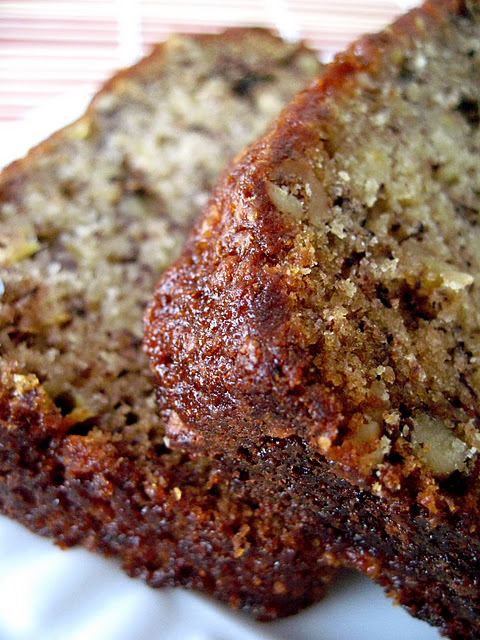 Ingredients:
2 eggs beaten
1/3 cup milk
1 teaspoon lemon juice
½ cup oil
1 ¼ cup mashed ripe bananas (I used 2 medium, 2 small)
1 teaspoon vanilla
1 ½ cup sugar
1 ¾ cup flour
1 teaspoon baking soda
½ teaspoon salt
2/3 cup chopped walnuts
Directions:
1. Preheat oven to 340 degrees.
2. Prepare your loaf pan by cutting a piece of parchment paper to fit the bottom, then grease the sides of the pan.
3. In a large mixing bowl, beat eggs.
4. Pour milk into a measuring cup, not quite measuring 1/3 and add lemon juice to the milk to let sit for 2 minutes.
5. Add oil to eggs and beat again. Add milk and vanilla and beat again.
6. Mash bananas thoroughly and add to eggs, oil and milk.
7. In a separate bowl, sift sugar, flour, baking soda and salt together. Slowly stir into wet ingredients. Mix only until incorporated.
8. Fold in walnuts.
9. Pour into prepared loaf pan and bake for about 1 hour and 20 minutes or until an inserted knife comes out clean.
10.Let cool for 30 minutes, then run a knife around the edges and turn pan over to release bread. Put in an air-tight container, the container will steam, but this helps to keep the moisture in.
Love this banana bread? See this updated recipe for my Banana Bread!