The 4th of July is almost here! Enjoy this delicious Red, White & Blue Lemon Texas Sheet Cake topped with cherries, blueberries and an almond frosting!

Red, White & Blue Lemon Texas Sheet Cake
I have always been a lover of Texas Sheet Cake. The way the frosting and the cake blend together is like a party for my tastebuds. With the 4th of July right around the corner I wanted to try a recipe I've been dying to make! This Red, White & Blue Lemon Texas Sheet Cake has a lemon cake with an almond frosting. I love patriotic desserts but what I love most is keeping them dye-free. So I added the red and blue using blueberries and cherries! You could swap in strawberries instead or even use the sheet cake to make an American flag design! So many fun options with this 4th of July dessert!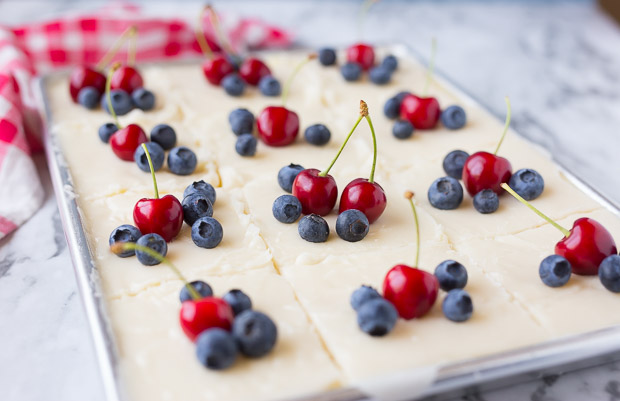 White Texas Sheet Cake
Texas sheet cake is traditionally chocolate cake with chocolate frosting. This is a white sheet cake but it is made using the same techniques by boiling the butter and pouring the frosting over the hot cake. I'm fairly obsessed with this cake now. A friend of mine tasted it yesterday and immediately texted me saying "Best cake of my life." You won't want to miss out on this Red, White & Blue Lemon Texas Sheet Cake!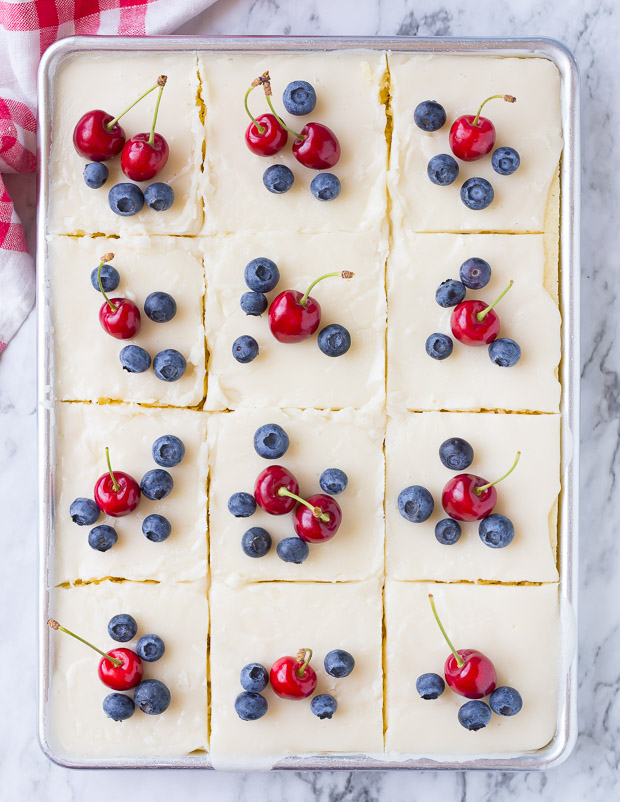 Lemon Almond Texas Sheet Cake
I actually used mini sheet pans when I made this because I wanted to take half to my aunt! You'll get about 24 large pieces instead of the 12 you see in the photo. You can even bake this in a casserole dish if you don't have a sheet pan handy! The only change in the recipe would be giving it a few more minutes in the oven!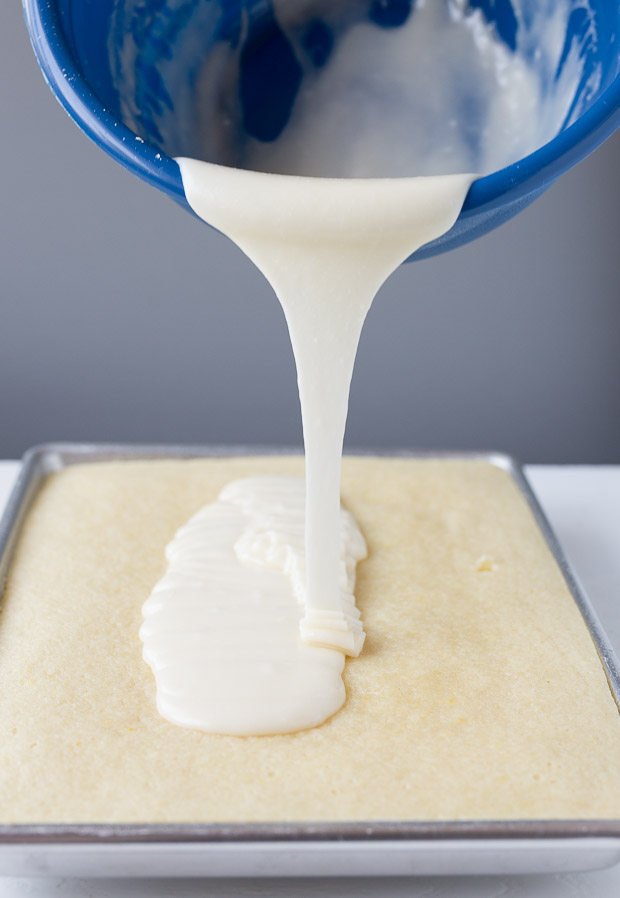 Parker and I went cherry picking here in Utah yesterday so of course I had to whip up something to put them to good use! But our favorite thing to make with cherries is cobbler, so we'll have to do that this week when my sweet Mama comes to town. Does anyone else love adding a little almond extract to their cherry cobblers?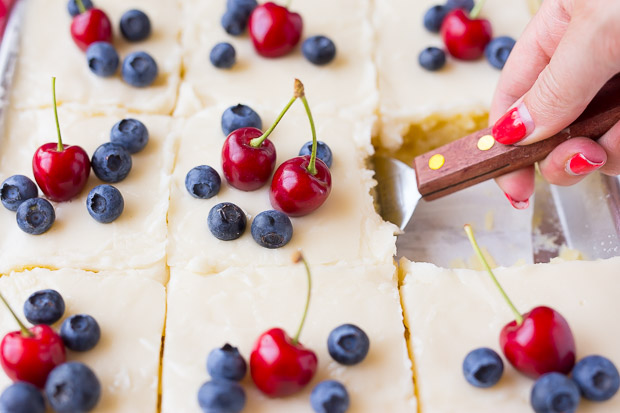 I noticed when I was editing these photos that I accidentally arranged a little smiley face on this piece! Whoops!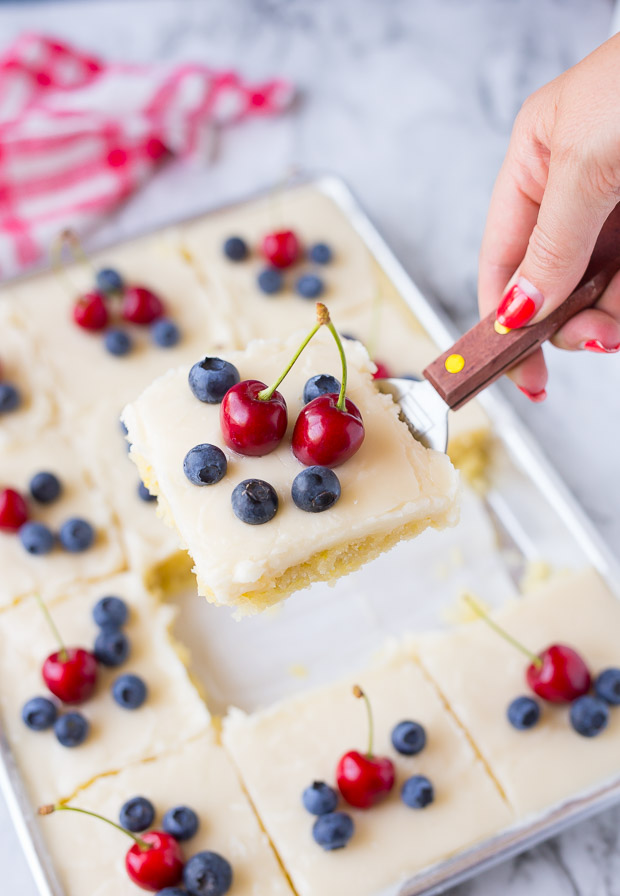 Luckily I gave all this cake away because if I hadn't I would still be eating it! It was that good.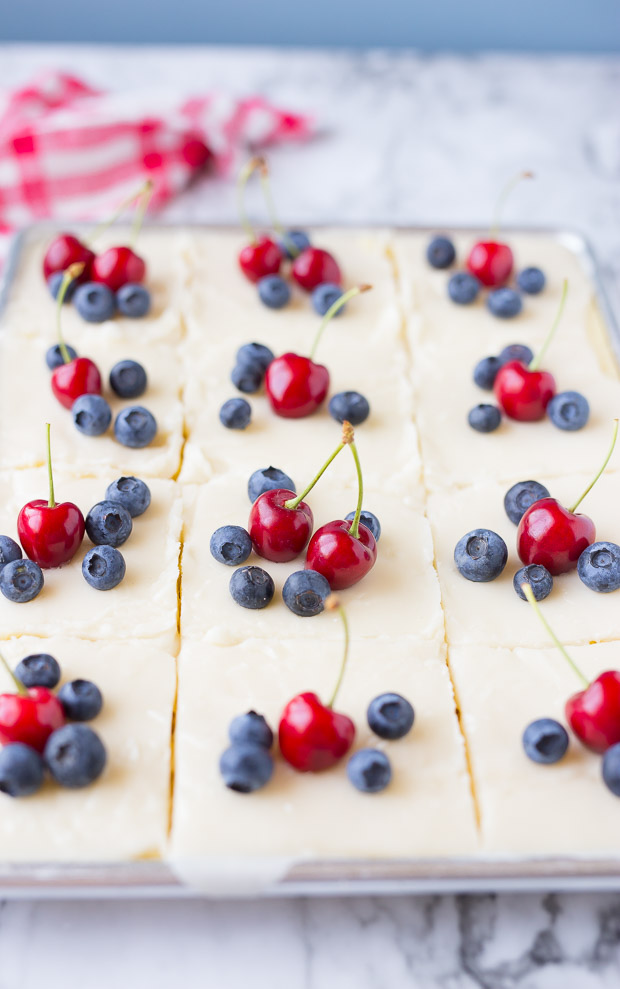 Enjoy my Red, White & Blue Lemon Texas Sheet Cake with your family this 4th of July!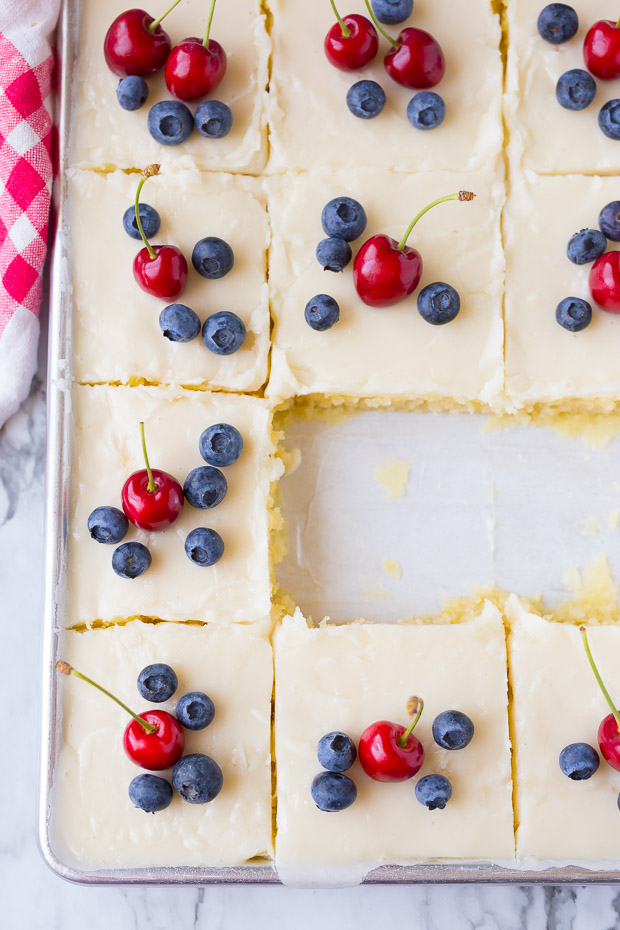 Red, White & Blue Lemon Texas Sheet Cake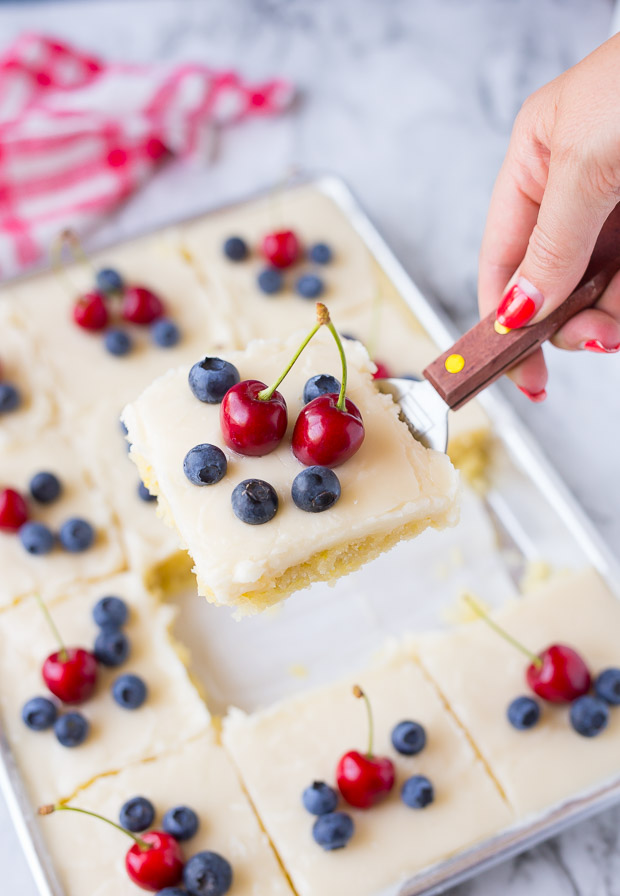 Ingredients
LEMON TEXAS SHEET CAKE:
2 C. flour
2 C. sugar
1 tsp. baking powder
1 tsp. salt
1/4 tsp. baking soda
2 eggs
1/2 C. sour cream
lemon zest of 3 lemons
1 tsp. vanilla extract
1 C. butter, cubed
1 C. water
FROSTING:
1/2 C. butter
1/4 C. milk
1/2 tsp. vanilla extract
1 tsp. almond extract, optional
4 C. powdered sugar
Directions
1. Preheat oven to 375 degrees and grease a sheet pan, I actually used 2 mini pans.
2. In a large bowl, combine flour, sugar, baking powder, salt and baking soda.
3. In a small bowl, whisk together eggs, sour cream, lemon zest and vanilla extract until smooth.
4. In a small sauce pan, add butter and water and bring to a boil. Then add to dry ingredients and stir to combine and then add in egg mixture and stir again. (Note: don't wash your butter sauce pan, you can use it to make the frosting.)
5. Pour into pan and bake for 18-22 minutes or until and inserted toothpick comes out clean.
6. FROSTING: While the cake is baking make frosting. Add butter to your sauce pan (the same one you melted the other butter in) and milk. Bring to a boil. Pour into a bowl with vanilla extract, almond extract and powdered sugar. Whisk until smooth. Pour frosting over your cake right after you pull it out of the oven! East warm or let cool. Top with blueberries and cherries (or strawberries) for a patriotic look!
Copyright © YourCupofCake