I found it. The best Pumpkin Pie Bar recipe. Let me tell you why this is the best one. It starts with the crust, this crust is a shortbread crust. It's way too easy to make (You'll be like "Whaaaaaat? That was it?!?!") and you just dump it into the pan and press flat! No rolling out pie crust and covering your whole kitchen counter with flour. There also is plenty of crust! I feel like the standard ratio in pumpkin pie is off. I love pumpkin filling, but I need some more flakey crust in there to eat it with. So basically, this crust is awesome. Then the pumpkin pie filling is topped with a cream cheese swirl, making these Pumpkin Cream Cheese Pie Bars. When you're eating it, you'll realize just how genius that cream cheese is. That little tang you get from it balances out the sweet filling and the crumbly crust so perfectly! It's just magical. I called my mother after I made these pie bars and told her this is how we're making pumpkin pies this year for Thanksgiving. I'll just make 2 pies with this recipe, press the crust up the side of the pie pan and adjust the baking time. Viola!
I meant what I said, this really is my new favorite pumpkin recipe! I'll be making this for my Thanksgiving this year! I'll half the recipe and press the crust into a pie pan! The gorgeous swirls of cream cheese will make this the prettiest dish at dinner… sorry turkey. I know I photographed the pie with a cinnamon whipped cream, but you honestly don't even need it. The cream cheese serves as the creamy component and the stripes on top of the pie bars are so fun! You could even get creative and write a name or a "Happy Thanksgiving" using your cream cheese if you want! (If you add 1 more tsp. of milk you can get a little better control if you want to write messages.)
I've seriously been dream of these Pumpkin Cream Cheese Pie Bars since I made them.
I baked this a few times in different pans and let me tell you, not all pans are created equally! I first made it in a standard glass 9X13 and it worked great! And then you'll see in the video I made it a ceramic pan that was sort of 9X13 but on the small side (because its decorative and curves) and it took decently longer to bake… So, if you have the standard 9X13 of any material, use that! Don't risk it by putting it in a slightly smaller cuter pan! But if all you have is a smaller pan then don't use all the filling! You can make some mini pie cupcakes on the side if you want 🙂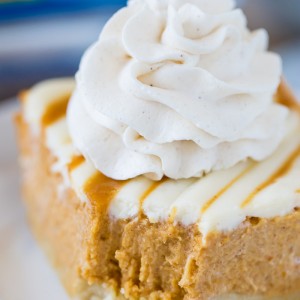 Pumpkin Cream Cheese Pie Bars
Ingredients
SHORTBREAD CRUST:

2

cups

Pillsbury BEST™ All Purpose Flour

1/2

cup

powdered sugar

1/4

teaspoon

salt

1

cup

Crisco® Baking Sticks All-Vegetable Shortening

PUMPKIN PIE FILLING:

1

can

29 oz pumpkin puree

2

cans

12 oz each evaporated milk

4

eggs

2

teaspoons

vanilla extract

1 1/2

cup

sugar

1

teaspoon

salt

1

tablespoon

pumpkin pie spice

CREAM CHEESE SWIRL:

8

oz.

cream cheese

3/4

cup

powdered sugar

2

teaspoons

milk
Instructions
HEAT oven to 350°F and lightly grease a 9x13 inch pan.

COMBINE flour, powdered sugar and salt using a food processor or a pastry blender by hand. Drop in pieces of cold Crisco shortening and pulse until it looks evenly coarse. (About 8 pulses should do it.)

POUR into baking dish and press flat. (You can use the bottom of a glass or measuring cup to make it smooth)

BAKE for 20 minutes.

PIE FILLING

COMBINE pumpkin puree, evaporated milk, eggs, vanilla, sugar, salt and pumpkin pie spice. Pour over baked crust.

CREAM CHEESE SWIRL

COMBINE cream cheese, powdered sugar and milk. Drizzle over pie filling (I like to use a mini plastic bag to sort of pipe out the filling, watch the video to see what I mean!).

BAKE for 40-50 minutes or until the filling is firm.

COOL and refrigerate until ready to serve. Serve with ice cream or whipped cream!
Recipe Notes
TIP: Most pumpkin recipes are actually better the second day because the flavors have a chance to develop. So this is the perfect dessert to make the night before and then not stress about it the day of the party!
Visit
Crisco.com
or search #CriscoCreators on social media to find more great recipes! If you need help with your holiday baking this year, the Crisco® Pie & Baking Hotline is a great one-stop resource. Just call 1-877-367-7438 for real-time expert advice and tips for all your baking needs.
As a participant of the Crisco® Ambassador Program, I've received compensation for my time and product samples for review purposes. All opinions are my own and I only work with brands that I know my readers will love.
¹See nutrition information for fat and saturated fat content.