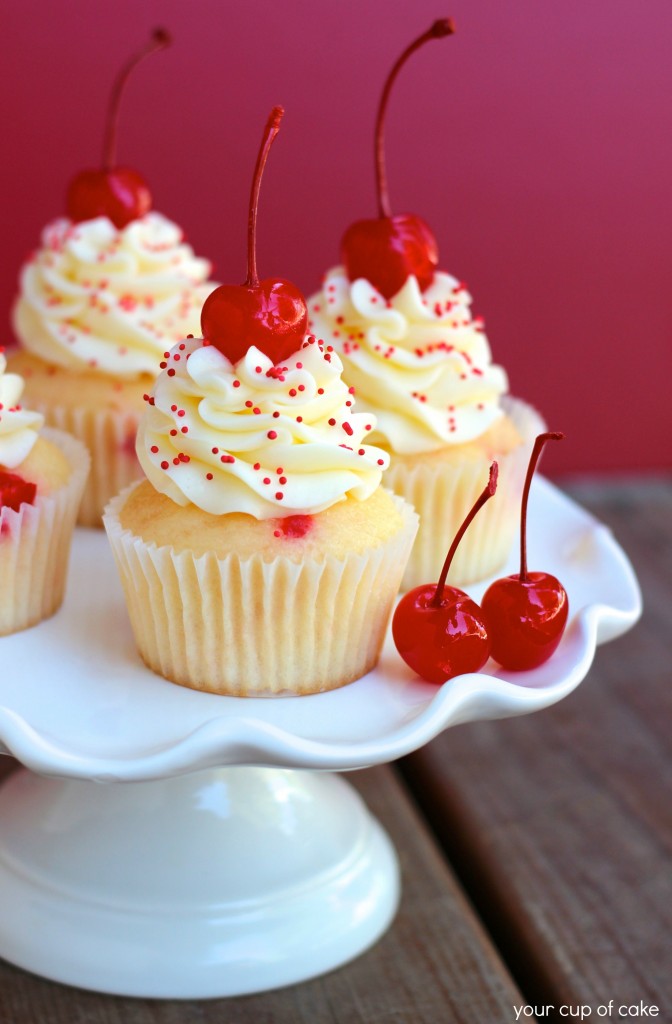 The Story:
I kissed him.
Things had been in limbo for too long. He flirts with me, I flirt with him, he sends me texts saying why it would never work out, I know he's looking for Mrs. Perfect but I can't help but give it a shot… and back and forth the dating game goes.
So I just kissed him.
I told him I wanted to talk, he walked outside and I laid one on him. This way, it's a clean break or a clean start–whatever he wants. I pulled away and all he could do was give me a goofy smile. The boy who always has something to say, the boy who is the life of every party, the boy who won't let you get through a sentence without interrupting was absolutely speechless.
And that was the cherry on top.
(Click to read his side of the story)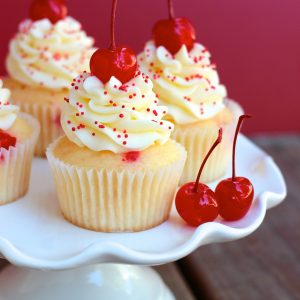 Almond Maraschino Cherry Cupcakes
Ingredients
Almond Cherry Cupcakes:
1

box white cake mix

3

eggs

1/3

C.

oil

3/4

C.

milk or buttermilk

1/2

C.

sour cream or plain yogurt

2

tsp.

almond extract

1

C.

Maraschino cherries

roughly chopped
Almond Buttercream:
1

C.

butter

softened

1 1/2

tsp.

almond extract

3-4

C.

powdered sugar

milk

if needed
20-24 Maraschino cherries with stems for decoration
Instructions
1. Preheat oven to 350 degrees and line pan with cupcakes liners.

2. Sift cake mix into a small bowl to remove any lumps and set aside.

3. In a large bowl combine eggs, oil, milk, sour cream and almond extract until smooth.

4. Stir in cake mix.

5. Fold in chopped maraschino cherries.

6. Fill cupcake liners 3/4 full and bake for 17-22 minutes.

7. Almond Buttercream: Beat butter for 2 minutes. Add almond extract and slowly add in powdered sugar until you reach your desired consistency. If it becomes too thick, add a little milk.

8. Pipe frosting onto cooled cupcakes and top with sprinkles and more Maraschino cherries. Now go kiss your man and feed him a cupcake!