The Story:
I always swore to myself that I wouldn't start doing cakes until I got married. It's a whole other set of stuff and I have zero extra room as it is. Well there isn't a ring on my finger but there will be a cake section in my next cookbook. So I have to start practicing! This was definitely a learning experience. Somehow the cake just kept getting uglier and uglier as I went on. So I have no learned that less is more.
I kept trying to recall episodes I've seen on the Food Network. Paula and Sandra make is seem so easy! I want to decorate using no fondant and doing things that normal people like me and probably you. If you are a pastry chef or a professional baker… I don't consider you "normal."
So what advice do you have? Have a favorite way you like to decorate your cakes? I'm trying to learn the photography as well…
Stay with me, they WILL get prettier. I mean, look at one of my first cupcake posts, they were pretty lame looking…


Banana Chocolate Hazelnut Cake
Servings
3
layer of 9-inch rounds
Ingredients
Banana Cake:
2

boxes white cake mix

6

bananas

ripe and mashed well

6

eggs

1/2

C.

oil

1 1/3

C.

buttermilk or milk

3/4

C.

sour cream

3

tsp

vanilla extract

3

tsp.

cinnamon
Chocolate Hazelnut Frosting:
1 1/4

C.

butter

softened

2/3

C.

chocolate hazelnut spread

Nutella

1

C.

cocoa powder

unsweetened

4-5

C.

powdered sugar

3

tsp.

vanilla extract

2-4

Tbsp.

milk
Chopped Hazelnuts to decorate
Instructions
1. Preheat oven to 345 degrees and line pans with parchment paper on the bottom and grease the sides.

2. Sift cake mixes into a bowl to remove lumps and set aside.

3. In a large bowl, combine bananas, eggs, oil, buttermilk, sour cream, vanilla extract and cinnamon until smooth.

4. Stir in cake mix.

5. Divide evenly into 3 round pans.

6. Bake for about 27-35 minutes or until an inserted knife comes out clean. (I baked two of the pans and then the other one separately.)

7. Let cool completely.

8. To make buttercream beat butter and hazelnut spread. Add cocoa powder, powdered sugar, vanilla extract and add 1 Tablespoon of milk at a time until you reach your desired consistency. You will want a looser consistency than you would have for cupcakes.

9. To assemble, center your first layer of baked cake on your cake plate, then frost the top of that cake...then put another layer of cake...then another layer of frosting...then cake...then frost the entire cake! Use chopped hazelnuts to decorate.
Frosting the second layer..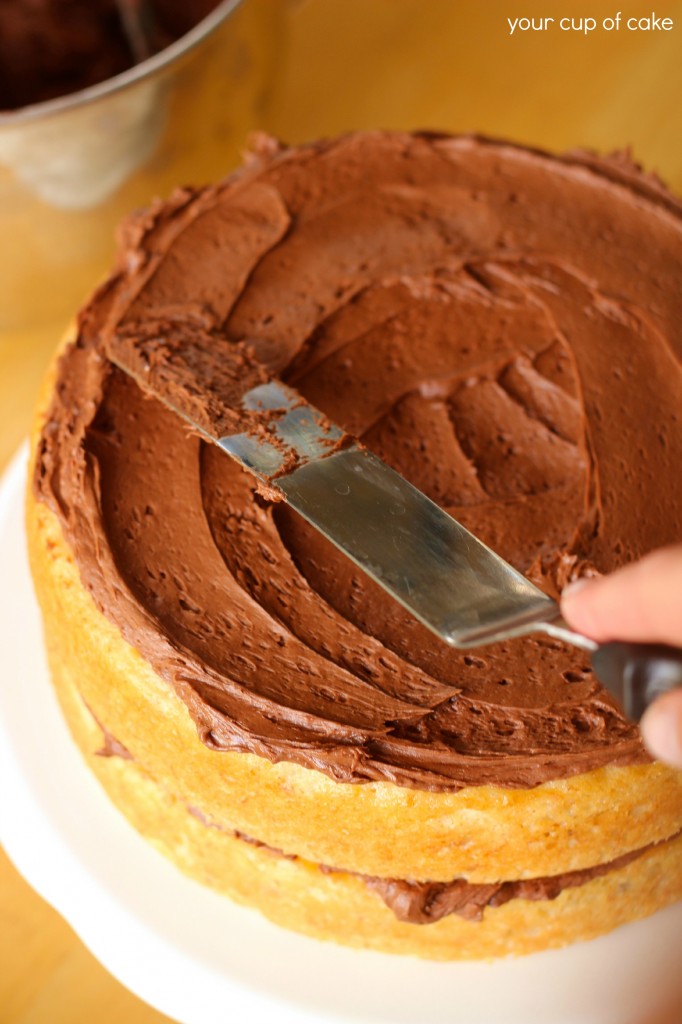 3 Layers…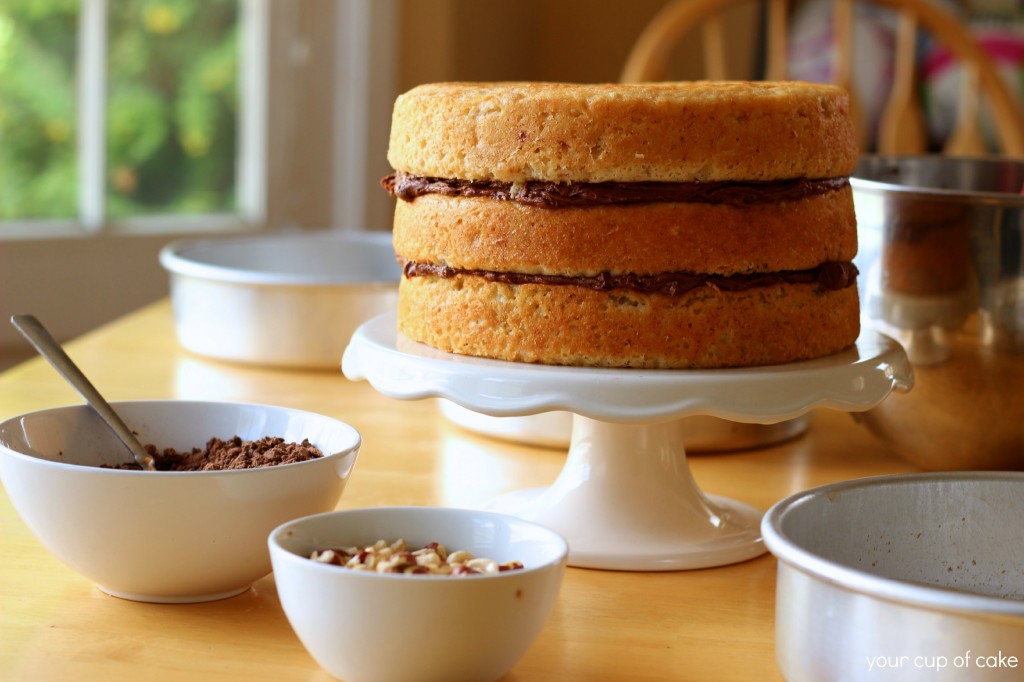 Take little rectangles of parchment paper and slip them under the cake the keep your cake plate clean when decorating (This really did help)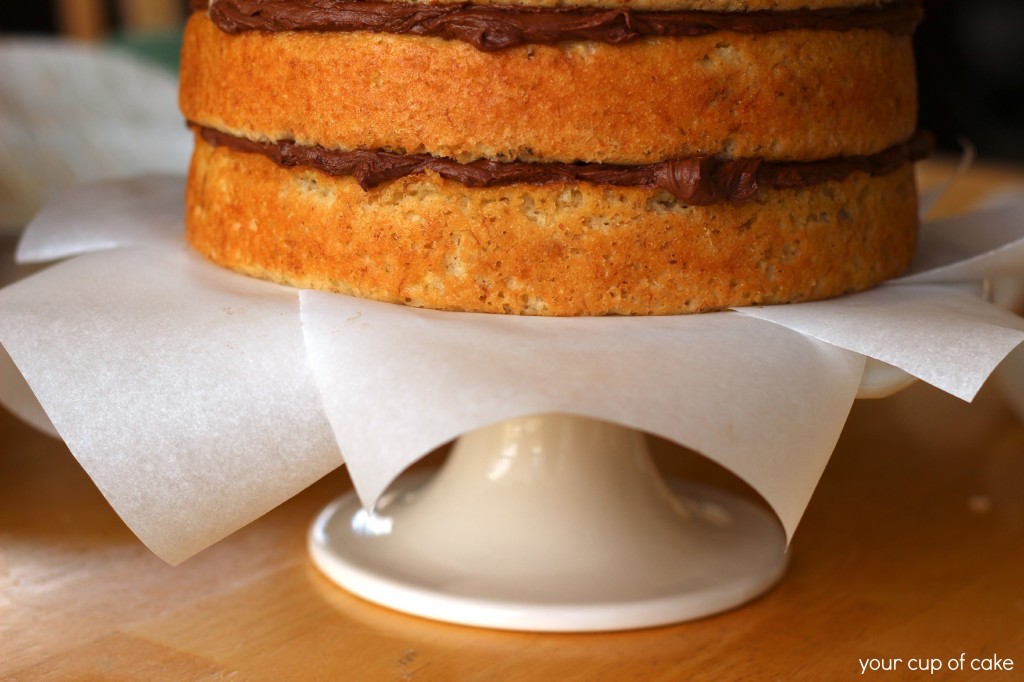 Pretty…(This is when I started to get prideful and thought I could master this)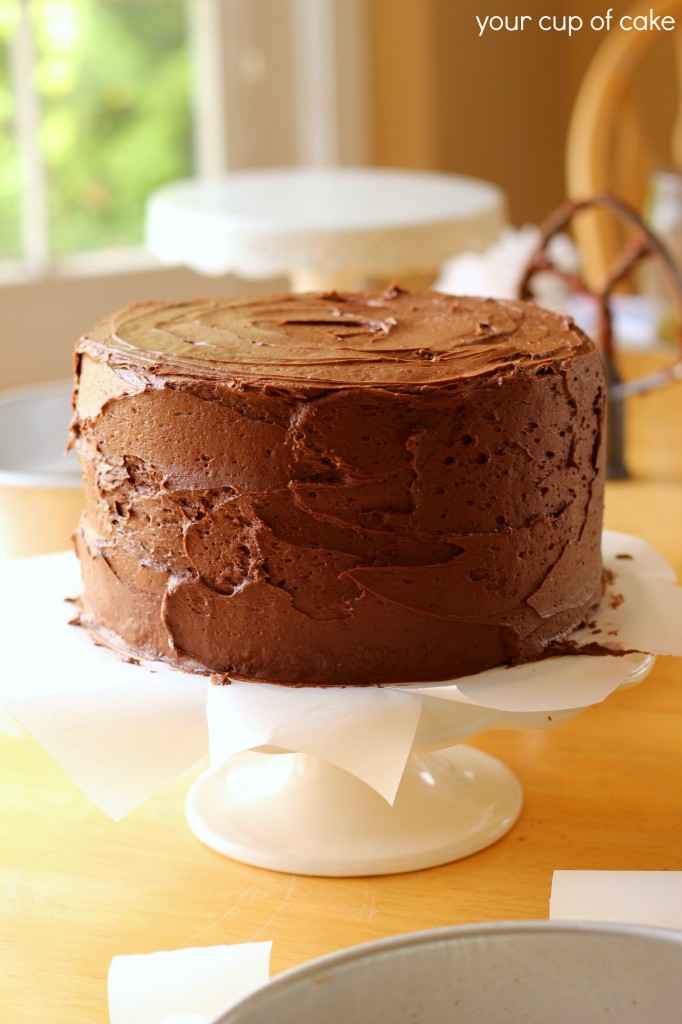 Smothered the outside with chopped chocolate… bad idea. I used melts which MELTED in my hands while I did it (I shouldn't have been surprised) and I think it looked prettier before anyway.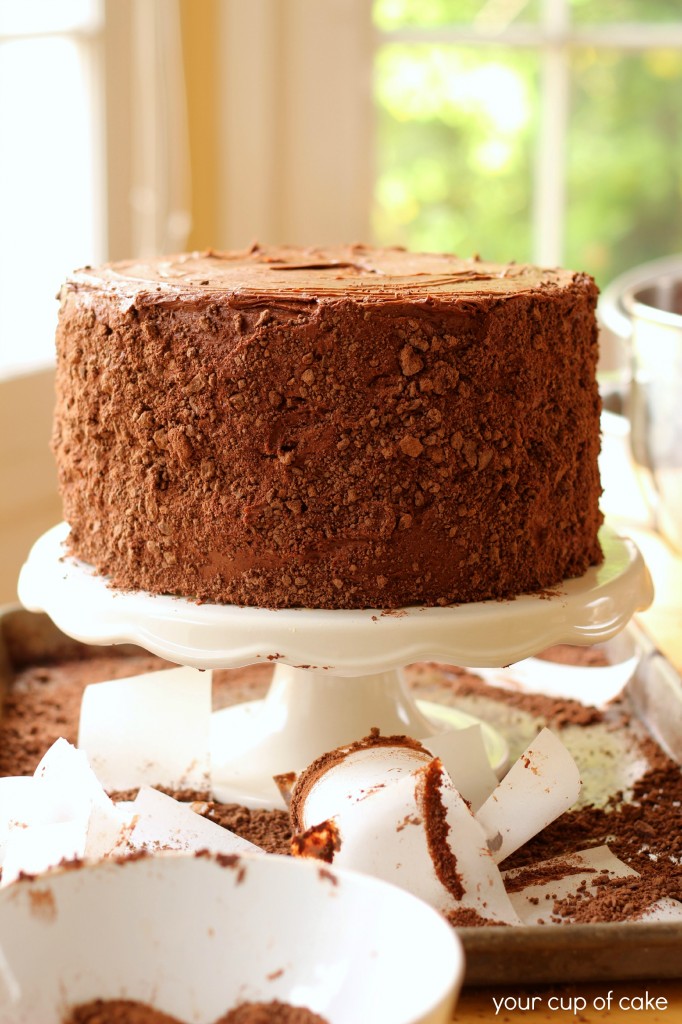 Rimmed the cake with hazelnuts…trying to make it look "fancy"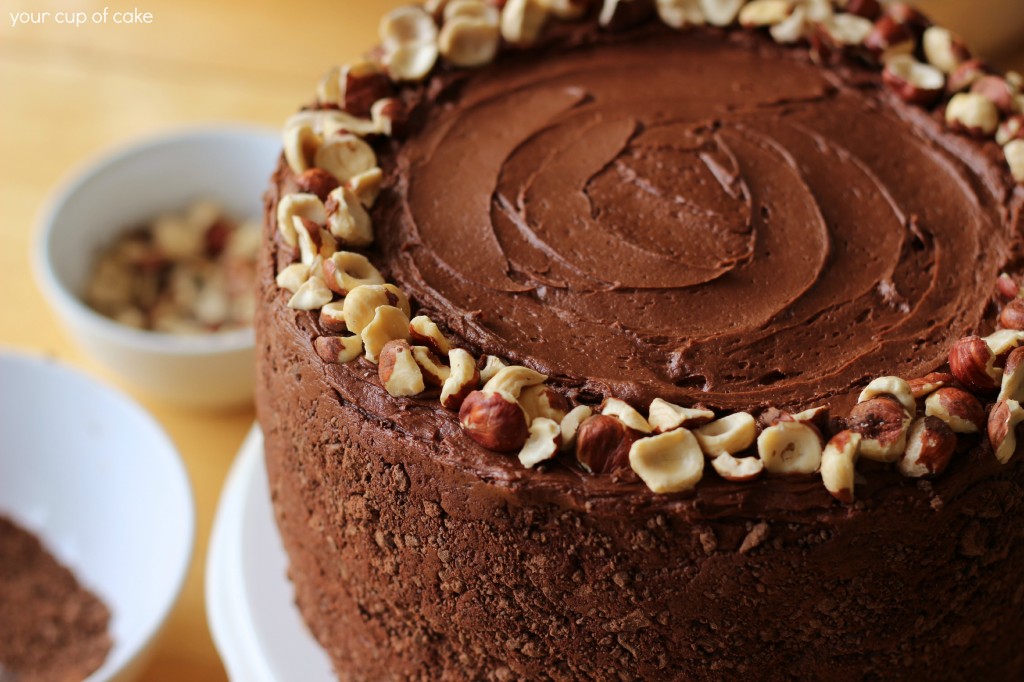 It took a lot of courage to cut through this thing. I need to use more frosting on the inside next time for a better looking slice.
Like I said, I learned a lot this first time venturing into cakes. Learn with me.