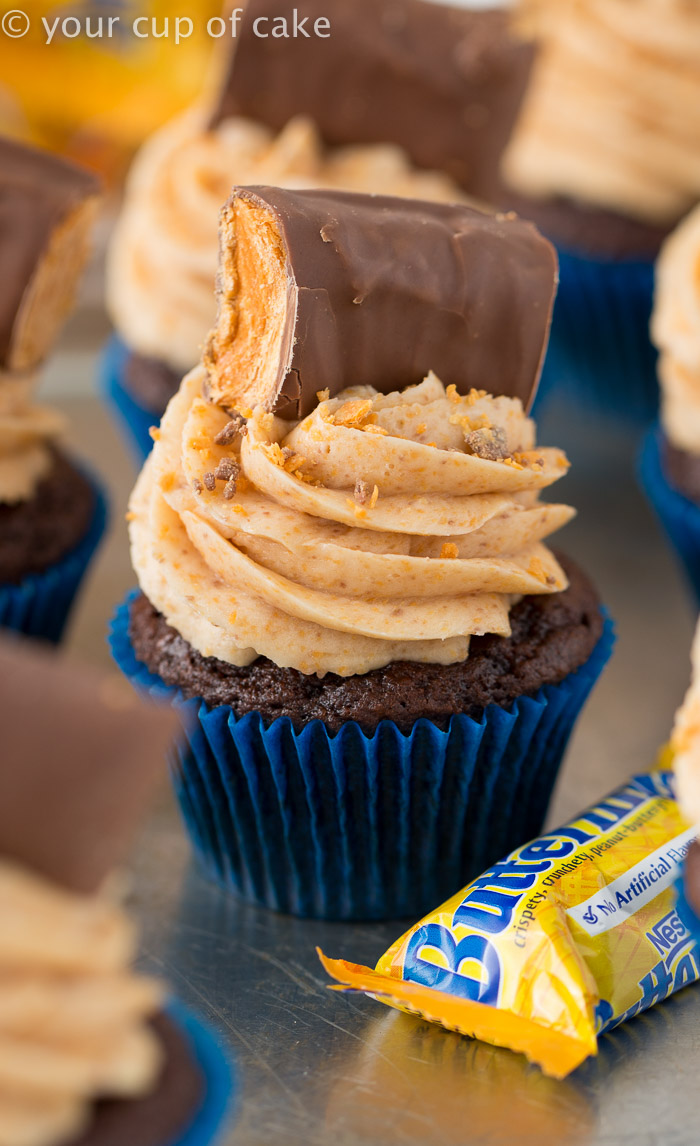 Transforming one of my favorite childhood desserts into a cupcake! Butterfinger Blizzard Cupcakes with the best frosting you will ever make! These disappear when I take them to parties and everyone begs for the recipe!
With Valentine's Day coming up everything turns into red velvet recipes, but don't forget about your man! Give him one of these and he will be yours forever 🙂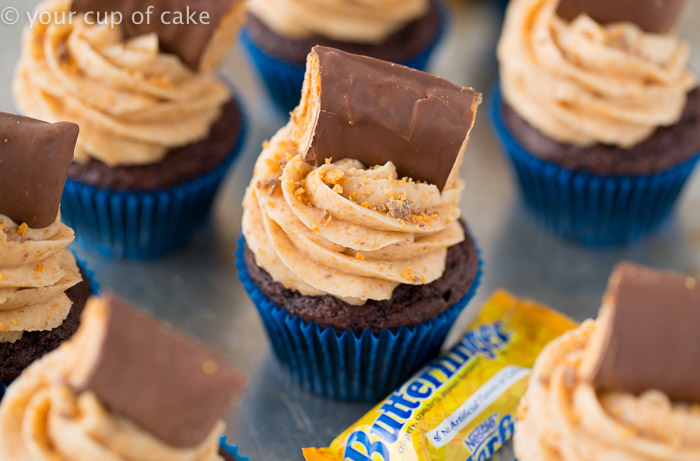 When I was little, my big brothers and I would record for a Christian CD. There were about 15 kids in the studio and we would go in, learn music and then put on these clunky headphones and sing over and over again until it was time to go home. The walls were all painted with strange designs and the director was goofy and made us laugh in between takes. And I was getting paid! I think I was about 7 so making money to sing was like to coolest thing in the world to me! After each session my mother would take us across the street to Dairy Queen where we got Blizzards. There is nothing better than the Butterfinger Blizzard.
I made these using a scratch recipe but I know a lot of you love and prefer cake mix recipes, and I aim to please you all! So here is a cake mix recipe too! (1 box devil's food cake mix, 3 eggs, 1/2 C. oil, 1 C milk, 2/3 C. sour cream, 2 tsp. vanilla extract. Stir and bake for 15-20 minutes at 350 degrees!)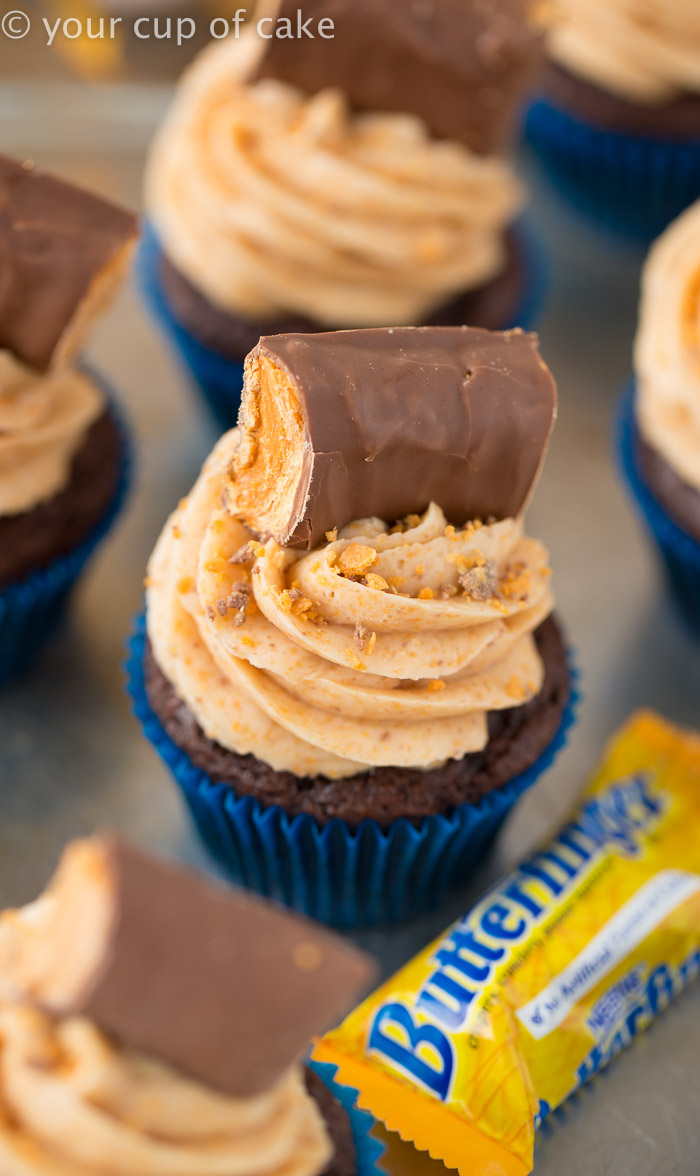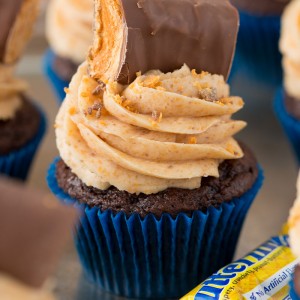 Butterfinger Blizzard Cupcakes
Ingredients
CHOCOLATE CAKE:

For cake mix recipe see above

1 1/2

C.

all-purpose flour

1

C.

unsweetened cocoa powder

1

tsp.

baking soda

1 1/2

tsp.

baking powder

1/2

tsp.

salt

4

eggs

at room temp

1

C.

sugar

1

C.

brown sugar

packed

2/3

cup

oil

1

C.

buttermilk or milk

1

Tbsp.

vanilla extract

BUTTERFINGER BLIZZARD FROSTING:

6-8

fun-sized OR 2 regular Butterfingers

3/4

C.

butter

softened

2-3

C.

powdered sugar

2

tsp.

vanilla extract

EXTRA BUTTERFINGERS FOR DECORATION
Instructions
1. Preheat oven to 350 degrees and line pans with cupcake liners, I used orange to really bring out the Reese's Pieces theme!

2. In a medium bowl, combine cocoa flour, cocoa powder, baking soda, baking powder and salt. Set aside.

3. In a large bowl, combine eggs, sugar, brown sugar, oil, buttermilk and vanilla extract.

4. Pour half the dry ingredients into the wet and stir. Then add the rest of the dry ingredients and stir again. Don't over mix.

5. Fill cupcake liners 2/3 full and bake for 18-22 minutes or until an inserted knife comes out clean. Let cool.

6. FROSTING: First you will need to finely crush your Butterfingers. I popped mine into my blendtec and that did the trick, but you can also use a food processor or put in baggie and whack with a rolling pin! Then use a sifter to separate the finely crushed pieces from the bigger pieces. (See NOTE) Beat butter in a stand mixer then add 2 cups powdered sugar and vanilla extract. Continue to add powdered sugar until you reach your desired consistency and then fold in the finely crushed Butterfinger pieces.

7. Pipe onto cooled cupcakes and top with Butterfingers!

NOTE: If you want to pipe on your frosting using a star tip like my photos, you will only want to use the finely crushed Butterfinger pieces and you can use the bigger pieces as "sprinkles" in the end. But if you will just be putting on the frosting using a knife then you can use ALL the Butterfinger pieces in the frosting!