I made soup a few weeks ago and had a bunch of leftover carrots. I remember my mother telling me a few years ago that soft carrots, though gross to eat plain, make very good muffins and cakes. I realize this might be a lie, given that she would tell me anything just to have me use old things from the refrigerator. But I have chose to believe her.
Carrot cake is one of my favorite things. Light, spicy, with a creamy frosting… nothing can be better.
When I first found this recipe, the whole white chocolate part made me nervous, but after reading the rave reviews, I had to give it a chance.
I am sure you look at my photos and think, "wow, that's a lot of frosting," but you will understand after you make it. It is to die for, I promise.
But if you don't have any white chocolate ships on hand, a regular cream cheese frosting will do the trick.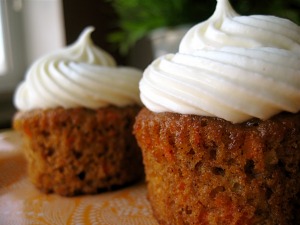 Frosting:
2 oz white chocolate
8 oz cream cheese, softened
½ cup butter, softened
1 teaspoon vanilla extract
3-4 cups powdered sugar
2 tablespoons heavy cream *
Muffins:
2 eggs, lightly beaten
1 1/8 cup white sugar
1/3 cup brown sugar
½ cup oil*
1 teaspoon vanilla extract
2 cups shredded carrot, raw
½ cup crushed pineapple
1 ½ cups flour
1 ¼ teaspoon baking soda
½ teaspoon salt
1 ½ teaspoon cinnamon*
½ teaspoon nutmeg*
¼ teaspoon ground ginger
1. Preheat oven to 350 degrees
2. Frosting: In a saucepan on LOW heat, melt white chocolate. Stir until smooth and let cool until at room temperature.
3. Beat together cream cheese and butter, mix in white chocolate and vanilla.
4. Gradually beat in powdered sugar until fluffy. (Taste along the way so you don't put in too much.) Mix in heavy cream.
5. Refrigerate in a piping bag to chill if the frosting is too soft.
6. Beat eggs, white sugar and brown sugar until smooth. Mix in oil and vanilla. Fold in carrots and pineapple.
7. In a separate bowl, mix flour, baking soda, salt, and spices.
8. Mix the dry ingredients into the carrot mixture until just moistened. Do not over mix. Fold in nuts if desired.
9. Bake 20-25 minutes of until the tops spring back.
10. Let cool and frost.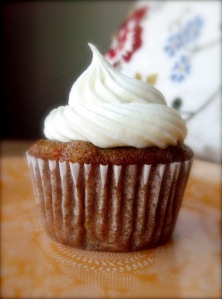 * I did not use heavy cream the first time, I found it unnecessary. For the oil, I used ¼ oil and ¼ applesauce to make them healthier. I used 2 teaspoons apple pie spice instead of cinnamon, nutmeg and ginger. Also, feel free to try the cakes with nuts. I love nuts, but the people I was baking for don't like them. Silly friends…
I used the Ateco tip #867