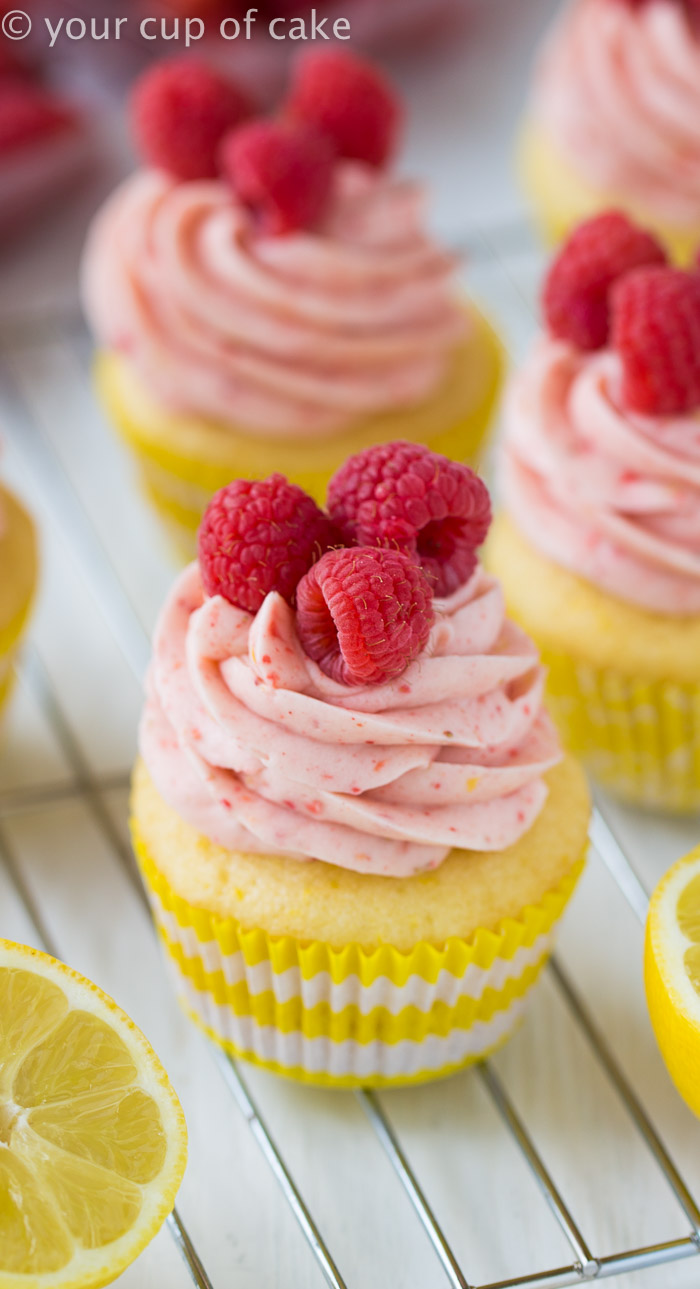 The only thing better than a cold raspberry lemonade are these Raspberry Lemonade Cupcakes! Fun fact: I actually put one in the freezer and had my boyfriend try is cold (like a lemonade) and he loved it!
Okay, first things first. People always ask about my cute colorful liners that keep their color even after baking… well they are from Sweets & Treats! They never let me down!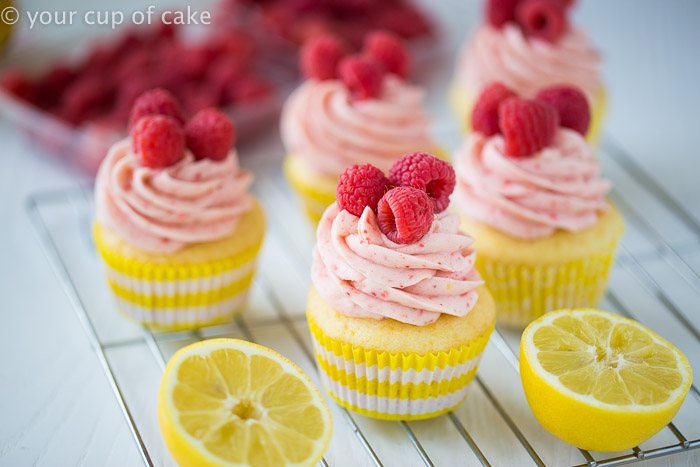 You know I love cake mix recipes, but this one I have a scratch and cake mix version depending on what you want! Both recipes are incredible, light and fluffy!
If you follow me on instagram you know that I always do these "holding" photos for my #lizzylovesthis posts! How adorable do these cupcakes look on my TJ Maxx stand? Perfect for a bridal shower this summer!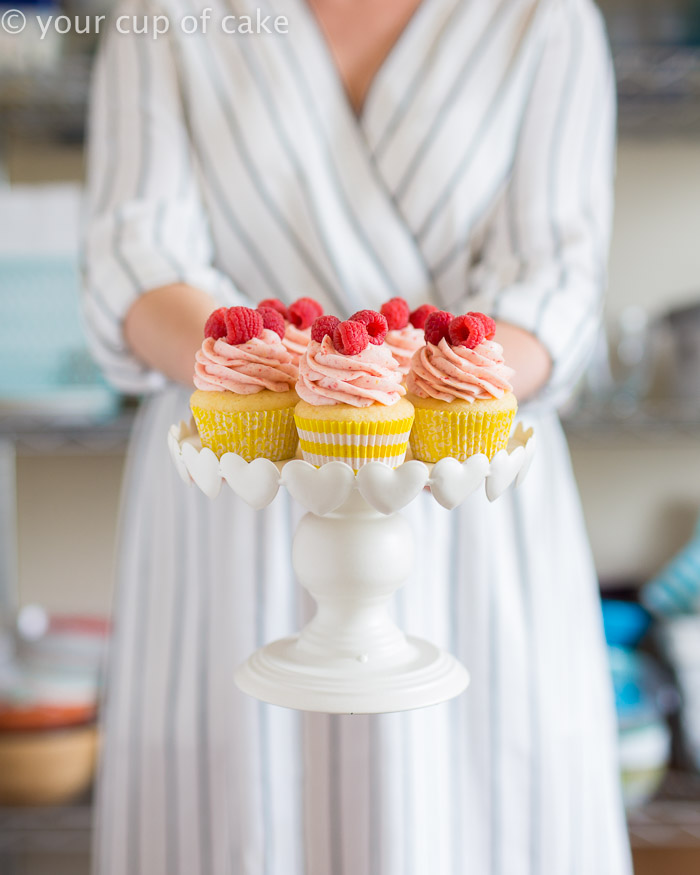 I've made some raspberry lemonade cupcakes before on the blog but this is an updated recipe and much more gorgeous… sometimes I cringe a little looking back at old photos! Plus, I wanted to give you a few option for this frosting. You can make it using jam, jelly, fresh puree (which is just zipping some berries with a blender), jello powder or my favorite way which is using freeze dried berries. You can check out how to do that on my Best Strawberry Frosting post (just use raspberry berries instead!) But let me address the jello powder real fast. Yes, there's artificial flavors and colors in there, but it's a great way to pack a punch in your buttercream frosting! Sometimes I'll use puree and then add a teaspoon or two of the raspberry jello powder just to give it a boost! Berry frostings can be tough because of all the moisture in berries. You can't add too much or else the frosting will get runny!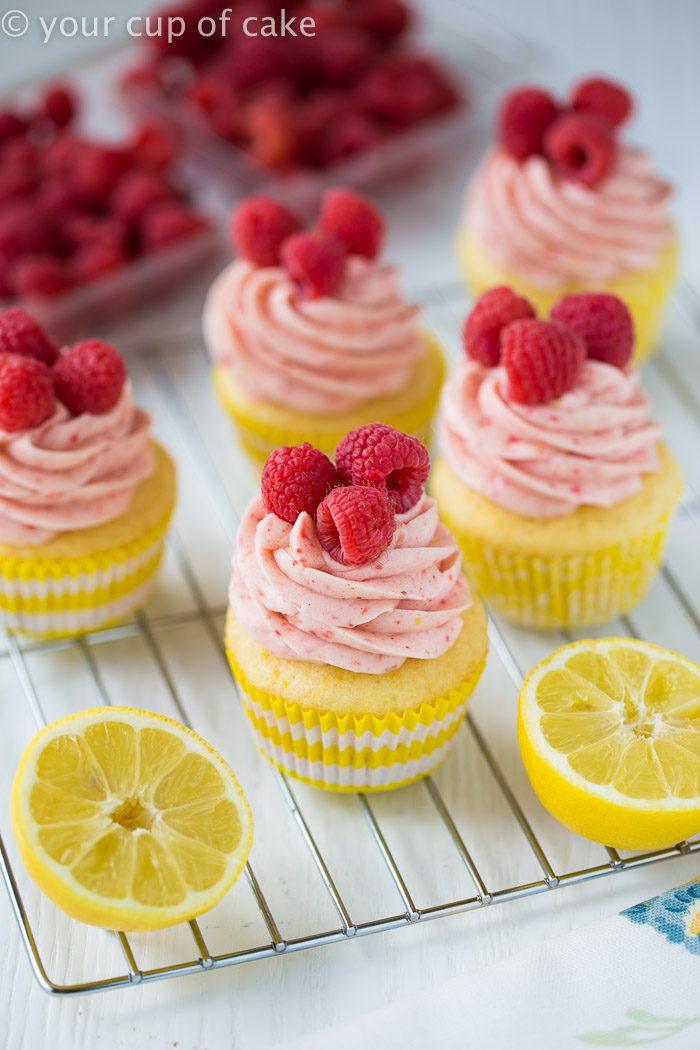 Quick Cake Mix Version:
1 box white or yellow cake mix (you can use lemon but I prefer to add fresh lemon)
3 eggs
1/3 C. oil
1 C. buttermilk or milk
zest of 3 lemons
2 Tbsp. fresh lemon juice
Mix and bake at 350 for 15-20 minutes!
Raspberry Lemonade Cupcakes
Ingredients
LEMON CUPCAKES:

1

cup

unsalted butter

room temperature

2

cup

sugar

Zest of 2 small lemons

or 1 large

4

eggs

2 1/2

cup

flour

1/2

cup

cornstarch

1

tablespoon

baking powder

1

teaspoon

salt

1

cup

sour cream

2

tablespoons

milk

2

tablespoons

freshly-squeezed lemon juice

1 1/2

teaspoons

vanilla extract

RASPBERRY BUTTERCREAM:

1

cup

unsalted butter

room temperature

1

teaspoons

vanilla extract

1

teaspoon

lemon zest

optional

3-4

cup

powdered sugar

1/4

cup

raspberry puree

jam, preserves (or 1 tablespoon raspberry jello powder)
Instructions
1. Preheat oven to 350ºF and line pans with cupcake liners.

beat butter, sugar and lemon zest together until light and fluffy. Add in eggs and mix until thoroughly incorporated.

2. In a large bowl whisk together flour, cornstarch, baking powder and salt. You can sift these ingredients together if you prefer a very light texture.

3. Add half the dry ingredients to the butter/sugar/zest and mix on medium speed. Then add sour cream, milk and lemon juice and mix again. Continue to add the rest of the dry ingredients. Scrape down the sides of the bowl after each new addition. Be careful to not over mix!

4. Evenly divide the batter between the 24 cupcake liners. Bake for 18-22 minutes or until an inserted knife or toothpick comes out clean. Let cupcakes cool.

5. To make frosting, beat butter for 1 minute. Add vanilla extract and lemon zest and 2 cup of powdered sugar. Then add your raspberries! (If you want to use the raspberry puree option just place a handful in a blender and blend until smooth. You can sift out the seeds if you want, and then add to the butter mixture. You can always add just a little of the jello powder to boost the flavor and color up a notch.) Continue to add as much powdered sugar as needed to reach your desired consistency!

6. Pipe onto cooled cupcakes and top with fresh raspberries!