Get ready for fall with this perfectly Chewy Pumpkin Granola! Made with maple syrup, honey and plenty of pumpkin pie spices.


I feel like pumpkin season snuck up on me! Before I knew it all my feed was full of pumpkin spice desserts! Well, you know I love pumpkin treats like my incredible Magic Pumpkin Pie Cake but sometimes I need pumpkin that's not just for dessert. So my Chewy Pumpkin Granola was born! It has pecans and pumpkin seeds in it but you can also add walnuts or dried cranberries!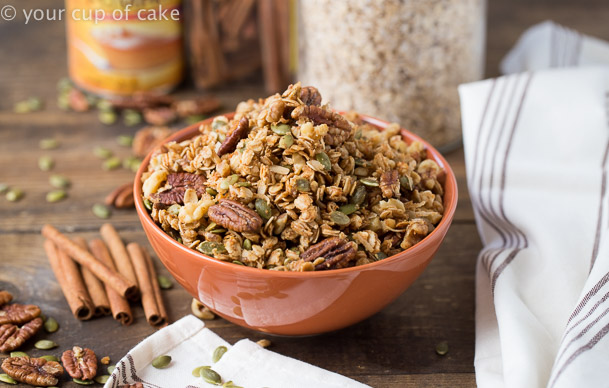 How to make Chewy Granola:
There are two secrets to making chewy granola, the first is that you can't bake it for too long! If you bake your granola for a long period of time then the sugar in the recipe (honey and maple syrup in this one) will harden! So unless you like to break your teeth, don't bake it for too long!
The second granola secret is using powdered milk. I use powdered milk in my cookies sometimes to keep them chewy, and it' the same thing for granola!
I told my husband I was making this Chewy Pumpkin Granola and he was not excited. But once he tried it he was obsessed! He was all "This is what I'm eating for breakfast every day this week!" And that's what he ate! It made my life pretty easy since I didn't have to make breakfast! When he thinks of granola, he thinks of the rock hard stuff. But now that he knows my granola is soft and chewy he wants more and more flavors!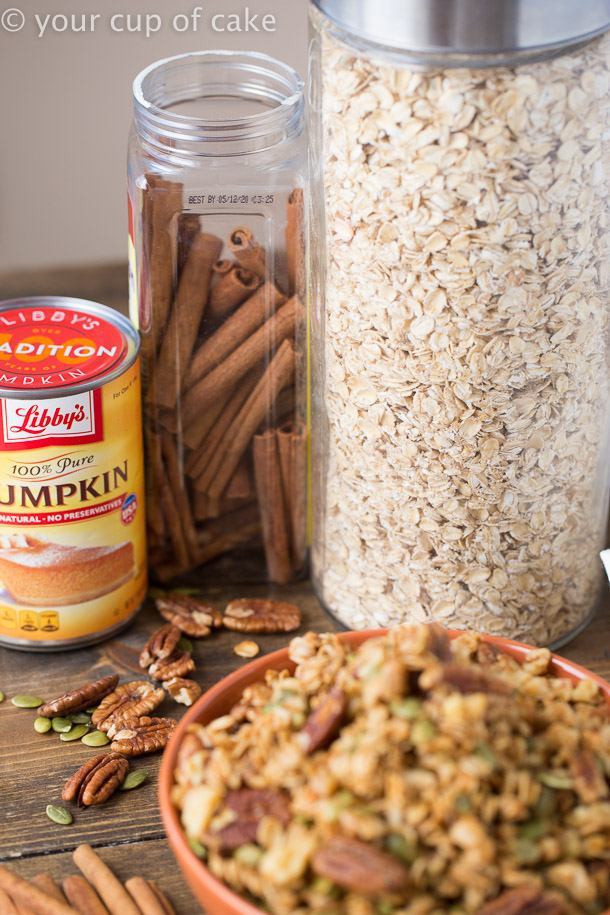 The Pumpkin Secret:
Okay this may sound weird, but the pumpkin in the recipe is optional. When people say they like pumpkin desserts, it's usually the pumpkin pie spice that they love! Most of the beloved pumpkin drinks out there have no pumpkin in them! So If you don't want to bust open a can of pumpkin or don't have any in the pantry, don't!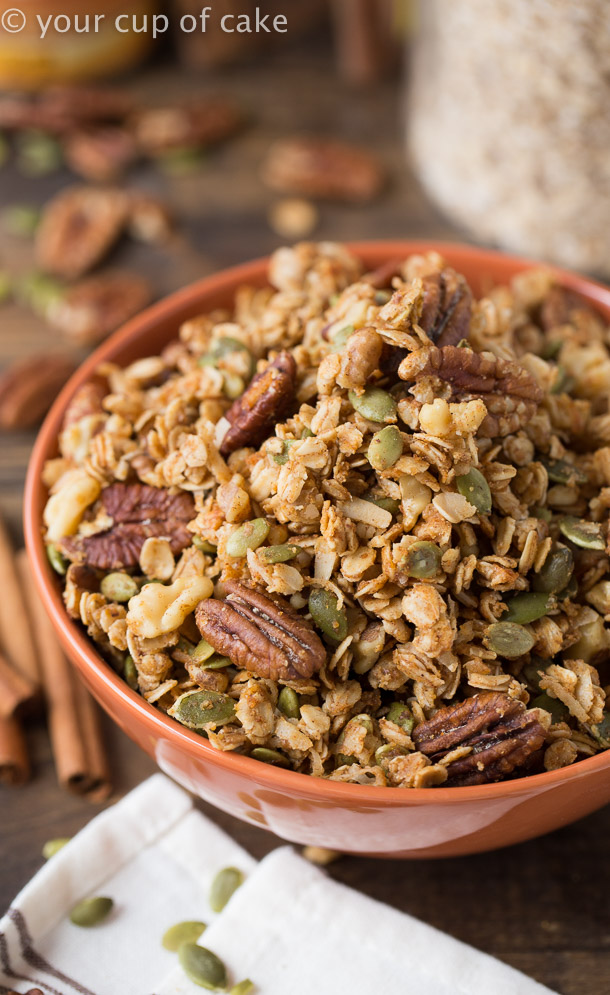 I've already started putting together my Halloween costume! I have to admit, I love Halloween and getting to dress up as anything I want for a night. Last year I was fortune teller and carried around a Chinese paper fortune teller and the year before I was a Parisian girl with a beret and carried around a baguette!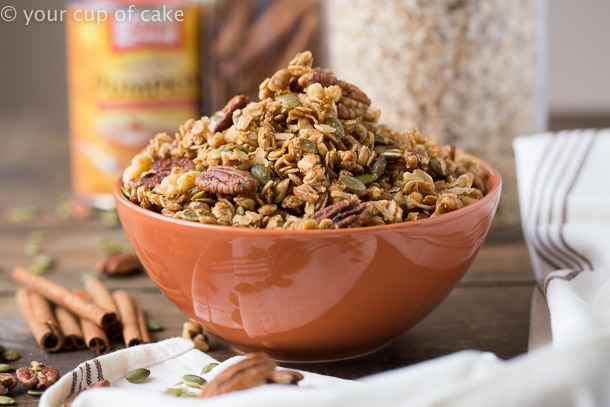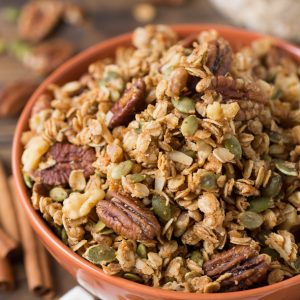 Chewy Pumpkin Granola
Ingredients
2 1/2

C.

old fashioned oats

1/2

C.

powdered milk

1/2

C.

shredded coconut

1/2

C.

pecans

1/2

C.

pumpkin seeds

1/4

C.

coconut oil

1/4

C.

honey

1/4

C.

pure maple syrup

3

Tbsp.

pumpkin

1/2

tsp.

salt

1

tsp.

vanilla

1 1/2

tsp.

pumpkin pie spice

or more
Instructions
1. Preheat oven to 325 degrees.

2. In a large bowl, combine oats, powdered milk, shredded coconut, pecans and pumpkin seeds. Set aside.

3. In a small sauce pan over medium/low heat combine coconut oil, honey, maple syrup, pumpkin, salt and vanilla. Heat until smooth, be careful to not let it boil! Pour into large bowl with oats mixture.

4. Stir until coated and dump out onto a cookie and spread out. I lined my pan with parchment paper for easy cleanup.

5. Bake for 10 minutes, stir and then bake for another 10 minutes. Let cool and enjoy! You can toss in dried cranberries after its baked if you want!