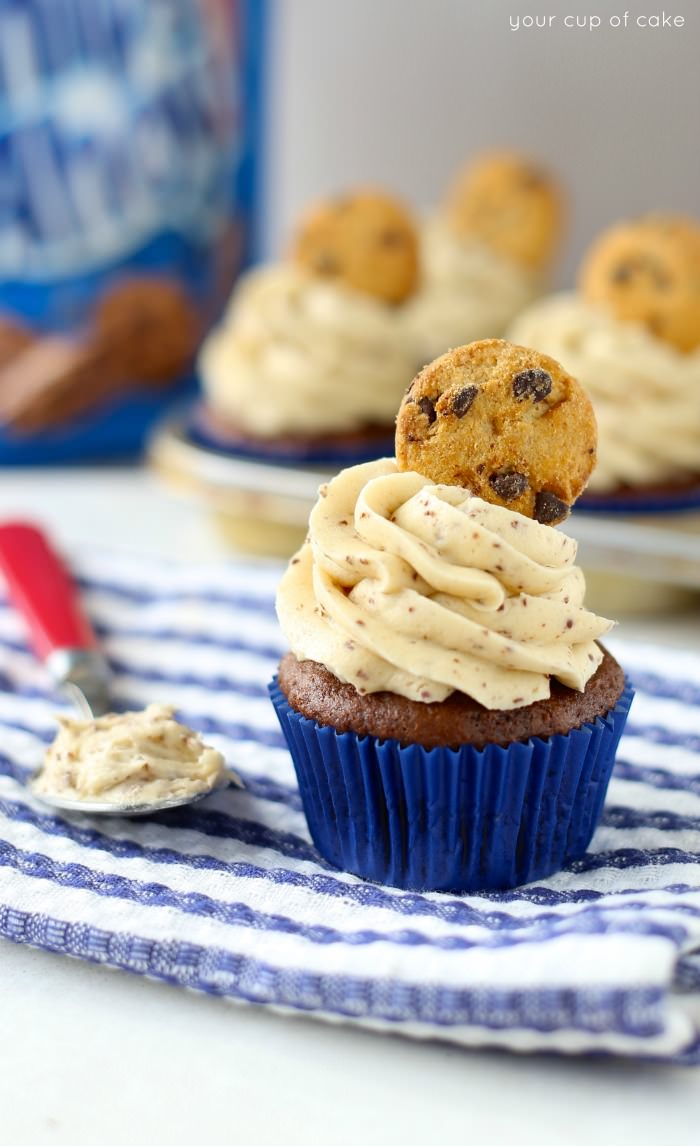 Delicious chocolate banana cupcakes topped with cookie dough frosting with pieces of chocolate running all the way through it! These Chocolate Banana Cookie Dough Cupcakes will bring out the kid in all of us!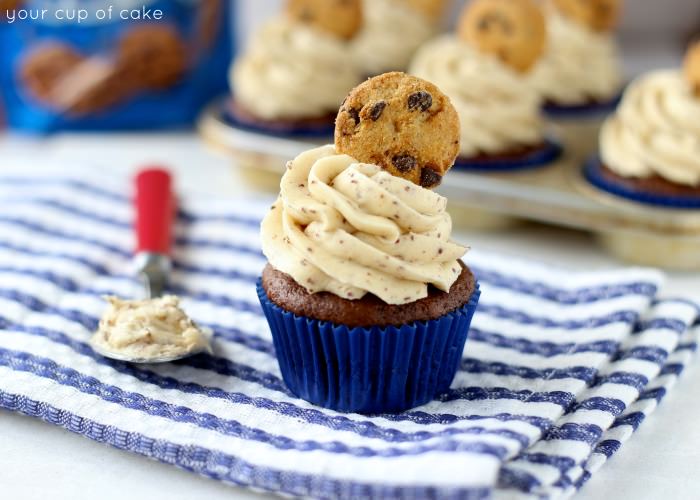 I have been making cookie dough frosting for years! (If you haven't seen my gorgeous Cookie Dough Cake you're missing out!) And it's always been a favorite of mine because it's not too sweet and is a perfect pair for just about any cake. But I always ended up just sprinkling mini chocolate chips on top to get the chocolate in the frosting. Some people stir the chocolate chips into the frosting, and that's great too! But I just love being able to pipe out the buttercream because it's fast and pretty. So this time I solved the problem! I grated the chocolate! You can use chocolate chips (though that's a little tricky to do) or Melts or just a big piece of chocolate. I used the smallest grater on my little handy-dandy 4-sided cheese grater and then just stirred the tiny pieces in! The frosting looked so cute and piping it out was a cinch!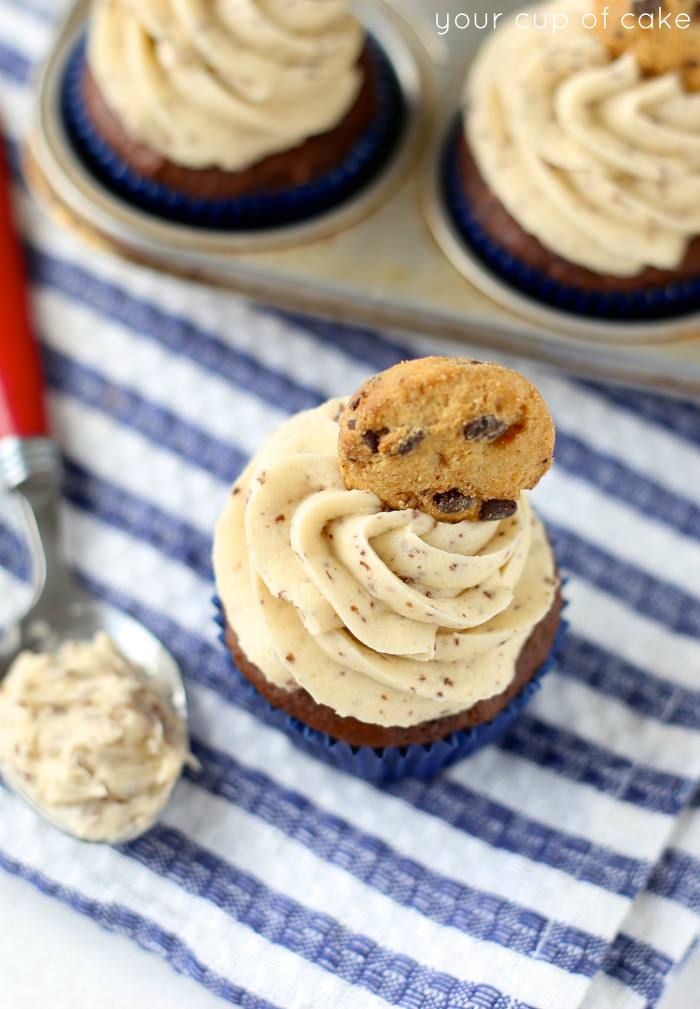 Are you ready for St. Patrick's Day and Easter? No? Me neither 🙂 My big goal of the week is to get my office organized. I don't even have a chair at my desk yet…whoops. And can you believe I don't even own a camera tripod yet? I'm hoping to get this fun one so I can start taking more process shots and cool instagram photos!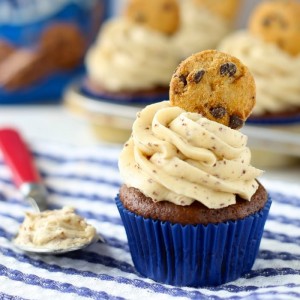 Chocolate Banana Cookie Dough Cupcakes
Ingredients
Chocolate Banana Cake:
1

box Devil's Food Cake mix

2

medium sized ripe bananas

mashed

1/2

C.

oil or melted butter

3

eggs

1

C.

sour cream

2

tsp.

vanilla extract
Cookie Dough Frosting:
1

C.

butter

softened

1/3

C.

brown sugar

packed

1/3

C.

flour

more if needed

1/8

tsp.

salt

2

Tbsp.

milk

2-3

C.

powdered sugar

3

Tbsp.

chocolate chips

finely grated (see NOTE)
Instructions
1. Preheat oven to 350 degrees and line pans with cupcake liners.

2. Sift cake mix into a large bowl to remove any lumps.

3. Continue to add the remaining cake ingredients and stir until smooth.

4. Fill cupcake liners 3/4 full and bake for 15-20 minutes or until an inserted knife comes out clean.

5. Let cool.

6. Cookie Dough Frosting: Beat butter for 2 minutes. Add brown sugar and continue to beat for 2 minutes (you want to let the brown sugar sort of melt into the butter and dissolve). Add flour, salt milk and 2 cups powdered sugar. Now, taste as you go adding more flour (if you want a savory frosting) or more powdered sugar (for a sweeter frosting). Keep adding flour and/or powdered sugar until you reach your desired consistency. Fold in grated chocolate chips.

7. Pipe onto cooled cupcakes and top with mini chocolate chip cookies (I used mini Chips Ahoy!)

NOTE: It may be easiest to use a hunk or chocolate or a chocolate bar. Use the smallest cheese grater you have to grate the chocolate (add as much or as little as you want!). I grated my chocolate because then I could still pipe out the frosting and it wouldn't clog my piping tip because the pieces of chocolate were so tiny. You can always just fold in mini chocolate chips to the frosting instead (about 1/2 cup)!
These Thin Mint Cupcakes are the best. Did you miss them on Sunday? Are you drooling yet? Yeah…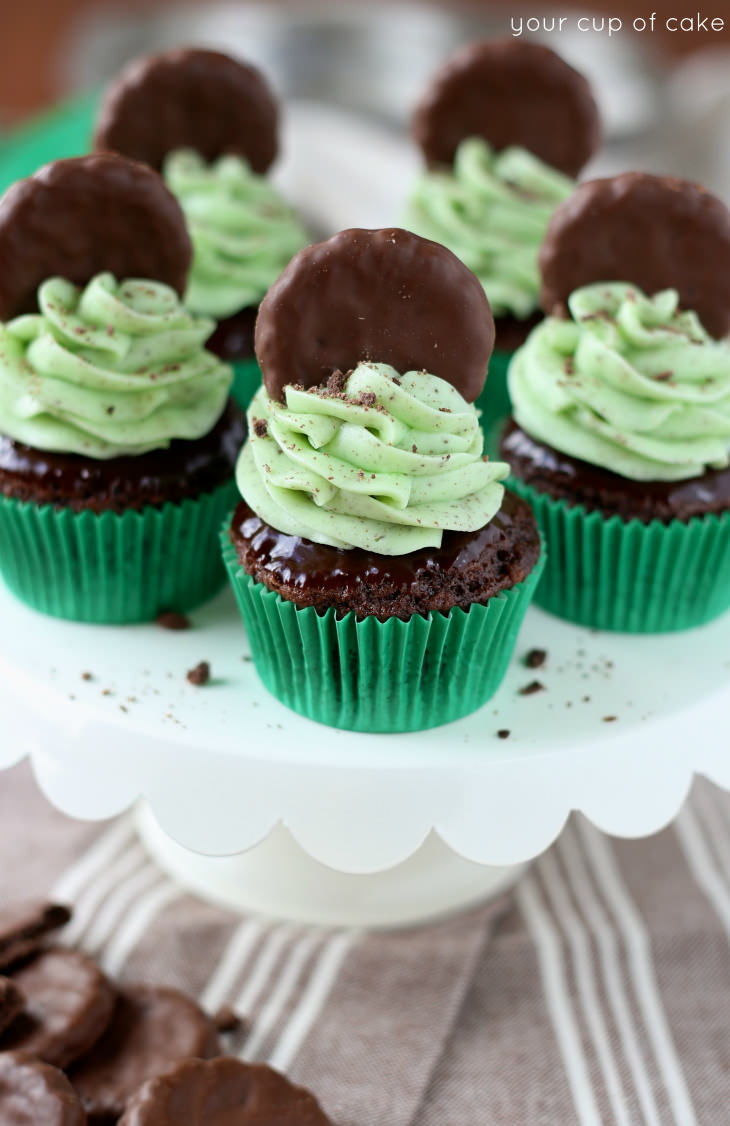 What about these adorable Garden Carrot Cupcakes? I used strawberries to make little "carrots" and they're perfect for the Easter Bunny and for any spring party! Plus, baked in a Mason jar is just about the cutest thing…