The Story:
Sometimes breaking the rules is the best thing you can do.
The rules of being single tell me to have a pretty profile picture on facebook, so what do I do? Post a photo of myself after camping for 3 days going cross-eyed.
The rules of driving etiquette tell me not to be the crazy person behind the wheel that people stare at, so what do I do? I dance like it's 1999 to Katy Perry's "Roar" at the every stop light.
The rules of dating tell me to wait for him to make a move, so naturally what do I do? Go in for the kill.
And the rules of party-going tell me to wear something cute, so I… Wear sweats and my mother's old T-shirt.
Some people think chocolate and zucchini together is breaking the rules, but breaking the rules taste mighty good.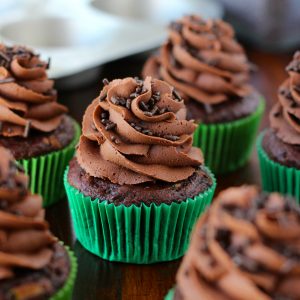 Chocolate Zucchini Cupcakes
Ingredients
Chocolate Zucchini Cake:
1

box devil's food cake mix

3

eggs

1/2

C.

oil

1/2

C.

buttermilk or milk

1/2

C.

sour cream or plain yogurt

2

tsp.

vanilla extract

1 3/4

C.

zucchini

grated (about 2 zucchini)

1

C.

mini chocolate chips
Chocolate Buttercream:
1

C.

butter

softened

1/2

C.

unsweetened cocoa powder

1

tsp.

vanilla extract

3

Tbsp.

milk

3 1/2- 4 1/2

C.

powdered sugar
Instructions
1. Preheat oven to 350 degrees and line pans with cupcake liners.

2. Sift cake mix into a small bowl and set aside.

3. In a large bowl, combine eggs, oil, buttermilk, sour cream and vanilla extract until smooth.

4. Stir in cake mix.

5. Stir in grated zucchini and chocolate chips.

6. Fill cupcake liners 3/4 full and bake for 17-22 minutes or until an inserted knife comes out clean. (There may be some melted chocolate on the knife from the chocolate chips, but that's okay.)

7. Chocolate Buttercream: Beat butter for 2 minutes. Add cocoa powder and vanilla extract and beat again. Add milk and 3 cups powdered sugar. Slowly add in more powdered sugar until you reach your desired consistency.

8. Pipe frosting onto cooled cupcakes and top with chocolate Jimmies.
I got these adorable green liners from Sweets & Treats online!