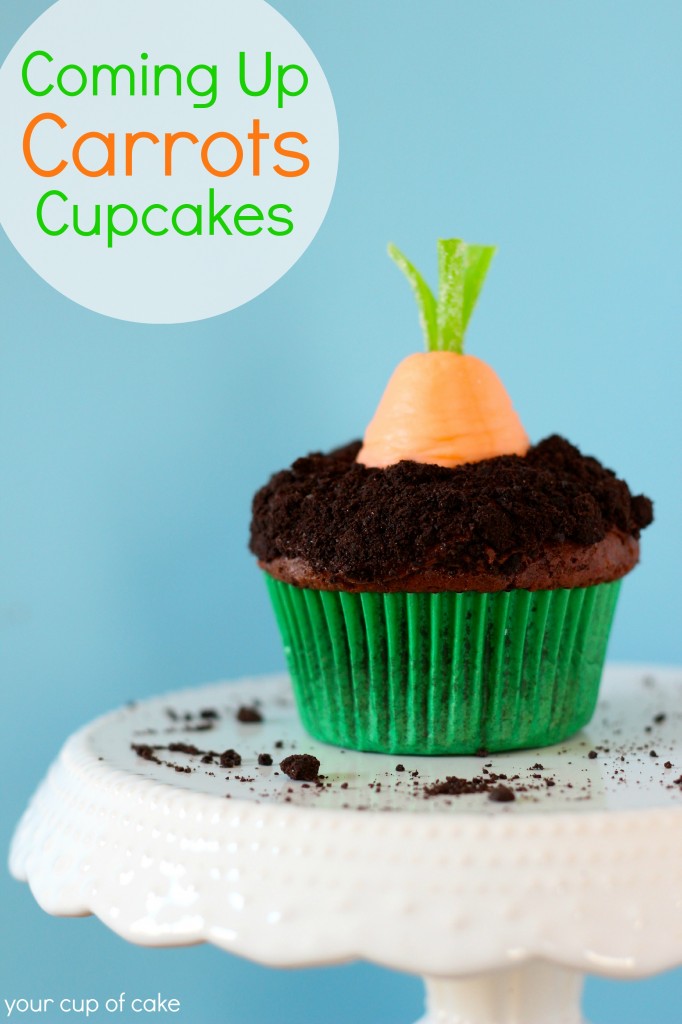 The Story:
When I was 3, I learned how to pull up a carrot from the garden.
We lived on top of a big hill in Oregon that was covered in pine trees and green fields. We could see Mt. Hood, the Willamette river, and all the Portland bridges outside our kitchen window. There was a huge backyard that wrapped around our house and a giant cherry tree right in the middle. But by the steps out by the porch we had a little vegetable garden. I tried to yank up a few carrots by the green stems, but that only worked about half the time. Sometimes I ended up with an orange carrot covered in dirt and the other times I ended up in the dirt with a fist full of pale green leaves.
Coming Up Carrots Cupcakes
Ingredients
Chocolate Cake:
1

box Devil's Food of Chocolate cake mix

3

eggs

1/2

C.

oil

1

C.

buttermilk or milk

2

tsp

vanilla extract
Chocolate Frosting (dirt):
3/4

C.

butter

softened

1/2

C.

unsweetened cocoa powder

2

Tbsp.

milk

2

tsp.

vanilla

3-4

C.

powdered sugar

Oreos

crushed (about 15)
Mascarpone Filling (carrot):
16

oz.

mascarpone cheese

2 8 oz. containers

1

C.

powdered sugar

orange food dye
Sour Punch Straws for stems
Instructions
1. Preheat oven to 350 degrees and line pans with cupcake liners.

2. Sift cake mix into a small bowl and set aside.

3. In a large bowl, combine eggs, oil, buttermilk and vanilla extract until smooth.

4. Add cake mix and stir well.

5. Fill cupcake liners 3/4 full and bake for 17-22 minutes or until an inserted knife comes out clean.

6. Chocolate frosting: Beat butter until smooth Add cocoa, milk and vanilla extract. Beat again. Slowly add powdered sugar until you reach your desired consistency.

7. Mascarpone filling: Combine mascarpone and powdered sugar until smooth. Add as much orange food dye as needed. (You can use a cream cheese or a plain buttercream if you don't want to use mascarpone, but believe me...it's AMAZING.)

8. To assemble, cut a hole out of the tops of your cooled cupcakes, spread chocolate frosting around the hole and roll in crushed Oreos. Use a round tip to fill the hole with orange mascarpone and pipe it up above the level of your "dirt" to make it look like a carrot. Take a Sour Punch Straw, cut off a small piece (about 3/4 of an inch) and slice the majority of it into three pieces the long way (see photo). Push it into the top of the "carrot" to make your stem.
Recipe Notes
If you don't have a piping bag and tip to make the carrot, use a zip lock bag and snip the corner off and use it like a piping bag!