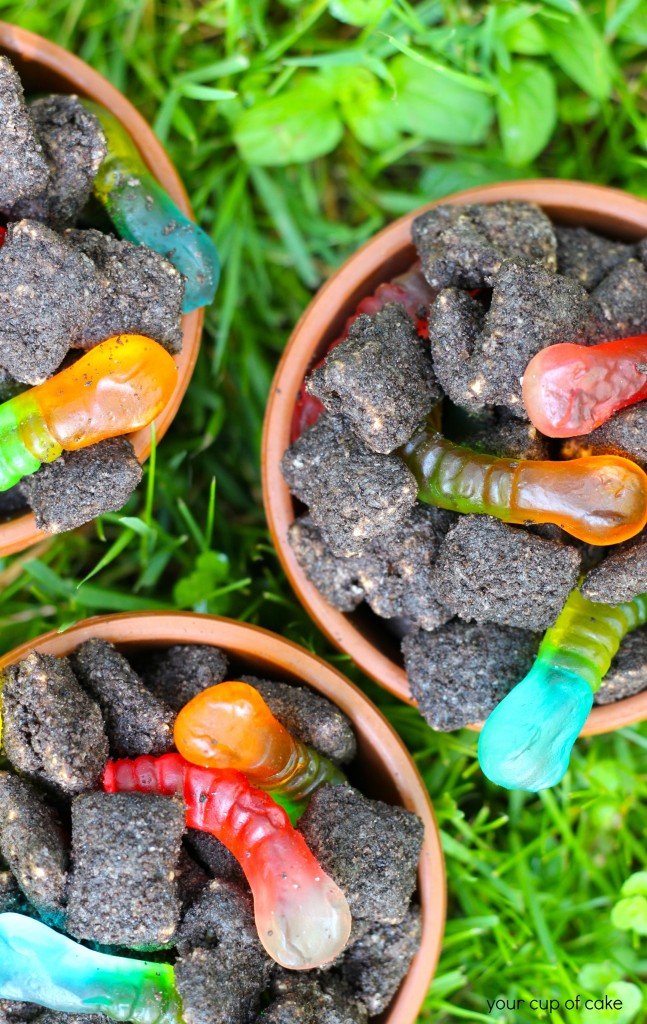 The Story:
Confession: I always have food with me. I just can't go anywhere without some chocolate in my purse or a granola bar in my pocket.
So naturally, I was sitting in church a few weeks ago with a bag full of this stuff. And the 7-year-old boy in front of me kept glancing over his shoulder. He didn't dare make eye contact with me, but he just starred at the bag of puppy chow hoping it would magically jump into his mouth. I humored the people around me and asked if he wanted it, he gave a quick nod, I held out the bag and then it was gone. He snatched it away so fast I could hardly release my grip on the bag.
He didn't look over his shoulder again. Perhaps he was worried I would ask for it back.
Dirt Puppy Chow
Ingredients
6

C.

Rice Chex Cereal

1

C.

chocolate melts

1/3

C.

peanut butter

smooth

1 1/3

C.

crushed Oreos

2

C.

Gummy Worms
Instructions
1. Place cereal in a large bowl and set aside.

2. In a microwave proof bowl, melt chocolate and peanut butter together until smooth. (About 45 seconds, then stir, then 15 seconds more)

3. Pour melted chocolate/peanut butter over cereal and stir until coated.

4. Dump into a large plastic bag or tupperware with a lid and add crushed Oreos. Shake until covered.

5. Dump onto a cookie sheet to let cool, then add gummy worms.
Recipe Notes
You can use regular or sour gummy worms. I served mine in mini ceramic pots to keep with the garden theme.