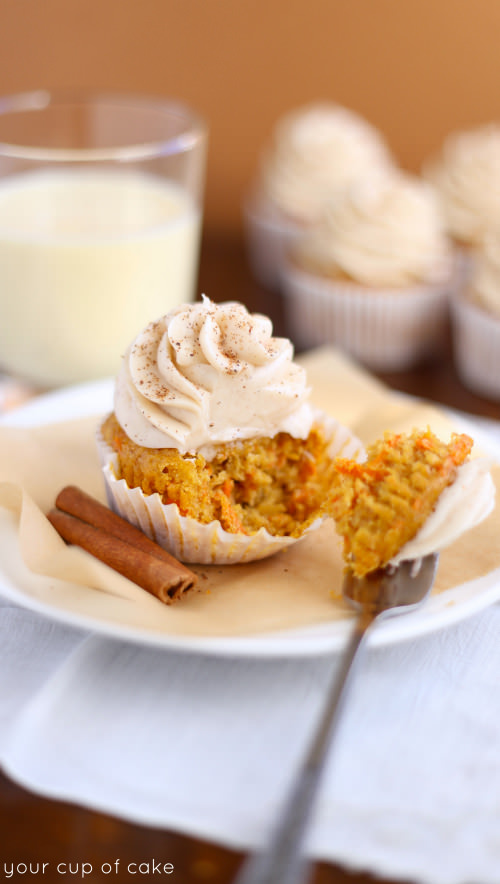 These sweet carrot cupcakes topped with eggnog frosting are a perfect twist on fall flavors. Don't get me wrong, I love a pumpkin dessert but sometimes you want to bring something other than a pumpkin cupcake. And come on, who doesn't love eggnog?! I've made eggnog quick bread, eggnog cookies and eggnog pie and I still can't get enough!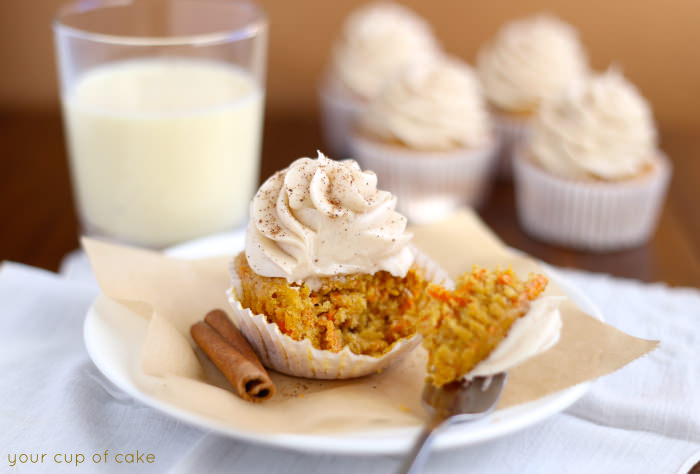 The Story:
I just got home from a wedding, so maybe I have love on the brain but here goes…
Most people would call chocolate cake the most romantic. They picture a tall decadent cake with layers of dark chocolate frosting, topped with ganache and strawberries or cherries. But that just looks like an overdone Valentine's Day to me. I think carrot cake is the most romantic. Something about the classic flavors I guess. The contrast of the sweet carrot cake with a kick of cinnamon and the tangy cream cheese frosting really just says love to my tastebuds. Throw some walnuts in there and I'm as good as engaged to the cake!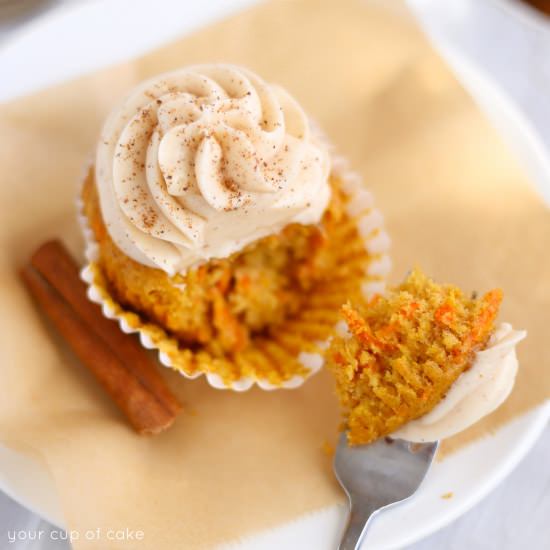 Sometimes I feel like sprinkles get in the way of the creamy, smooth frosting. So I like to sprinkle a few spices on top to get the effect of sprinkles without the texture.
I really love carrot cake. It took me several times to get the right texture from a cake mix, but I finally did it! This recipe is based off of the one in my cookbook Your Cup of Cake!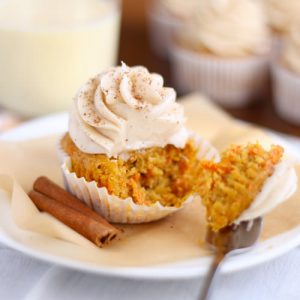 Eggnog Carrot Cupcakes
Ingredients
Carrot Cupcakes:
1

box yellow cake mix

3

tsp.

cinnamon

1/2

tsp.

ginger

1/2

tsp.

nutmeg

3

eggs

1/3

C.

oil

3/4

C.

eggnog

or milk

1/2

C.

sour cream

1

tsp.

vanilla extract

1/2

C.

crushed pineapple

drained

2 3/4

C.

grated carrots

I used about 5 small carrots
Eggnog Frosting:
1/2

C.

butter

softened

8

oz.

cream cheese

or additional 1/2 C. soft butter

1/2

tsp.

cinnamon

1/4

tsp.

nutmeg

1

tsp.

vanilla extract

3-4

C.

powdered sugar

2-5

Tbsp.

eggnog
Instructions
1. Preheat oven to 350 degrees and line pans with cupcake liners.

2. In a large bowl, combine cake mix (I sifted it first to remove any lumps), cinnamon, ginger, nutmeg, eggs, oil, eggnog, sour cream, vanilla extract and crushed pineapple.

3. Stir in grated carrots.

4. Fill cupcake liners 3/4 full and bake for 17-22 minutes or until an inserted knife comes out clean.

5. Let cool.

6. Eggnog Frosting: Beat butter and cream cheese together. Add cinnamon, nutmeg and vanilla extract. Add powdered sugar 1/2 cup at a time until frosting becomes stiff. Then add eggnog a little at a time until you reach your desired consistency.

7. Pipe onto cooled cupcakes and sprinkle with nutmeg or cinnamon for decoration.