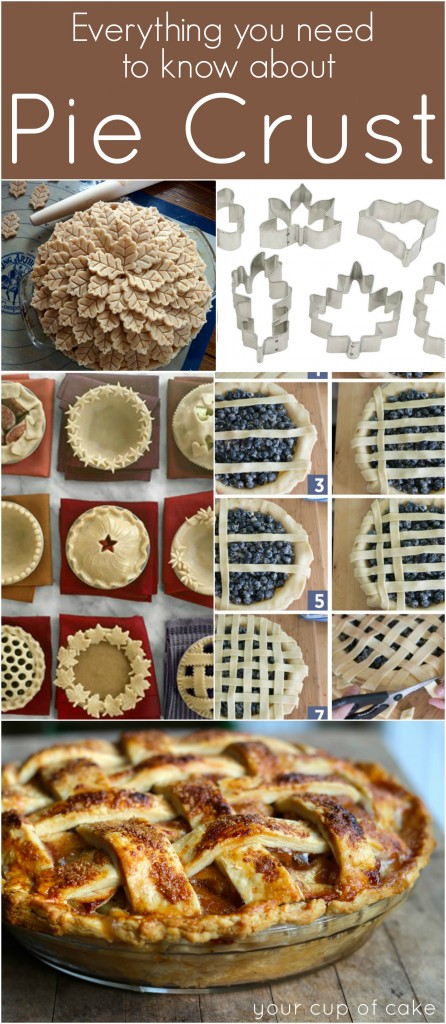 Thanksgiving is pie time. Now most people don't know this but my absolute favorite dessert is pie. So let's talk pie crust.
Does it make you nervous? It doesn't have to! I have the solution to every pie problem!
Recipe Problems:
First of all, there is no shame in the pie crust mix you buy from the grocery store. It's "just add water" and works great! Just add a little bit of vanilla extract, give it a nice egg wash and it will look and taste perfect! But if you do want to make it from scratch, I have a wonderful and simple recipe near the bottom of the post!
Sticky Problems that Leave Holes in your Crust (and Heart):
The dough looks, great but then you put in down to roll it out and no matter how much flour you use on your rolling pin and under the dough it still seems to tear! No more.
Two words: "Parchment Paper"
Roll out your dough between large pieces of parchment paper, no flour needed and NO HOLES! When you're done rolling, just peel off the top layer of parchment paper then gently flip the crust over onto you pie pan! So easy, your pies will never stress you out again.

Pretty Problems:
Your pie tastes delicious but you want it to look gorgeous too! Are you asking too much from the baking heavens? Nope! You just may need a few tricks up your sleeve…
Most of your pretty problems can be solved by making extra crust. If you have more dough to work with, you don't need to roll it out quite as thin (no holes), you can have more to "flute" the edges with and you can even do fun things like this!
I found this photo from The Story of Kat who rolled out an extra slab of dough and used a small leaf cookie cutter to cut out leaves! (Link for small cookie cutters below.) She made little indentations on each of them as well and used a brush of egg white to stick them all together!
Martha Stewart shows us the same sort of technique with the cookie cutters. If you're making a pumpkin or pecan pie, only place "leaves" around the edge! You can also roll out a whole piece of dough and take a few leaves "out" of the piece and leave sort of "leaf holes" on your pie! My favorite thing I did last year… braided the edge. It looked beautiful! Just slice 3 strips and braid them off to the the side and use an egg wash as "glue" to stick it on the edge on your pie!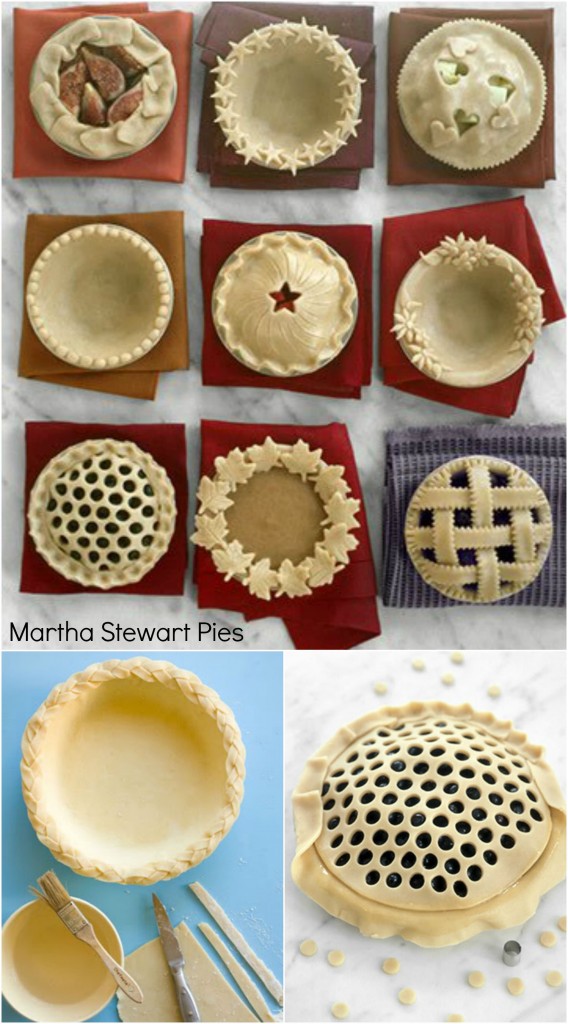 And if you want to know how to Lattice your pie crust, well Inspired Taste has all the info you need! Check out their post for a video on how to do it as well as this awesome photo how-to! A tip from me… don't worry about doing this many "strips" across. Martha Stewart's Lattice pie in the image above only has three large strips across and it looks just perfect. So if you're starting out, start with 3 or 4 thicker strips going each way to keep things simple. (Do you see the fun zig-zag edge on Martha Stewart's lattice above? Check out below for the fun too that does that!)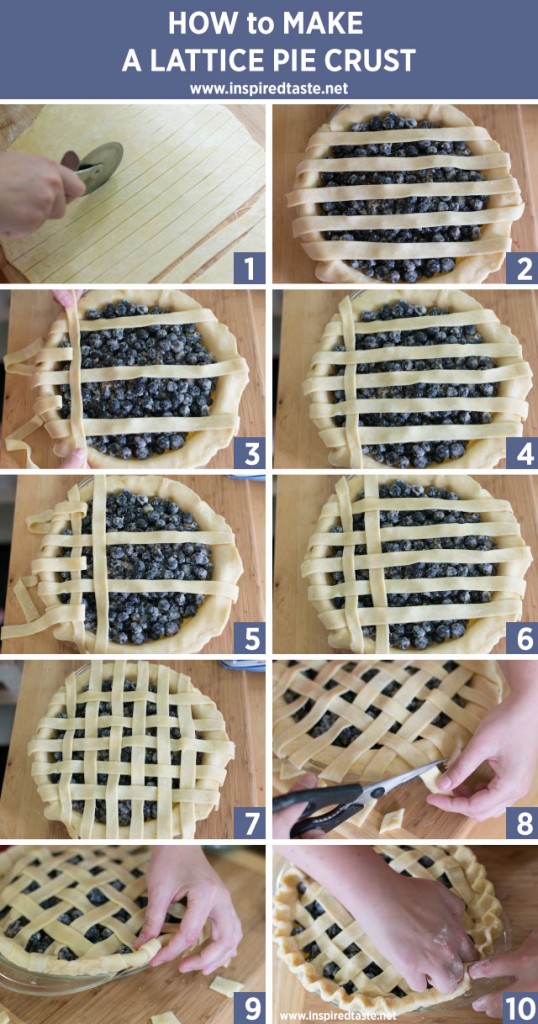 Alright, and BEFORE you pop your pie in to bake, always give it a nice egg wash. Did I lose you? An egg wash in an egg white (no yolk) in a little bowl and take a pastry brush (or crumpled up paper towel) to "paint" the egg white all over the crust. You won't use all of the egg white, so don't worry about that. Then sprinkle some Turbinado sugar on top, or regular sugar. But I prefer Turbinado because it's larger. The sugar gives a really nice crunch and sparkle to your pie and the egg wash gives it a golden look.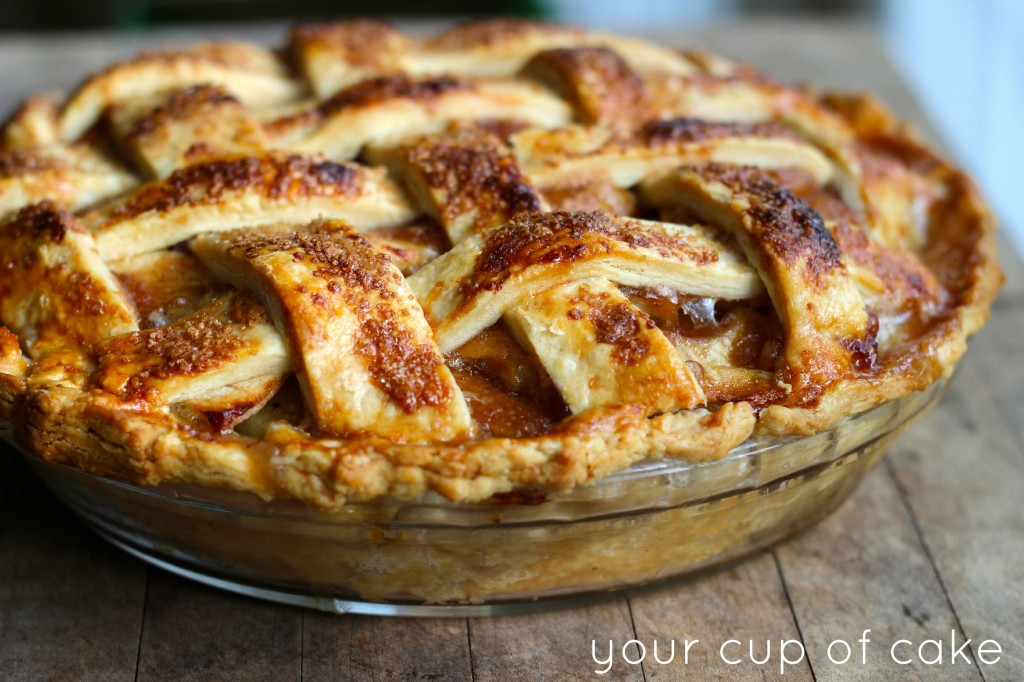 (I'll be sharing this recipe for my Caramel Apple Pie tomorrow!)
Always check your pie when it's about 75% done. Because depending on your oven, the top of the pie crust might start to get a little dark. If this starts to happen, just place a piece of foil over the top of your pie and let it bake the rest of the time! (Also, I always place a cookie sheet on the rack under my pies to catch any of the filling that bubbles up over the edge, it helps to keep a clean oven 🙂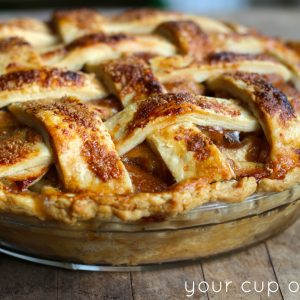 Perfect Pie Crust
Servings
2
9-inch pie crusts (one top and one bottom layer)
Ingredients
2 1/2

C

flour

1/2

C

butter

1/2

C

shortening

pinch

of salt

2

tsp.

vanilla extract

ice cold water

added 1 Tbsp. at a time
Turbinado sugar for sprinkling on top of egg wash for crunch and sparkle
Instructions
1. Place all ingredients in a bowl (start with 2 Tablespoon water).

2. Use a fork or "dough blender" (they're called different names, I have a photo and a link below to show you one!) and mix dough until crumbly. You'll sort of "cut" the dough rather than stir, and keep adding a little water at a time until you can form a ball with your hands. You just don't want to add too much water!

3. Split dough in two and form two balls.

4. Take one dough ball and place it on a large pice of parchment paper (see photo directions).

5. Cover with another piece of large parchment and use a rolling pint to flatten into a large circle.

6. Peel off the top layer of parchment, then gently flip the pie crust (with bottom parchment still on) onto your pie pan.

7. Peel off parchment and press pie crust into pan.
Pie Crust Tools:
Parchment Paper: You can get it at just about any grocery store and you can re-use it! So don't throw it away so quickly, just wipe it off and keep it with your cookie sheets for the next time you bake!
Pie Pan: You can get them an most grocery stores as well, I always seem to find mine at TJ Maxx, they're cheap and cute!
Dough Cutter: For making pie dough from scratch, also great for making doughnuts! Like we need another reason for making doughnuts… Click the photo for a link to the one I have from Amazon!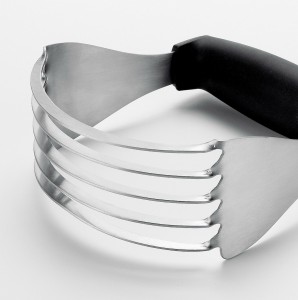 Ravioli Wheel: It cuts and decorates your pie crust for a cute lattice decoration! Click the photo for a link to the one I love on Amazon!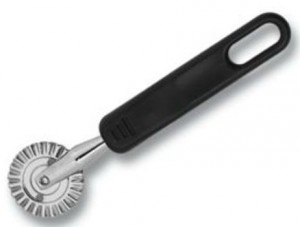 Mini Leaf Cookie Cutters: Your pies will look just like Martha's if you have these cute things. Click the photo for a link to the ones I'm getting on Amazon! I also like this one from Amazon too, it has more than just leaves.. (click here)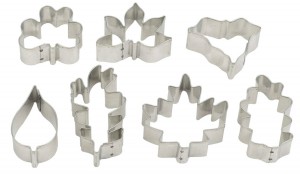 Okay this isn't a Pie Crust gadget but this thing has made apple pies WAY less time consuming. I'll talk all about it on the blog tomorrow when I give you my Caramel Apple Pie recipe, but this magic tool peels, cores, and cuts each apple in about 30 seconds! Click the photo to see the one I have! A lot of these gadgets clamp onto the edge of a table, but these newer ones suction onto your table with a little handle, so its a lot easier and you can do it on any table not worrying about it leaving a mark.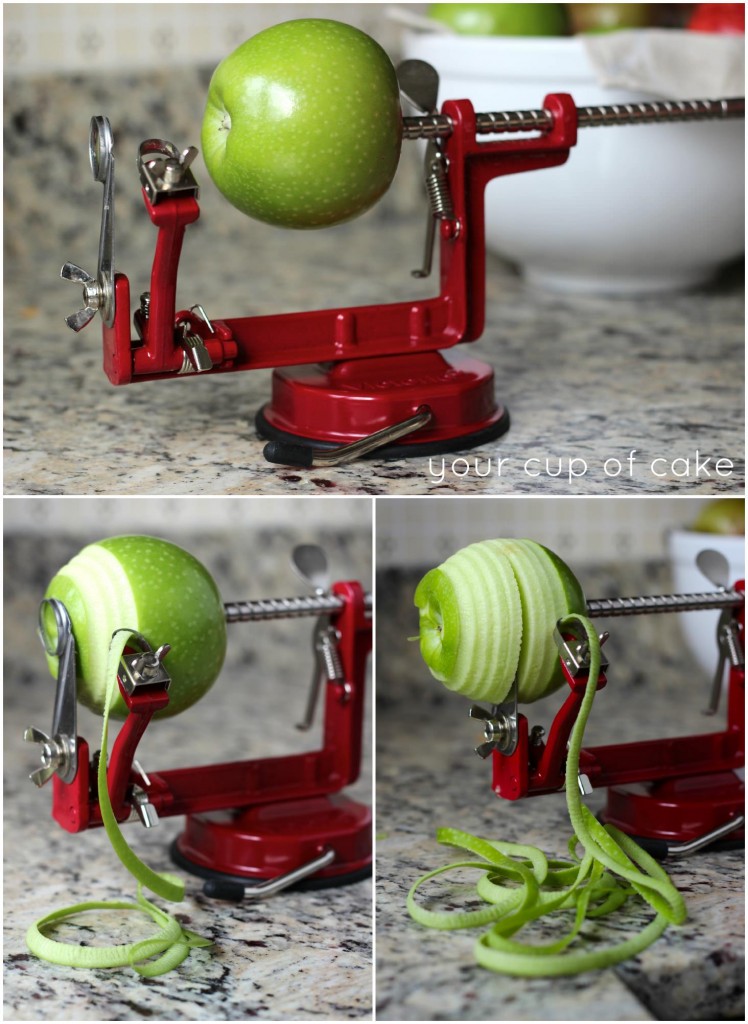 Have a great Pie Crust tip? Share it by commenting below!
I'll be out of town most of this week with no internet, so if you post a question I will answer when I get back! (Don't worry I have 3 more posts scheduled for this week (thank you auto-publish), so you'll still get plenty of recipes even though I may be gone!)