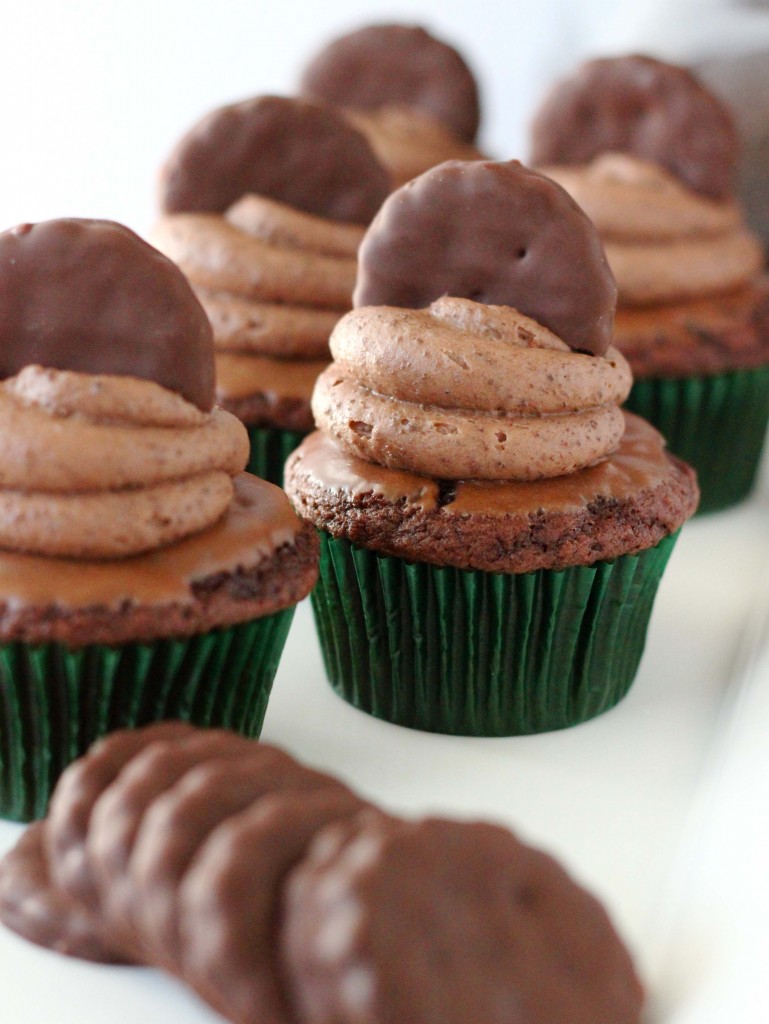 The Story:
From a girl in a cute sash or the generic brand from the grocery store…It's amazing how happy a small little green box can make someone.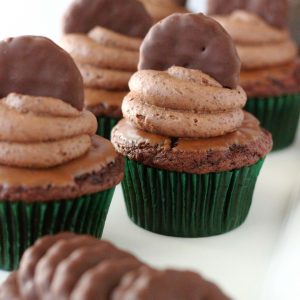 Grasshopper Cupcakes
Ingredients
Chocolate Cake:
1

box Devil's Food cake mix

3

eggs

1/2

cup

oil

3/4

cup

buttermilk

3/4

cup

sour cream

2

teaspoons

vanilla extract
Chocolate Mint Ganache:
1/2

cup

chocolate chips

1/3

cup

heavy cream

1/2

teaspoon

peppermint extract
Grasshopper Buttercream:
1

sleeve Grasshopper Cookies

or Thin Mints

1/2

cup

butter

softened

8

oz

cream cheese

softened

1

teaspoons

vanilla extract

3-4

cups

powdered sugar

1/4

cup

unsweetened cocoa powder
Instructions
1. Preheat oven to 350 degrees and line pans with cupcake liners.

2. In a small bowl, sift cake mix to remove lumps.

3. In a separate bowl, gently whisk eggs, oil, buttermilk, sour cream and vanilla extract.

4. Combine liquid ingredients with cake mix and stir until well combined.

5. Fill liners 3/4 full and bake for 15-20 minutes, or until an inserted knife comes out clean.

6. Ganache: Place chocolate chips in a heat proof bowl. Heat heavy cream until small bubbles form around the edges. Pour cream over the chocolate and whisk until smooth. Stir in vanilla extract.

7. Buttercream: Using a food processor or plastic bag and rolling pin, finely crush Grasshopper cookies. Sift the crushed cookies. You will need 3/4 cup of the sifted powder. In a mixing bowl, beat butter and cream cheese for 3 minutes. Add vanilla and mix again. Scrape down the bowl as needed. Slowly add about 2 cups of powdered sugar and your unsweetened cocoa powder. Then add you 3/4 cup of sifted Grasshopper cookies. Continue to slowly add powdered sugar until you reach your desired consistency.

8. To assemble, dip the tops of the cooled cupcakes into the ganache. (If the ganache runs down the sides, you may need to let it cool a little longer.) Let the ganache set an then pipe buttercream over it and top it with a Grasshopper cookie.