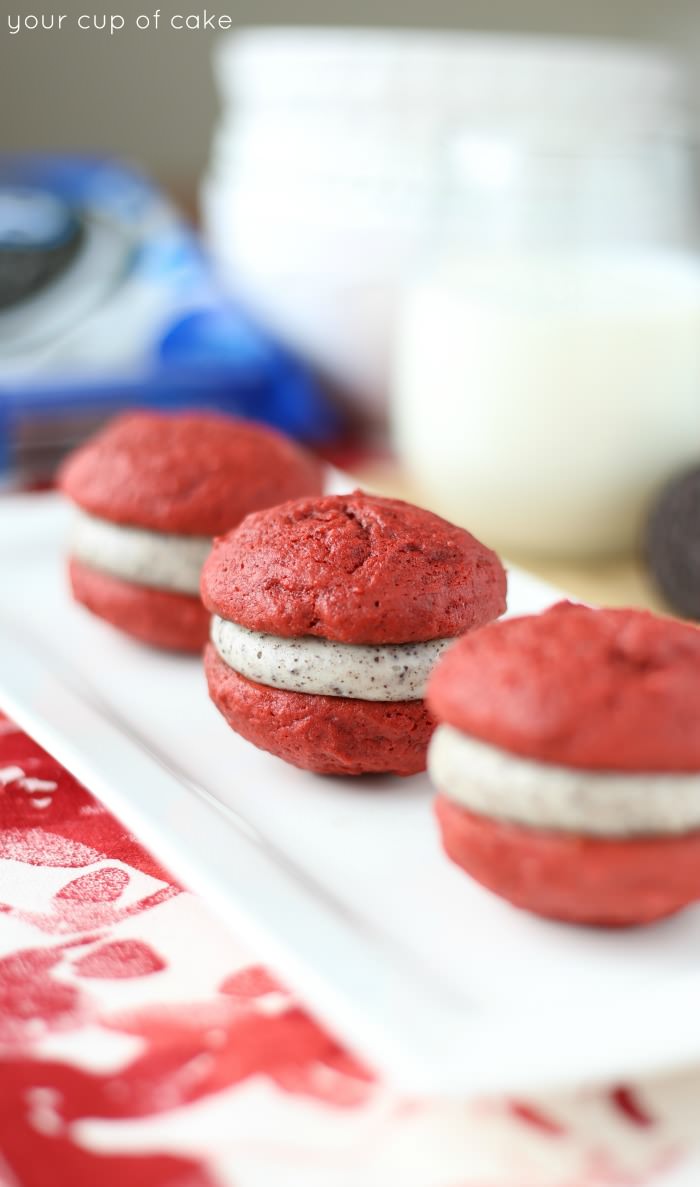 The only thing better than Oreos are these Oreo Red Velvet Cookie Sandwiches! Fluffy red velvet cookies filled with a cookies and cream frosting is decadent and tasty!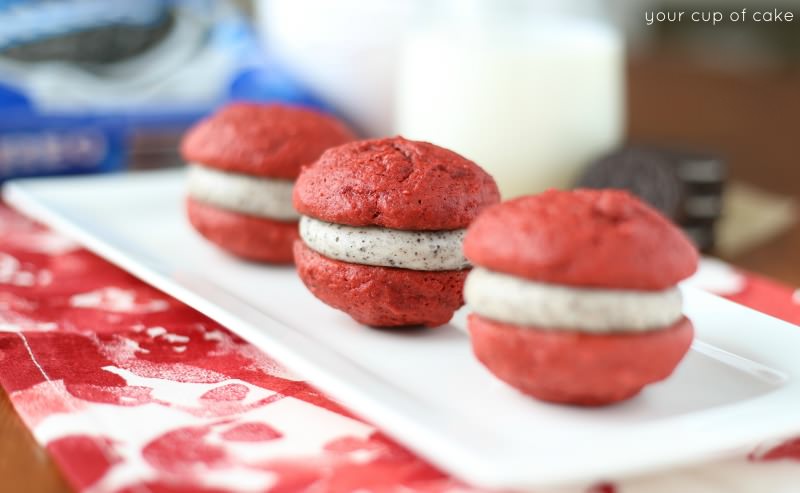 Here's a little pull out shot of what my set-up looked like for this photo. I'm in my new office which is fabulous and finally has space for all my props! If you know what know all the fun stuff I use to get these professional photos on a total budget check out my Gift Guide for the Food Photographer or all my Food Photography How-to Posts!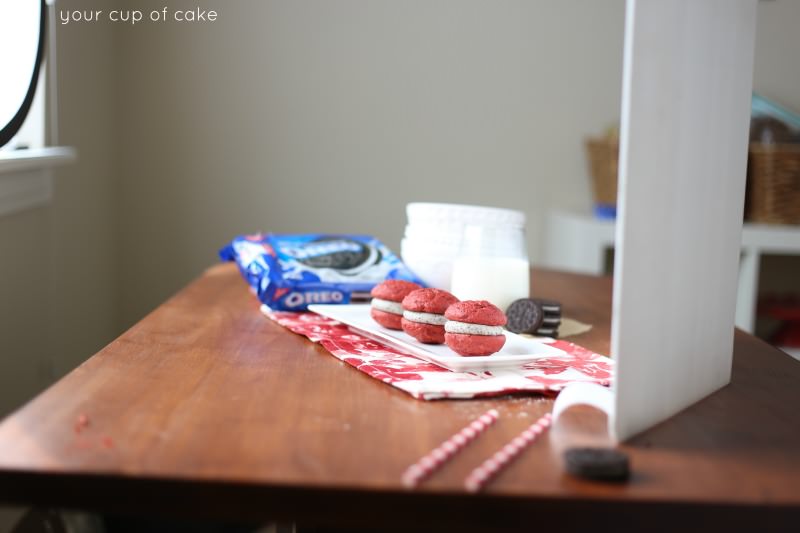 Sometimes I get a little ambitious and try to balance all the cookies on top of each other 🙂 But yes, they all tumbled down as soon as I snuck my hand away…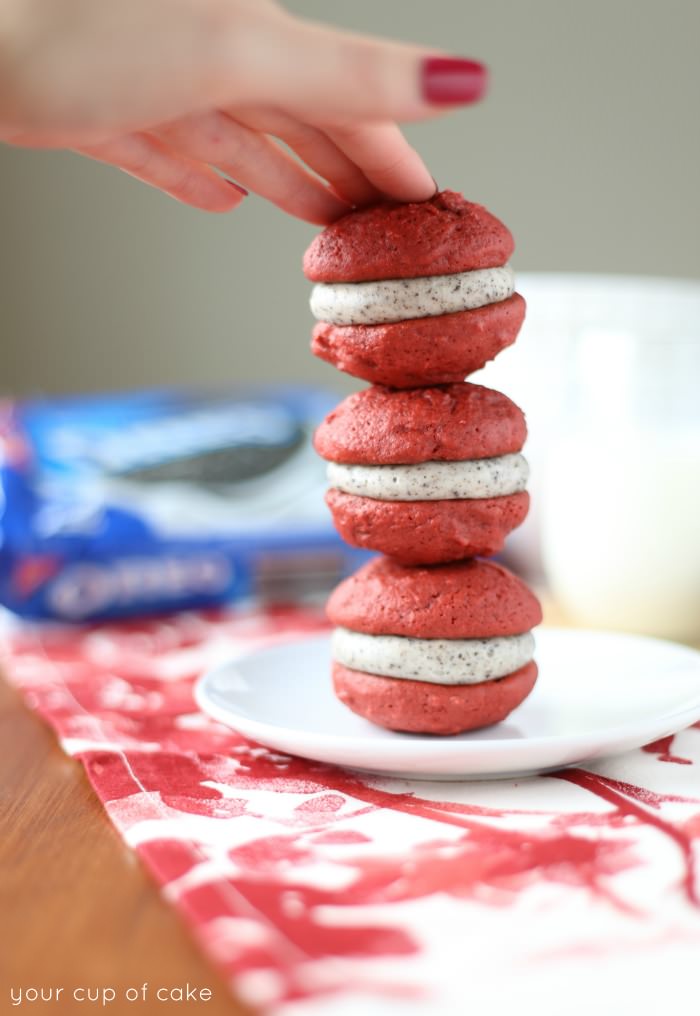 I can't believe Valentine's Day is almost here! I'm not going to lie, I usually just dread the holiday and seeing the grocery stores explode in pink and red just disgusts me. But this year I'm going to love it! Not because I have a boyfriend or anything like that, but simply because I don't want to waste another Valentine's Day! I can't even tell you what I've done on the holiday for the last 5 years–which is pathetic. I am vowing to make this Valentine's Day memorable. There probably won't be roses or a fancy date or boxes of chocolate, but it will be a day worth remembering 10 years from now.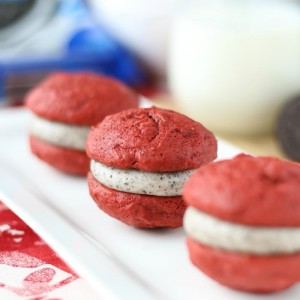 Oreo Red Velvet Cookie Sandwiches
Ingredients
Red Velvet Cookies:
3

C.

flour

1/4

C.

unsweetened cocoa powder

2

tsp.

baking powder

1/4

tsp.

baking soda

3/4

tsp.

salt

3/4

C.

butter

softened

1 1/3

C.

sugar

3

large eggs

at room temperature

1

Tbsp.

milk

1 1/2

tsp

vanilla extract

2

tsp.

lemon juice

4-5

tsp.

liquid red food coloring
Oreo Frosting:
8-10

Oreos

finely crushed in a food processor

8

oz.

cream cheese

cold

1/4

C.

butter

softened

2

tsp.

vanilla extract

2-3

C.

powdered sugar
Instructions
1. Preheat oven to 350 degrees and line pans with parchment paper.

2. Sift flour, cocoa powder, baking powder, baking soda and salt together. Set aside.

3. In a stand mixer, beat butter and sugar until blended and creamy (about 2-3 minutes).

4. Mix in eggs one at a time and scrape down the sides of the bowl as needed.

5. Add milk, vanilla extract, lemon juice and red dye.

6. Slowly add in dry ingredients and stir just until combined.

7. (If you want a taller cookie, cover dough and chill for 30 minutes.) Make dough balls about the size of a 1 1/2 Tbsp. and place on cookie sheets. Bake for 8-11 minutes depending on how soft you want them to be. Let cool.

8. Oreo Frosting: (If you crush your Oreos in a food processor you don't have to remove the filling but if you crush them by hand using a plastic bag and a rolling pin it's easier to remove the filling so you don't get huge chunks.) Beat cream cheese and butter until smooth. Add vanilla extract and as much powdered sugar as needed to reach your desired consistency. (If doesn't need to be as thick as frosting for piping cupcakes.) Gently fold in crushed Oreos but don't over-mix or your frosting will turn very grey.

9. Pipe frosting onto the bottom of half the cookies and use the unfrosted cookies to top the frosted ones to make little cookie sandwiches
If you want a cake mix version of these cookies, check out my Red Velvet Cookies with Cream Cheese Filling