Peanut butter and jelly is always a favorite, but pair them with brownies and you've found your new favorite treat! Peanut Butter and Jelly Brownies made with the new Pillsbury Purely Simple Brownie Mix!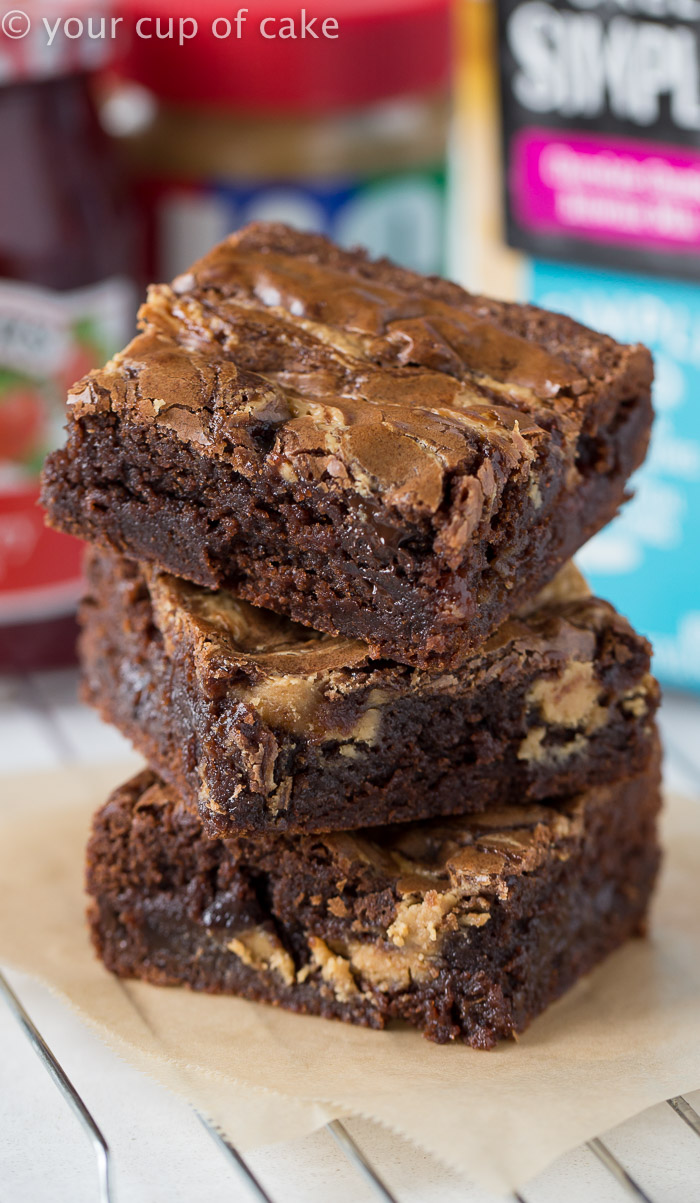 Just check out those swirls of peanut butter and jelly! The jelly is hard to see in the photos because it sinks into the chocolate but it's so fun to eat these and bite into a swirl of strawberry jam!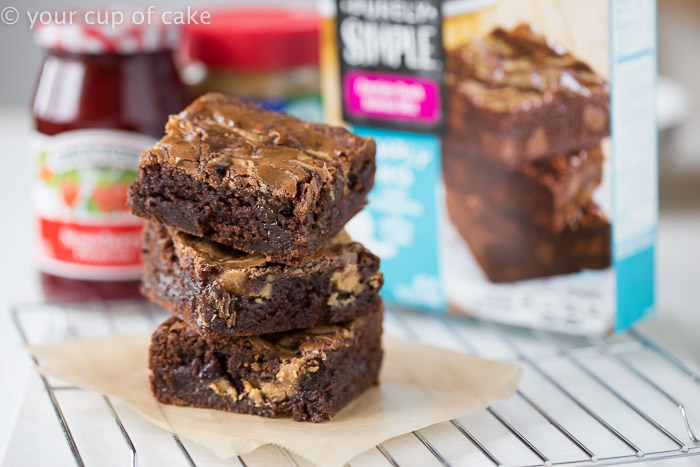 You guys! Here is a fun video I did of the recipe! It's one of those short videos where everything is going super fast and it's super adorable. And this is my first video! Ah! I was so nervous to make it but it turned out so fun and perfect. It also helps to know how to get that perfect "swirl" of the pb and j! Like and share on Facebook if you want!
Posted by Your Cup of Cake on Wednesday, May 4, 2016
I love recipes that start with mixes. Sometimes I just don't have it in me to drag out the heavy bags of sugar and flour and then measure out everything else. I just want some quick, easy and delicious. But with adding just a few more things, it really takes this treat up a few notches!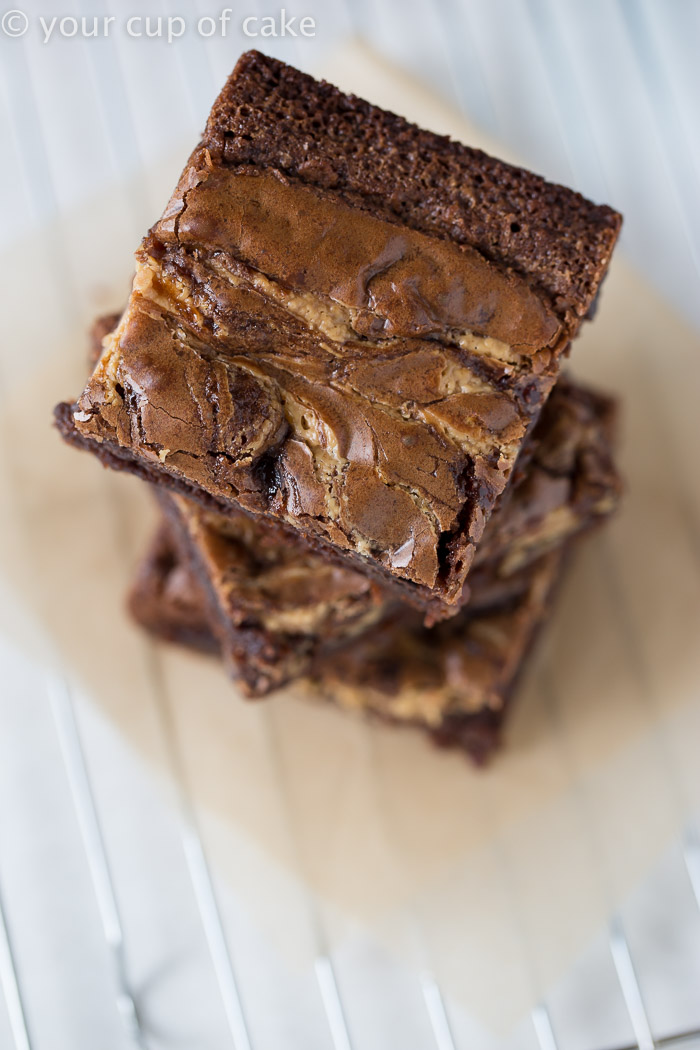 And my favorite new mix? Pillsbury's Purely Simple Chocolate Chunk Brownie Mix! No preservatives, no artificial colors, no artificial flavors. Nada! They just measured everything out for you ahead of time! Plus, it works with all your other brownie mix recipes, so if you have other "hacks" where you swirl in cream cheese or crumble in candy bars this will bake up just the same as other box mixes! I say that because sometimes when companies come out with their specialty lines (like gluten free) they will actually make the mixes smaller–which is totally lame. But all of Pillsbury's Purely Simple line and Gluten Free line make the same amount as their standard mixes.
And I just realized that I stacked my brownies like they have them on the box! It really proves that they come out picture perfect!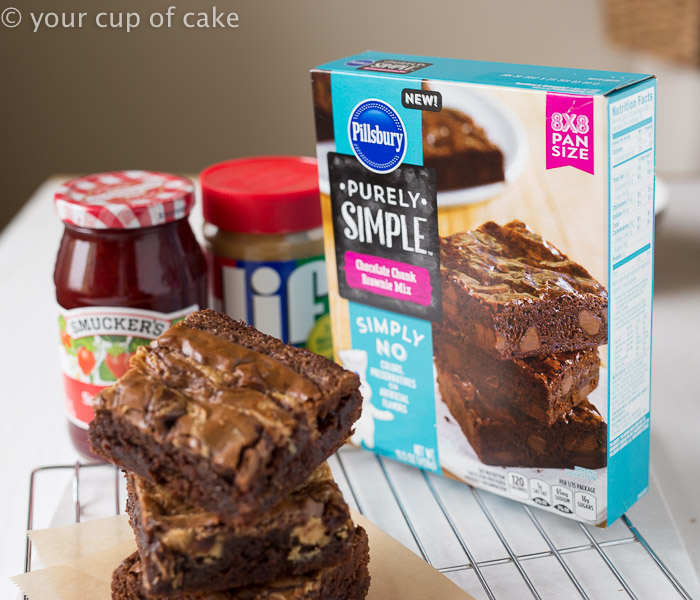 My love of brownies is real. It's seriously dangerous when I make a pan because I will eat half of it in just a few hours and think nothing of it! Ah! So terrible I know… There was this one time when I made some late at night and ate 2. Then went to bed. I got up the next morning so excited to eat another for breakfast, but I go into the kitchen and they're gone!! My father threw them away and even took out the trash so I couldn't get to them! All he said was "I saved you from yourself."
Sad, but true.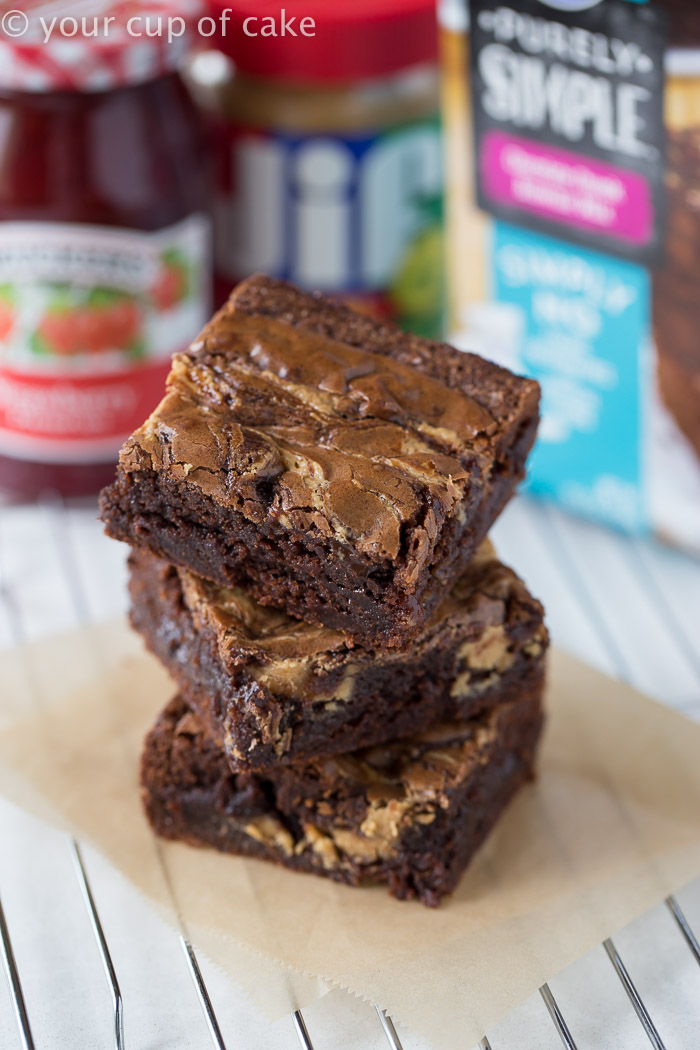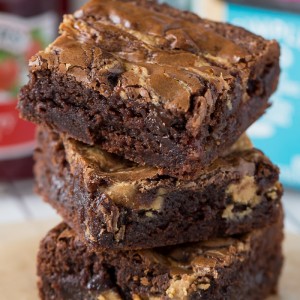 Peanut Butter and Jelly Brownies
Ingredients
1

box Pillsbury Purely Simple Brownie Mix

1/3

C.

oil

1

egg

3

Tbsp.

water

or milk

1/3

C.

peanut butter

2

Tbsp.

melted butter

1/3

C.

powdered sugar

1/3

C.

strawberry jam
Instructions
1. Preheat oven to 350 degrees (325 for a dark pan) and line a 8X8 inch pan with parchment or grease it! (See the box for baking instructions if you're wondering about your pan!)

2. Combine Purely Simple Brownie Mix, oil, egg and water. Stir until smooth.

3. Pour into prepared pan.

4. In a small bowl, combine peanut butter, melted butter and powdered sugar until smooth. Drop dollops all over brownie batter in the pan and then do the same with the jam. (See video.) Then drag a knife up and down, back and forth to swirl.

5. Bake for 30-37 minutes depending on how fudgey or cakey you like your brownies!

6. Let cool or eat warm with a scoop of ice cream!
This recipe and video were sponsored by Pillsbury but all opinions are my own.