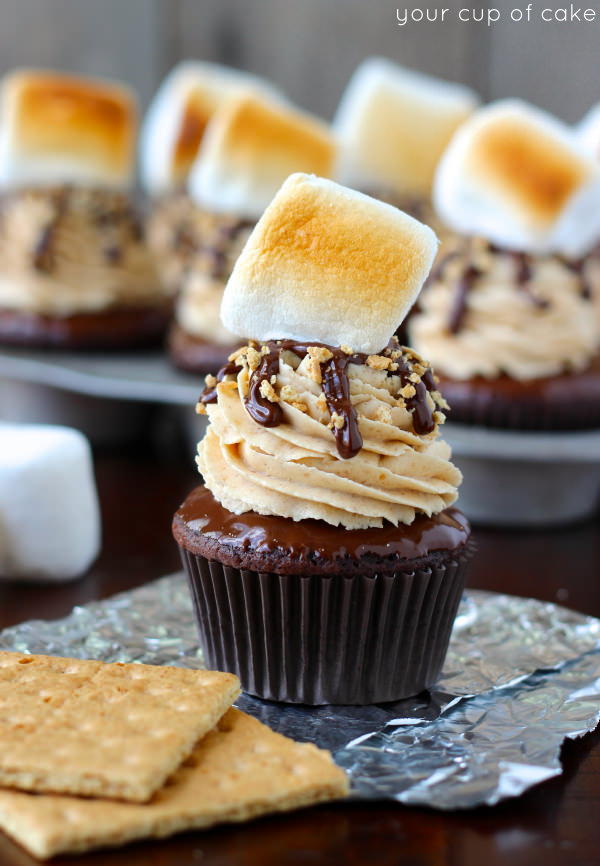 How many s'mores have you had this summer? How many peanut butter s'mores have you had? None?! Well let's change that 🙂 Decadent chocolate cake, with peanut butter chocolate ganache, peanut butter graham cracker frosting and topped with melted chocolate graham cracker pieces and a toasted marshmallow. Yes, these cupcakes are piled high with summer time goodness!
And did I mention who asked for this flavor combo? Jimmer Fredette.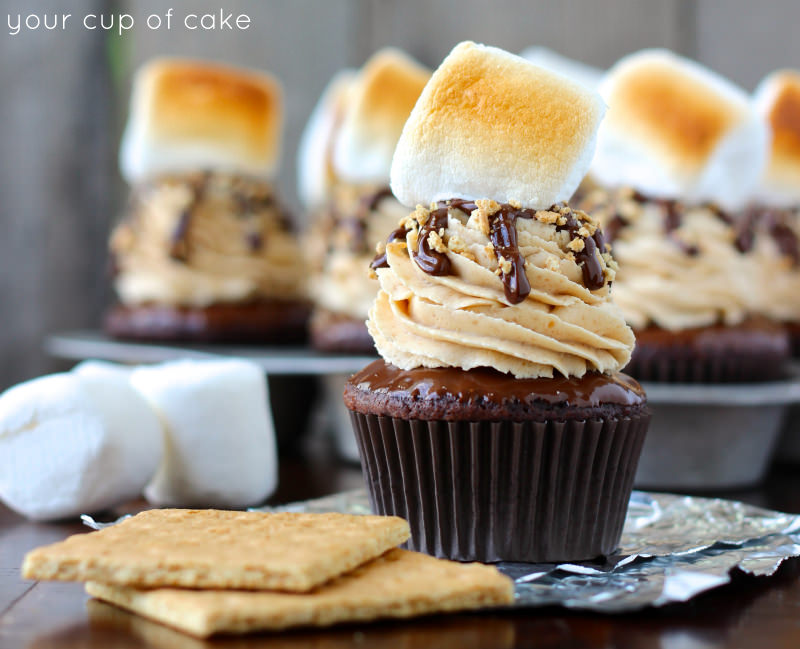 The Story:
Provo–2010
"I know who you should marry, Lizzy." My mother said this quite matter-of-factly as we drove along center street in Provo.
"He's a hard worker, a good man and very handsome." She continued, quite sure of her match-making abilities.
"But most of all, you would be a good fit for him because you know how to handle a stressful life and stay grounded. It really just makes perfect sense."
I was racking my brain going through all the boys she knew from our home town or anyone I may have introduced her to here at college. But I couldn't figure it out. If she loved him and knew him well enough to be so sure of our happy marriage than it must be someone close to the family, right?
I finally gave up trying to guess and asked, "Who are you talking about?"
"Jimmer."
She was dead serious about the whole thing but I just laughed all the way home.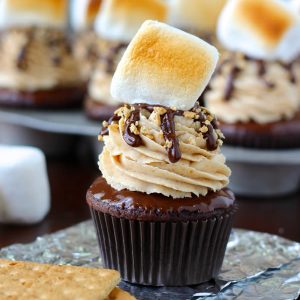 Peanut Butter S'mores Cupcakes
Ingredients
Chocolate Cake:
1

box Devil's Food Cake Mix

I prefer Pillsbury

3

eggs

1/2

C.

oil

3/4

C.

sour cream or plain yogurt

1/2

C.

buttermilk

2

tsp.

vanilla extract
Chocolate Peanut Butter Ganache:
1/2

C.

peanut butter

creamy

1

C.

chocolate chips
Peanut Butter Graham Cracker Frosting:
1

C.

butter

2/3

C.

peanut butter

creamy

1/3

C.

crushed graham crackers

2

tsp.

vanilla extract

3-4

Tbsp.

milk

more if needed

3-4

C.

powdered sugar

more if needed
Melted Chocolate, graham cracker pieces and 24 large marshmallows
Instructions
1. Preheat oven to 350 degrees and line pans with cupcake liners.

2. Sift cake mix into a large bowl and add eggs, oil, sour cream, buttermilk and vanilla extract and stir until smooth.

3. Fill cupcake liners 3/4 full and bake for 15-20 minutes or until an inserted knife comes out clean.

4. Let cool.

5. Chocolate Peanut Butter Ganache: Place peanut butter and chocolate chips in a microwave proof bowl and heat until melted. Stir until smooth. (I usually heat for 1 minute and then 30 second increments and stir between each time.)

6. Peanut Butter Graham Cracker Frosting: Beat butter and peanut butter until smooth. Add crushed graham crackers (I crush my crackers down and then sift them so that I only use the finest crumbs so that I don't get any clogs when I try to pipe the frosting. I's use the larger pieces to top the cupcakes at the end). Add vanilla extract and 1 Tbsp. of milk and beat. Slowly add in 2 C. of powdered sugar and 2 Tbsp. more of milk. Continue to add more powdered sugar and milk until you reach your desired consistency. If it becomes thick like cookie dough, add in more milk!

7. To assemble: Dip the tops of your cooled cupcakes into your ganache and let set. Then pipe on your frosting and top with melted chocolate, graham cracker pieces and toasted marshmallows. I toasted my marshmallows in the oven on a cookie sheet on BROIL. Watch the oven carefully because marshmallows can quickly burn.
Making a cupcake look really decadent and professional is all in how you "dress" it up. Here you can see what it looks like in each step. Just piped, then with a little melted chocolate and graham cracker pieces. Add on that big toasted marshmallow and it looks ready for a king…or Jimmer.