Perfect Peanut Butter Cookies brought to you by me and Jif Peanut Butter! Everyone needs a go-to recipe for these incredible cookies and this is mine! Jif's Irresistible Peanut Butter Cookies are perfect for dipping in chocolate, pairing with strawberry ice cream, even press a chocolate peanut butter cup into them fresh out of the oven for the perfect treat! I kept sampling them as my day went on and then crumbled some up to make into a trifle dessert, so good!
Enjoy this delicious recipe and come back soon because Jif is giving away some swag and moolah to one of my readers 🙂 🙂 🙂 You won't want to miss out!
Perfect Peanut Butter Cookies
Ingredients
3/4

cup

Jif® Creamy Peanut Butter

1/2

stick Crisco® Baking Sticks All-Vegetable Shortening or 1/2 cup Crisco® All-Vegetable Shortening

1 1/4

cups

firmly packed brown sugar

3

tablespoons

milk

1

tablespoon

vanilla extract

1

large egg

1 3/4

cups

flour

3/4

teaspoon

baking soda

3/4

teaspoon

salt
Instructions
1. Preheat oven to 375 degrees and line cookie sheets with parchment paper (you don't have to use parchment paper but I always bake with it.)

2. Combine peanut butter, shortening, brown sugar, milk and vanilla in large bowl. Beat at medium speed of electric mixer until well blended. Add egg. Beat just until blended.

3. In a separate bowl, combine flour, baking soda and salt. Add to creamed mixture at low speed. Mix just until blended.

4. Drop by rounded dough balls (sized just smaller than a golf ball) 2-inches apart onto greased baking sheet. Flatten slightly in a crisscross pattern with a fork (see photo below).

5. Bake for 7 to 8 minutes, or until set and just beginning to brown. Cool 2 minutes on baking sheet. Remove cookies to cooling racks to cool completely. Enjoy plain, drizzled with chocolate or make little ice cream sandwiches out of them!
Use a fork to put a sort of "thatch" patten on top of the cookies, this is the sign of a traditional peanut butter cookie. It also helps the peanut-free people like my brother know to stay away 🙂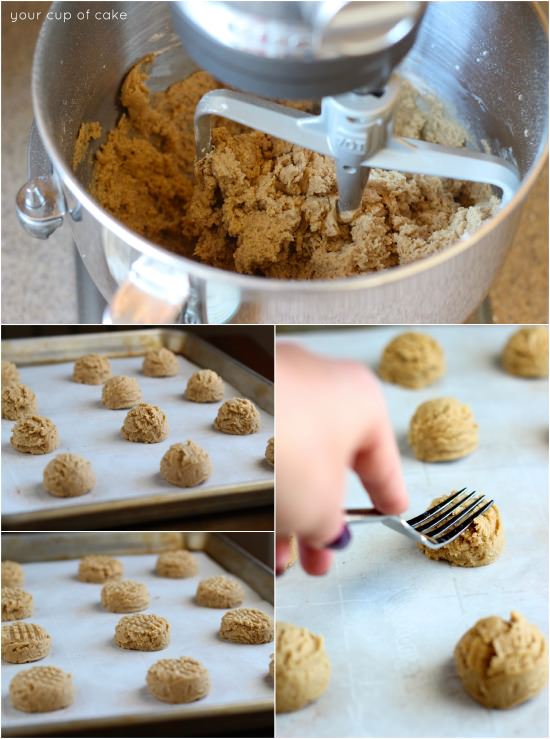 You can even just stir in a cup of mini chocolate chips to kick these up a notch if you wanted!
Did I mention I have peanut butter every day? Yeah… sort of a staple in my green smoothie love. I do everything I can to not actually have my green smoothie be green. If it's ever a weird color I just drink it out of a mug or a pink cup to distract myself.