Have you heard about the pumpkin situation? Well I'm not sure if it's true, but there is going to be a shortage of pumpkin! Ah! The world must be coming to an end.
When I heard about this last year, I honestly started to panic because I love pumpkin things so much. Pumpkin pie, pumpkin muffins, pumpkin ice cream, pumpkin cookies, I even put pumpkin in my Slimfast shakes.
So now every time I go to the grocery store, I buy a can of pumpkin, so that if this shortage really does happen, I will be prepared.
To celebrate the start of the Fall season, I broke into my incredible pumpkin stash and found this beautiful recipe.
Pumpkin Muffins with Cream Cheese Centers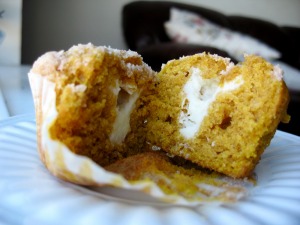 3-4 teaspoons pumpkin (or apple) pie spice, whatever you have will do
4 tablespoons cold butter, cubed
Directions:
1.
Preheat over to 350 degrees.
2.
Prepare filling: Whip cream cheese and powdered sugar until smooth.
3.
Using a piping bag, pipe out a "log" of cream cheese mixture onto plastic wrap. The diameter should easily fit into the bottom of a muffin tin.
4.
Wrap log in plastic and place in freezer until firm, about 2 hours.
5.
Prepare Batter: Combine flour, spices, salt and baking soda.
6.
In a separate bowl, combine eggs, oil, sugar and pumpkin.
7.
Mix in dry ingredients only until combined, do not over mix.
8.
Fill muffins tins (with papers) 1/3 full.
9.
Cut cream cheese "log" into pieces and place a piece in each muffin tin. Make sure to not press them down all the way to the bottom.
10.
Cover cream cheese centers with more batter, so the tin is about 2/3-3/4 full.
11.
Prepare topping: Combine all ingredients until crumbly (using a form works well).
12.
Bake 15-20 minutes of until tops spring back.