The CUTEST Christmas Cupcakes! These Reindeer Cupcakes steal the show at every party and with a red nose they can be Rudolph Cupcakes!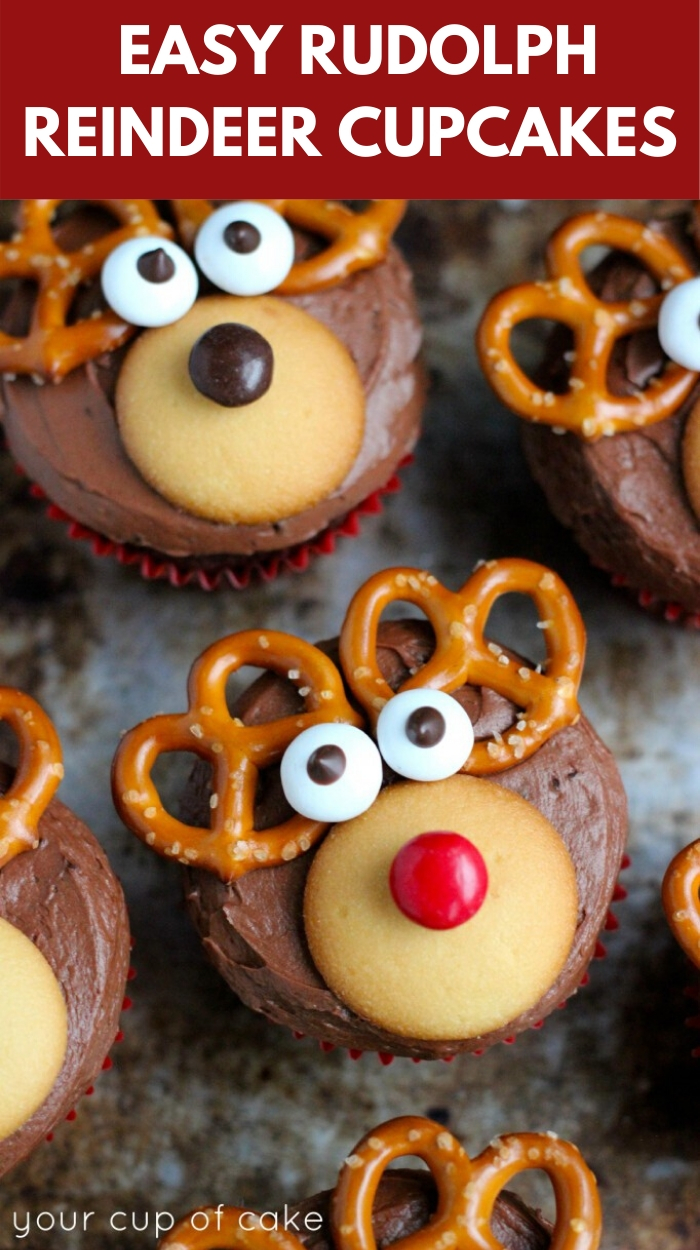 Cute Christmas Cupcakes… Rudolph the red nosed cupcake!
You'll notice I made my own candy eyes using M&M's but you can always just buy candy eyes at the grocery store in the baking aisle! Back when I made these the first time, candy eyes were only sold at specialty stores like Michales and Hobby Lobby, but today candy eyes are in most grocery stores which is a BIG win! I love using them at Christmas and Halloween. These Rudolph Reindeer Cupcakes are always a huge hit with kids because they're easy and fun to make AND best of all they turn out like the picture! I love using simple store-bought items to make my little desserts come alive because it sets you and your kids up for success. No pinterest fail memes for this recipe!
A decorating tip with kids: Put all the decorating ingredients like the vanilla wafers, red M&M, brown M&M's, mini pretzels and candy eyes in a cupcake pan (muffin tin). Each ingredient can be in different "wells" so they stay separated. You could also place them in cupcake wrappers on a plate. When I do my kids decorating classes I try to keep everything as organized as possible because it seems to keep the kids a little more tidy too.
Look at the adorable Rudolph! You could make 12 Rudolphs of just one to lead the pack!
Cute Reindeer Cupcakes
You can use a scratch recipe for the cupcakes but I tend to leave the flour, sugar, and everything else in the pantry and just pull out a good-ole cake mix.
There are 16 days until Christmas! I wrapped a pile of presents and sent out family Christmas cards, now I just need a tree! I'll confess I've been watching Christmas movies since mid November and still going strong every night with a cup of hot chocolate. Thanks to Netflix, the Lifetime and Hallmark channels I will never run out of cheesy Christmas romances full of mistletoe, perfect snow and flying reindeer.
These aren't something new, there have been a lot of posts on blogs about these cute cakes. But I couldn't seem to find a really good how-to post, so I thought I'd offer my take on them. Now, there are a few ways to do the pretzel antlers but I like this way because it's the most simple and really easy to pack and deliver to friends and family.
I used Nilla Wafers (or store brand) for the muzzles, brown M&M's for the noses, and white chocolate mint M&M's for the eyes with a dot of melted chocolate.

I hope you love these cute Christmas cupcakes as much as my family does! Enjoy them at home and at your holiday party this year!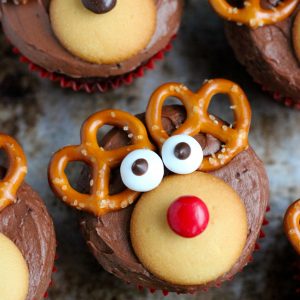 Reindeer Cupcakes
Ingredients
Chocolate Cake:
1

box devil's food cake mix

3

eggs

1/2

C.

oil

2

tsp.

vanilla extract

1

C.

milk or buttermilk

1/2

C.

sour cream
Chocolate Frosting:
1

C.

butter

1/3

C.

unsweetened cocoa powder

2-3

C.

powdered sugar

2

Tbsp.

milk
Nilla Wafers, for muzzles
Brown M&M's for noses (some red for Rudolph)
White Mint M&M's for eyes
Instructions
1. Preheat oven to 350 degrees and line pans with cupcake liners.

2. Sift cake mix into a small bowl and set aside.

3. In a large bowl, combine eggs, oil, vanilla extract, milk and sour cream until smooth.

4. Stir in cake mix.

5. Fill cupcake liners 3/4 full and bake for 16-20 minutes or until an inserted knife comes out clean.

6. Let cool.

7. Chocolate frosting: Beat butter. Add cocoa powder, 2 C. powdered sugar and milk. Slowly add more powdered sugar until you reach your desired consistency.

8. Prep reindeer "faces" by using frosting to stick brown M&M's on Nilla Wafers (some red for Rudolphs if you want). Melt down a few chocolate chips, put in a small plastic bag, snip off the tip to make a mini piping bag and "dot" little eyeballs on the white M&M's to make eyes.

9. Frost cupcakes.

10. (See photos below) Place Nilla wafers with M&M's on cupcakes, then place pretzels above. Use a little frosting to stick on 2 eyes and there you go!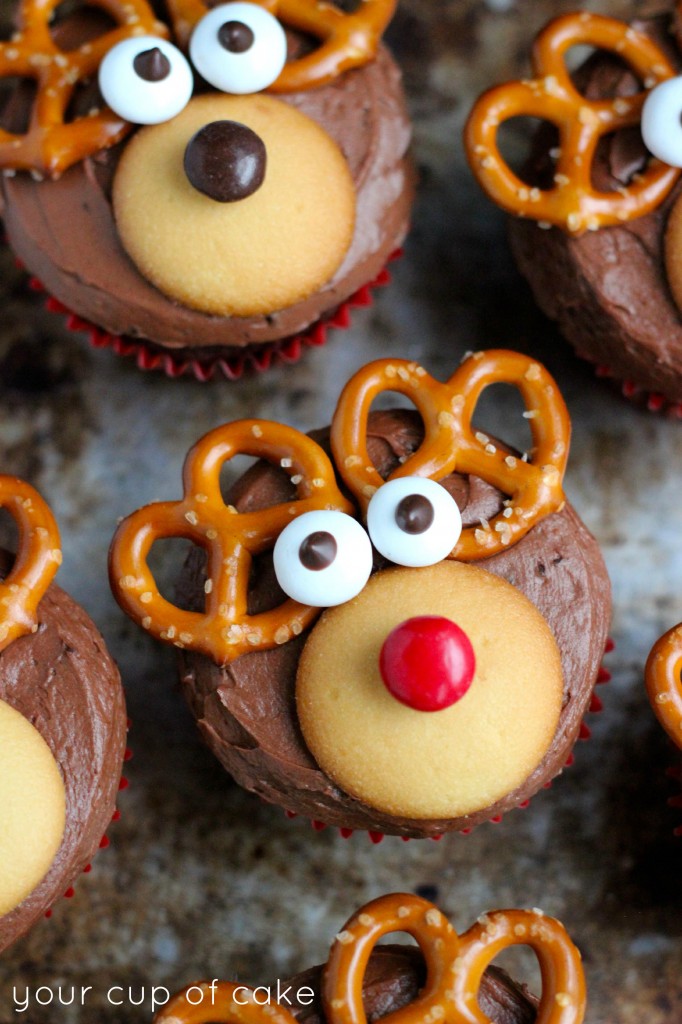 Rudolph!
These are seriously so cute and easy for anyone to make!