The CUTEST Christmas Cupcakes! These Reindeer Cupcakes steal the show at every party and with a red nose they can be Rudolph Cupcakes!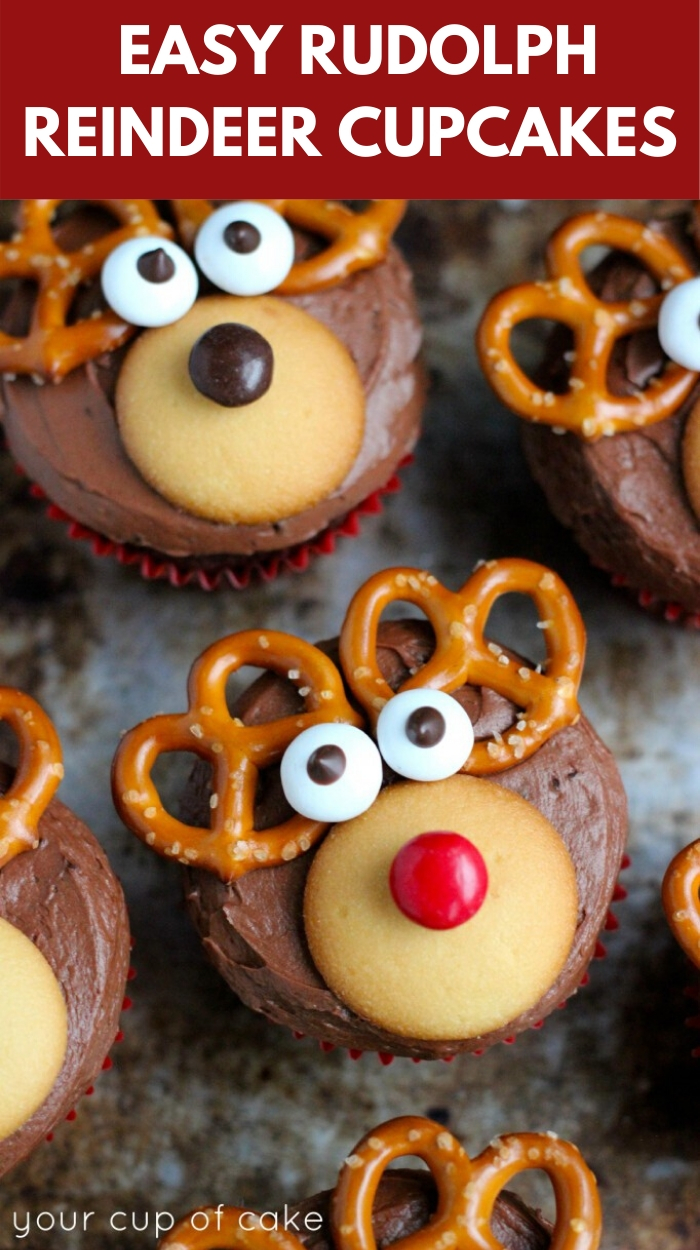 You'll notice I made my own candy eyes using M&M's but you can always just buy candy eyes at the grocery store! Back when I made these the first time, candy eyes were only sold at specialty stores like Michales and Hobby Lobby, but today candy eyes are in most grocery store baking aisles.
The Story:
There are 16 days until Christmas! I wrapped a pile of presents and sent out family Christmas cards, now I just need a tree! I'll confess I've been watching Christmas movies since mid November and still going strong every night with a cup of hot chocolate. Thanks to Netflix, the Lifetime and Hallmark channels I will never run out of cheesy Christmas romances full of mistletoe, perfect snow and flying reindeer.
These aren't something new, there have been a lot of posts on blogs about these cute cakes. But I couldn't seem to find a really good how-to post, so I thought I'd offer my take on them. Now, there are a few ways to do the pretzel antlers but I like this way because it's the most simple and really easy to pack and deliver to friends and family.
I used Nilla Wafers (or store brand) for the muzzles, brown M&M's for the noses, and white chocolate mint M&M's for the eyes with a dot of melted chocolate.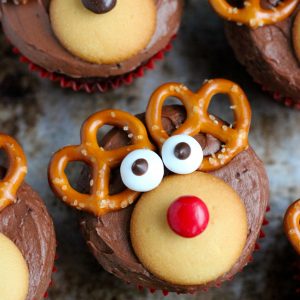 Reindeer Cupcakes
Ingredients
Chocolate Cake:
1

box devil's food cake mix

3

eggs

1/2

C.

oil

2

tsp.

vanilla extract

1

C.

milk or buttermilk

1/2

C.

sour cream
Chocolate Frosting:
1

C.

butter

1/3

C.

unsweetened cocoa powder

2-3

C.

powdered sugar

2

Tbsp.

milk
Nilla Wafers, for muzzles
Brown M&M's for noses (some red for Rudolph)
White Mint M&M's for eyes
Instructions
1. Preheat oven to 350 degrees and line pans with cupcake liners.

2. Sift cake mix into a small bowl and set aside.

3. In a large bowl, combine eggs, oil, vanilla extract, milk and sour cream until smooth.

4. Stir in cake mix.

5. Fill cupcake liners 3/4 full and bake for 16-20 minutes or until an inserted knife comes out clean.

6. Let cool.

7. Chocolate frosting: Beat butter. Add cocoa powder, 2 C. powdered sugar and milk. Slowly add more powdered sugar until you reach your desired consistency.

8. Prep reindeer "faces" by using frosting to stick brown M&M's on Nilla Wafers (some red for Rudolphs if you want). Melt down a few chocolate chips, put in a small plastic bag, snip off the tip to make a mini piping bag and "dot" little eyeballs on the white M&M's to make eyes.

9. Frost cupcakes.

10. (See photos below) Place Nilla wafers with M&M's on cupcakes, then place pretzels above. Use a little frosting to stick on 2 eyes and there you go!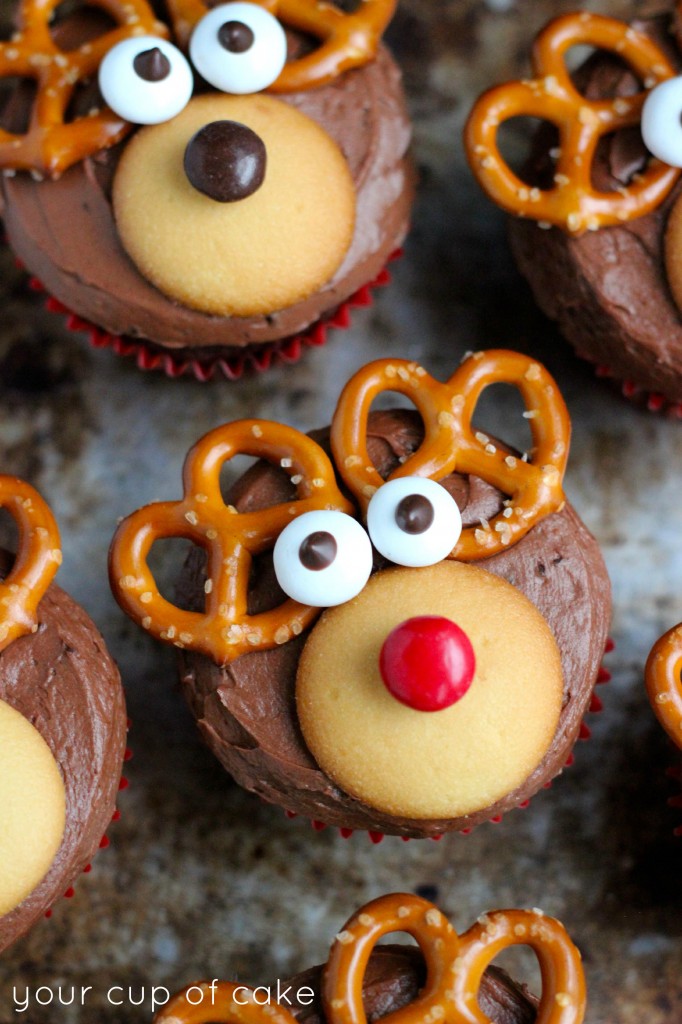 Rudolph!
These are seriously so cute and easy for anyone to make!