Your favorite dessert bread now made with less sugar and fat, and you won't taste the difference! This Skinny Banana Bread recipe will be your new go-to!

Skinny Banana Bread Recipe
I was skeptical. I have a banana bread recipe I'm obsessed with. It's better than Starbucks' and when I make it with walnuts its better than any cake on the block! I don't brag about many things, but that recipe will blow you away! But with the new year, I wanted to make some Skinny Banana Bread with the brown bananas on my counter calling my name. So I made this low fat and low sugar recipe! I was shocked by how good it was! I mean, I guess it makes sense because the bananas keep the bread from getting dry.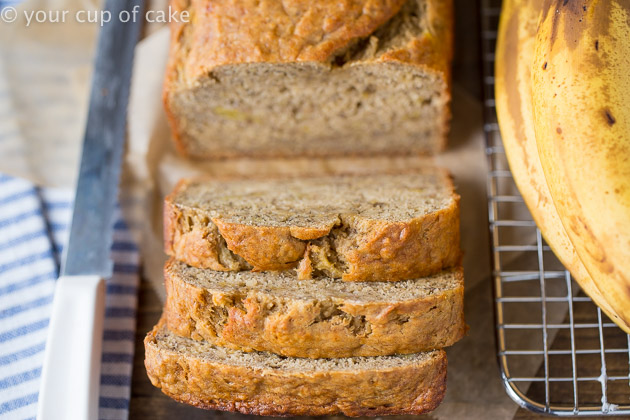 Low Sugar Healthy Banana Bread
This recipe doesn't have much sugar in it. Usually banana bread has a ton, but I scaled it way back to keep it as healthy as possible. You won't notice the fat being gone but you will notice it's less sweet. It didn't bother me at all but if you ever want some more sweetness after you bake it you can add a drizzle of honey! I liked the less sweet version because I had a slice of banana bread and some greek yogurt for breakfast and it was a great way to start out my day. Usually I eat banana bread and feel a little guilty…like I'm eating cake! But this Skinny Banana Bread is guilt free!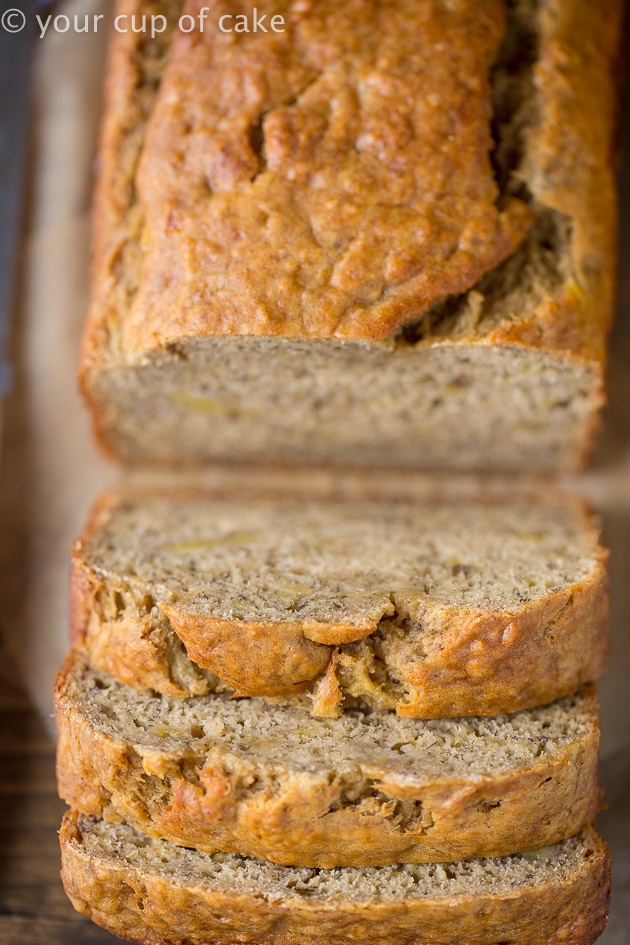 Tips for Making the Best Banana Bread
As with any quick bread, the number one tip is to not over mix! If a recipe ever calls to add in chocolate chips, nuts, blueberries or anything at the end, always add it in before you're finished mixing in the previous ingredient. For example, don't wait to completely mix in your dry ingredients with your wet and then add in your walnuts and stir them in… that makes for more mixing than you need! Add in the walnuts when the dry ingredients are 75% mixed in! The more you stir, the tougher your bread will be, that's why recipes and us bloggers always warn you about over mixing.
My next tip is about the bananas… make sure you're ripe! The flavor changes as they ripen and those yellow peels with the brown marks make for the sweetest banana bread! If I have some bananas and I know I want to make bread in a few days, I'll place them in brown paper bags to help speed up the process!
I switch back and forth from using my standard loaf pan to using one that's a few inches smaller.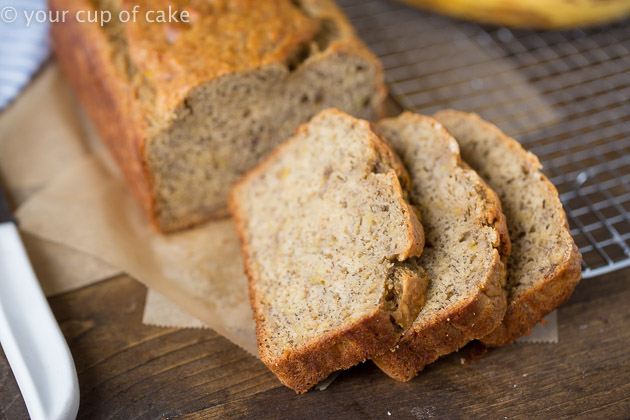 I hope you enjoy my Skinny Banana Bread as much as I did! It's a healthier version of one of my favorite things to make and I looooooved eating it. Though my husband stole the last 2 slices!! I guess I'll just have to make some more…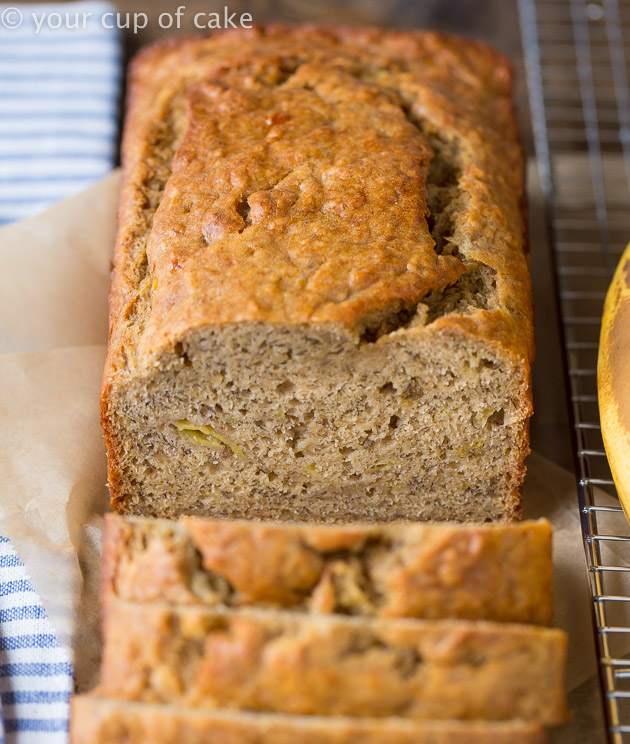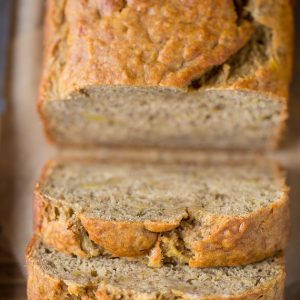 Skinny Banana Bread (Low Sugar + Low Fat)
Ingredients
3

ripe bananas

medium-large

1

egg

1

Tbsp.

vanilla extract

3

Tbsp.

brown sugar

3

Tbsp.

granulated sugar

1 1/2

C.

flour

AP or whole wheat

1

tsp.

baking soda

1

tsp.

baking powder

1/2

tsp.

salt

3

Tbsp.

butter

melted
Instructions
1. Preheat oven to 350 degrees and prep a loaf pan (9x5 or 8x4) by greasing it or lining it with parchment paper.

2. In a medium bowl add bananas and use a fork to mash well.

3. Add egg, vanilla, brown sugar and granulated sugar. Stir well.

4. In a separate bowl combine flour, baking soda, baking powder and salt.

5. Add dry ingredients into the wet slowly as you stir. Before the two are incorporated add in melted butter. Stir just until barely combined, DO NOT OVER MIX.

6. Pour into pan and bake for 30-45 minutes or until an inserted knife or toothpick comes out clean.

7. Serve warn or cooled. As with any banana bread/cake, it always tastes better the next day! Store in an airtight container.