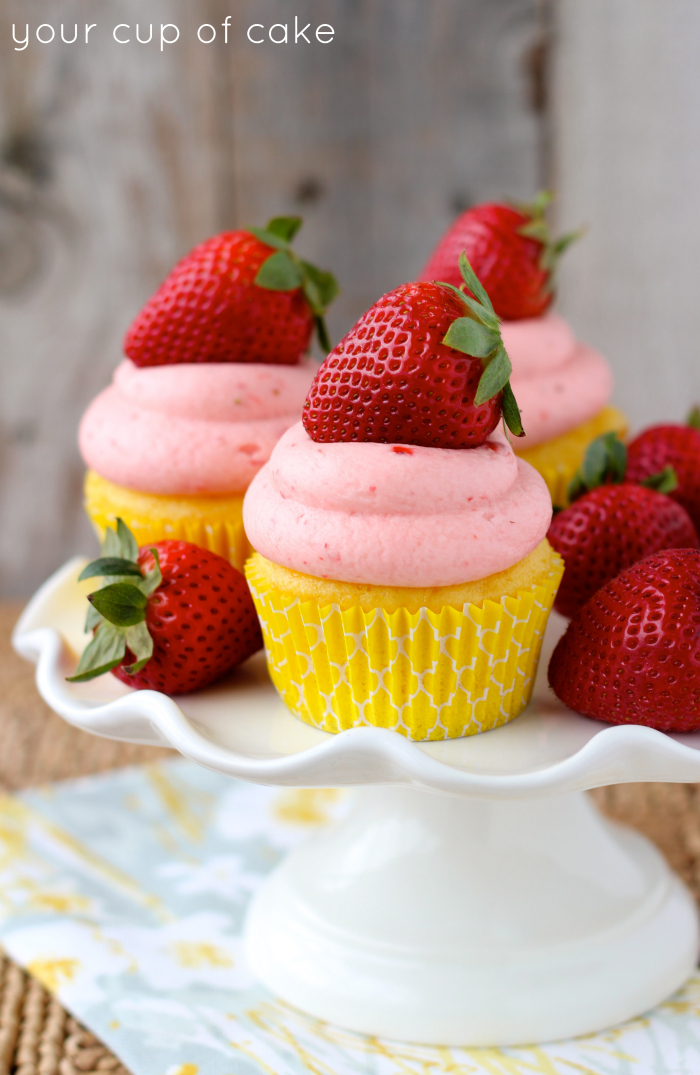 Pineapple Greek Yogurt Cupcakes with Strawberry Frosting. Is Spring here yet? Because I am SO ready for sandals, short sleeves and sundresses! And yes, these beautiful cupcakes have greek yogurt in them! Added protein… so they're basically heathy, right? Well Bekah will tell us all about greek yogurt a little later…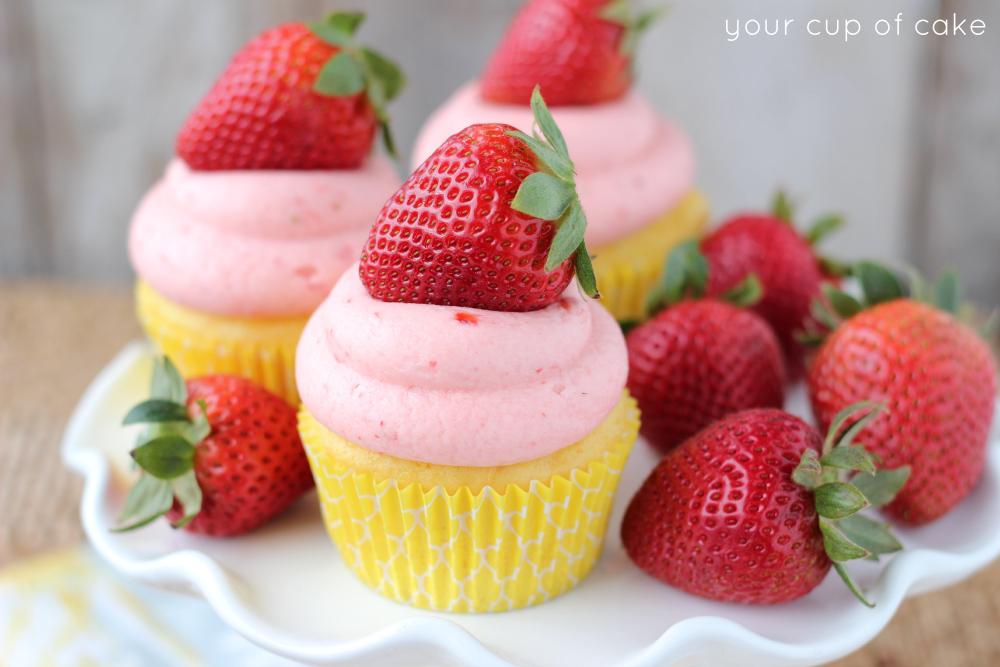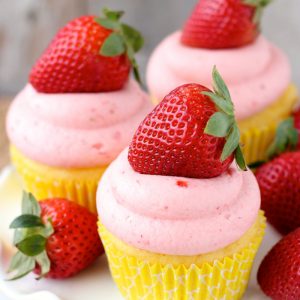 Strawberry Pineapple Greek Yogurt Cupcakes
Ingredients
Pineapple Greek Yogurt Cake:
1

box Yellow cake mix

3

eggs

3/4

C.

crushed pineapple

1/2

C.

non-fat plain greek yogurt

1/3

C.

oil

2

tsp.

vanilla extract
Strawberry Frosting:
1

C.

butter

softened

1/4

C.

strawberry puree

a few strawberries blended down in a blender

3-4

C.

powdered sugar

NOTE: You can top cupcakes with chopped strawberries tossed in a little sugar. This is the healthier option and still delicious!
Instructions
1. Preheat oven to 350 degrees and line pans with cupcake liners.

2. Sift cake mix into a small bowl and set aside.

3. In a large bowl, combine eggs, crushed pineapple, greek yogurt, oil and vanilla until smooth.

4. Stir in cake mix.

5. Fill cupcake liners 3/4 full and bake for 15-20 minutes or until an inserted knife comes out clean.

6. Let cool.

7. Strawberry Frosting: Beat butter for 2 minutes. Add strawberry puree and slowly add in powdered sugar until you reach your desired thickness. (You may need to add more than the recommended amount depending on the heat of where you live!)

8. Pipe onto cooled cupcakes and top with a fresh strawberry!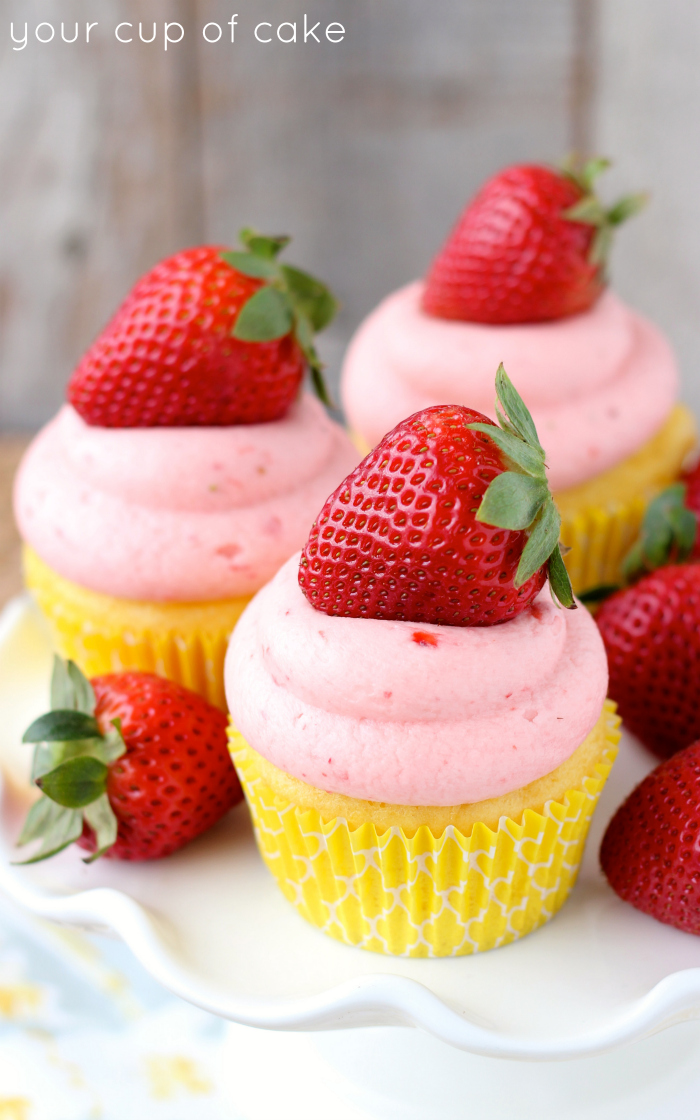 Bekah taught us some awesome Healthy Baking Substitutions for Flour, Sugar, Butter, Eggs and More last Monday, and today we're talking Greek yogurt. Bekah?
–Lizzy
——————
Greek yogurt has become the most popular item in the dairy isle and for good reason! This stuff is incredible healthy and versatile.
What is Greek yogurt? It's yogurt that has been strained or filtered through a cheese cloth to remove the whey, which gives it's distinctively sour taste and thick consistency. That's why it works so well as a baking substitution!
Why is Greek yogurt so good for you? Greek yogurt tends to have twice as much protein as regular yogurt, which is great for keeping you full and rebuilding and repairing those muscles. Greek yogurt is also lower in sodium and carbohydrates for those who are on diets where they need to monitor their intake of either of these nutrients. Greek yogurt is also very easy to digest because it has less lactose (natural sugar found in milk) which is known to upset stomachs. Also, it contains probiotics, which are live microorganisms which aid in digestion and immune system functions. Cool, huh?!
Have you jumped on the Greek yogurt bandwagon yet? These cupcakes are the perfect chance to introduce this power food into your diet. Trust me…once you go Greek, you won't go back.
And as always, if these tips don't apply to you, do me a favor and keep working on that water intake. I challenge you to drink 16 ounces of water before every meal and snack this week—you'll be pleased to see how much it can help you control your caloric intake, regulate body fluids, and energize your muscles!
–Bekah