Thanksgiving is coming so preheat your oven to make these Sweet Potato Pie Bars topped with mini marshmallows toasted to perfection!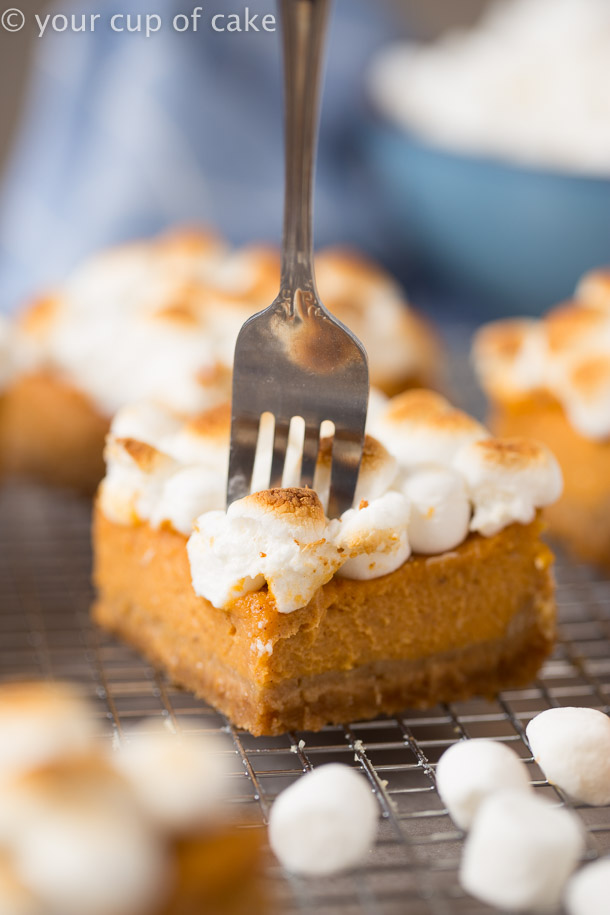 Sweet Potato Pie Bars
I spent Thanksgiving out in Texas a few years ago and I had my first sweet potato pie for Thanksgiving. Oh my. Why isn't everyone eating this every holiday? My brother has lived in Texas since college and I doubt he'll ever leave. And I can't blame him! Every time I visit I just fall in love with all of the people… and bbq. I've been missing Texas so I decided to whip up some Sweet Potato Pie Bars…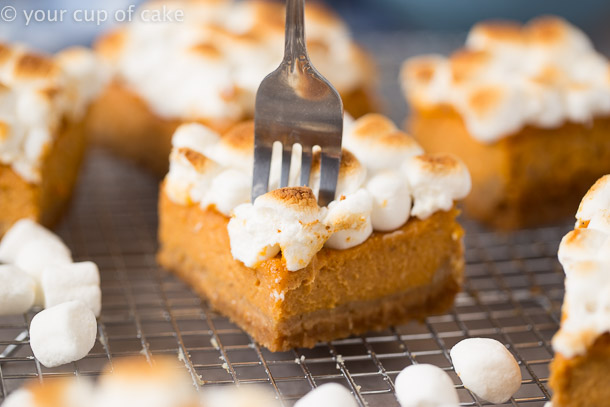 But is it better than Pumpkin Pie?
A lot of people would say yes! But I just say it's different. It has less added sugar because the potatoes are already somewhat sweet and this particular recipe uses a graham cracker crust. But the textures are the same! Vegetable pies… they're healthy, right? Right. But if you're looking for a to die for Pumpkin Pie Bar Recipe I have that too! Baked with cream cheese swirl, it's gorgeous.
What Exactly is a Sweet Potato?
It's a potato that's sweet. That sounds like a silly answer but it's the truth. At the grocery store you'll usually find two types, the lighter ones and the bright orange ones that people call yams! They're both sweet potatoes and the orange yams are the ones I used for this recipe! You can sometimes buy sweet potato puree canned, but my grocery store didn't have any so I just cooked up a large sweet potato and mashed it myself.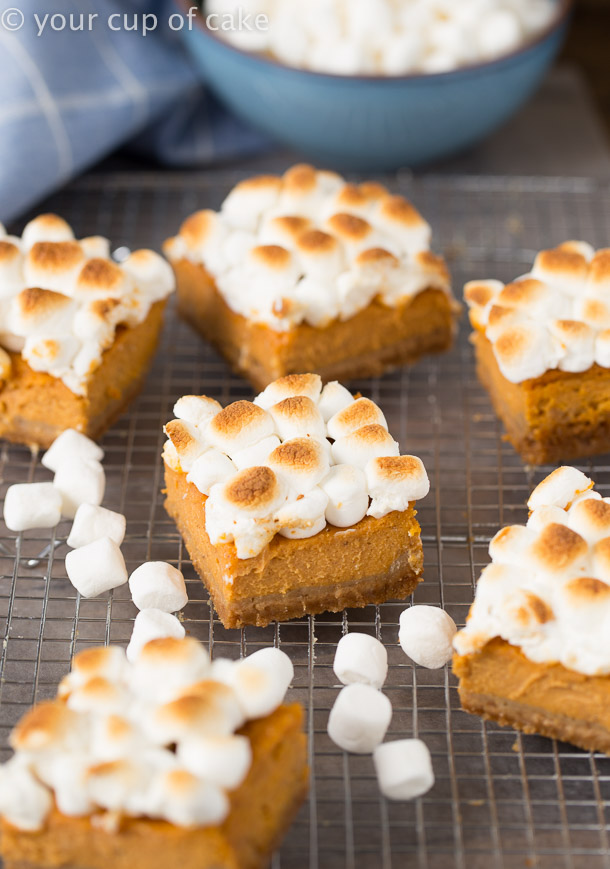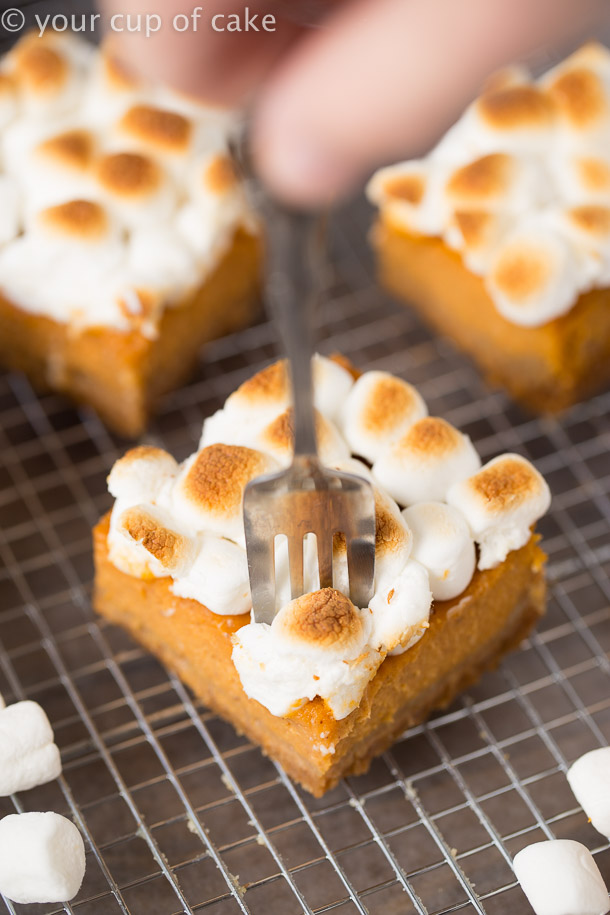 Christmas shopping already? I finished all my shopping this month and it feels great! Buy some food scoops for the bakers in your life! These are my absolute favorites and they never break. The yellow and blue ones are great for cupcakes and the black and purple ones are perfect for smaller cookies!
Enjoy my Sweet Potato Pie Bars this Thanksgiving!
Sweet Potato Pie Bars for Thanksgiving Dessert
Ingredients
CRUST:

18

graham crackers

1/3

C.

sugar

1/2

tsp.

salt

10

Tbsp.

butter

melted

PIE FILLING:

2

C.

16 oz sweet potato puree

1/4

C.

sugar

1/4

C.

brown sugar

3

eggs

1

tsp.

vanilla extract

1

tsp.

salt

1 1/2

tsp.

cinnamon

1/2

tsp.

ginger

1/4

tsp.

cloves

1 1/2

C.

whole milk

1/2

C.

heavy cream

MINI MARSHMALLOW

1 1/2

C.
Instructions
1. Preheat oven to 350 degrees and line an 8X8 inch pan with parchment paper or foil. lightly grease.

2. CRUST: Finely crush graham crackers in a blender or food processor. Add sugar, salt and butter and stir (or zip in your food processor) until combined. Dump into prepared pan and use the bottom of a glass or measuring cup to flatten. Bake for 10 minutes and then remove to let cool completely.

3. FILLING: Use a mixer to combine all ingredients. Pour over cooled crust and bake for 40 minutes or until the middle is set. It will still have a little jiggle like jello but it won't be liquid.

4. Pour mini marshmallows over cooked pie bars, you only need one layer of mallows so you may only need 1 cup! Place in the oven on BROIL but watch your pie bars! The marshmallows can start to burn very quickly so I just sit on the floor and watch my marshmallows get toasted to perfection! Remove and let cool. Store in the refrigerator until ready to serve!

TIP: I buttered my knife so the marshmallows wouldn't stick to it when I cut slices!