Ultimate Pumpkin Cheesecake that will make you think twice about making pumpkin pie this year. This is just too good to miss out on.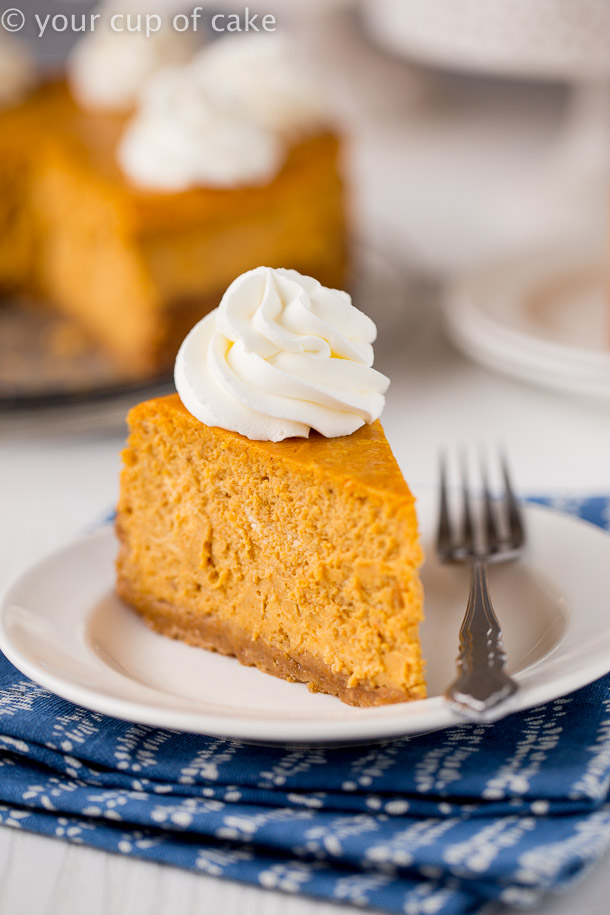 Meet The Ultimate Pumpkin Cheesecake
Pumpkin pie holds a dear place in my heart, but this Ultimate Pumpkin Cheesecake may be giving the pie the boot this Thanksgiving! It's thick and creamy and with a dollop of whipped cream on top you can't say no. I was in pure heaven when I bit into a piece of this cheesecake. I won't lie, I topped it with more whipped cream than in the photo and it was the best idea ever.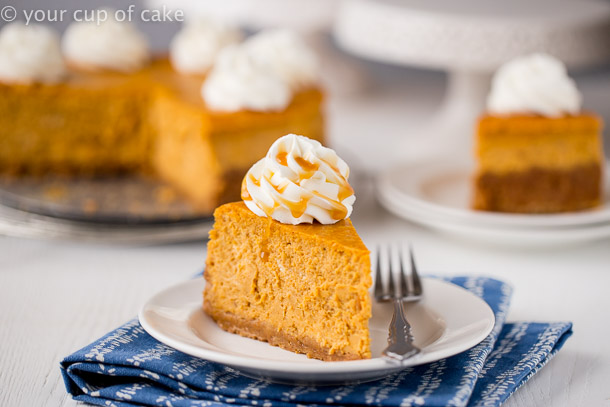 Why is this better than Pumpkin Pie?
Well first of all, it's very similar because all the same flavors are there. But becasue it's more dense, I was totally full after a small piece. With pumpkin pie I always seem to go back for seconds and thirds. So if I brought this to a party, it would feed way more people than a pie! Also, I know the filling is more complicated than a regular pie but the crust is more simple! I just zipped it together in my blendtec and dumped it into the pan. No rolling, so messy floured counter, no holes, no trying to decide how to make the crust look fancy… none of that nonsense! This is always why I looooove my pumpkin pie bars!
Cheesecake Baking Tips
Cheesecake makes me nervous sometimes. So I did a bunch of research before I made this one to make sure I knew all the tricks. Did mine crack? Yes, because my water bath wasn't as full as it should have been. But it wasn't a bad crack and I covered it up with a little whipped cream! problem solved! The major problem you want to avoid is a sinking cheesecake. The major reason this happens is people whip their filling or beat it too quickly so it gets lots of air in it. Slow down. Don't mix everything together on high or even medium-high. Mix things together fairly slowly so you don't end up with a sunken cheesecake.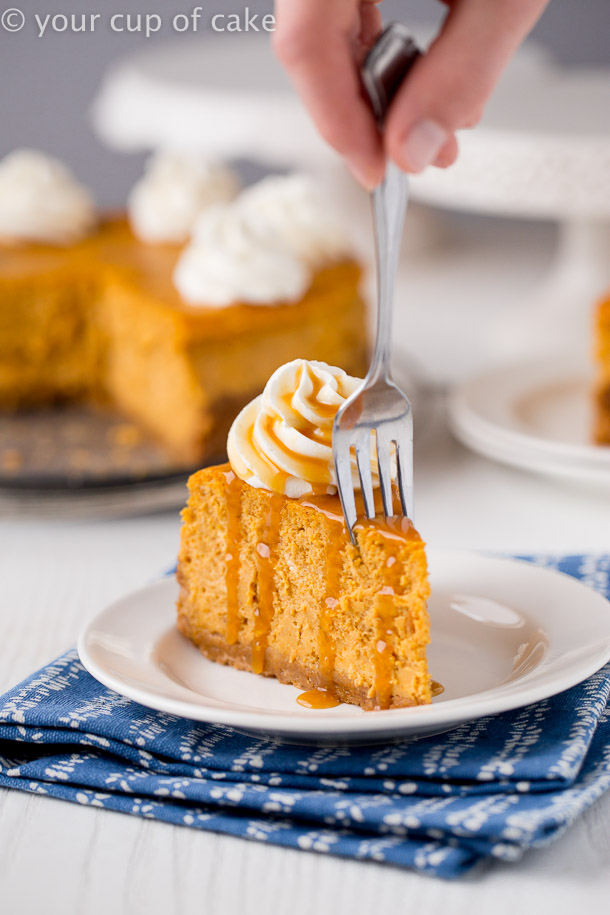 My husband is turning into a professional fork holder. His only complaint is he wants to eat it before I take photos! And check out that drizzle of caramel sauce… I couldn't help myself.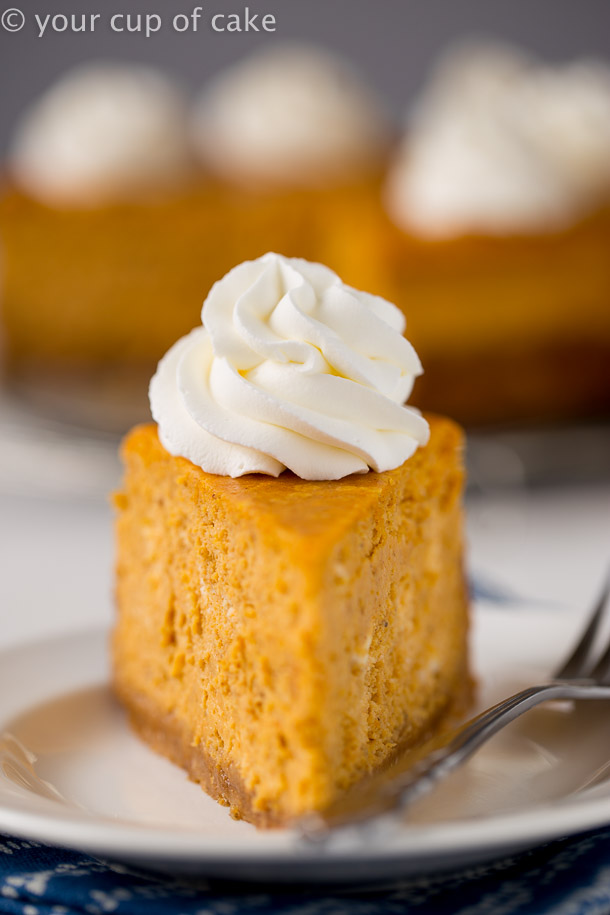 This Ultimate Pumpkin Cheesecake is rich, creamy, and full of fall flavors. I'm pretty in love with this dessert. The Cheesecake Factory is great, but this one took the (cheese)cake. Plus, if you don't want to drive there or spend the moolah on one piece of cake, just make it yourself!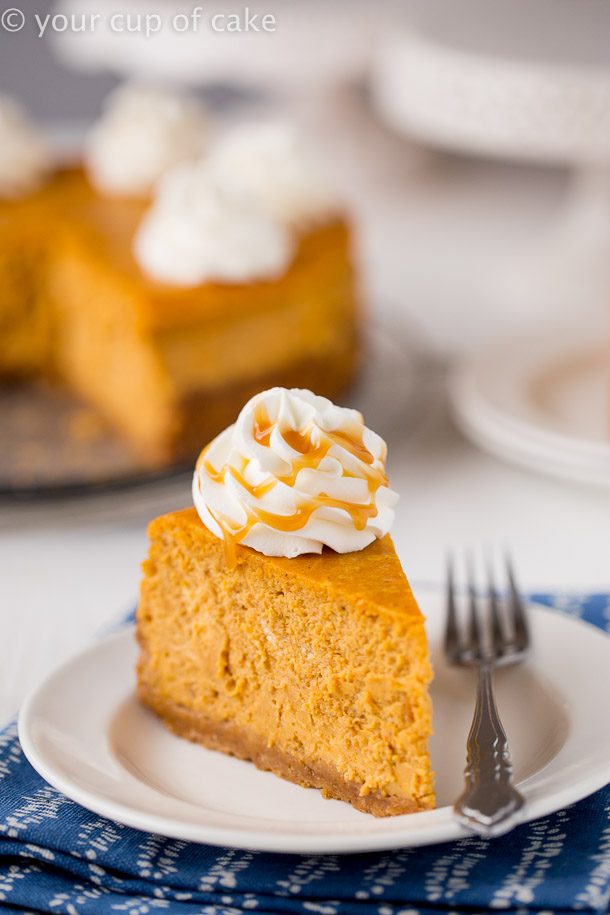 Happy Thanksgiving everyone! I hope you all get a break from work to enjoy family, friends, football and good food. Eat up.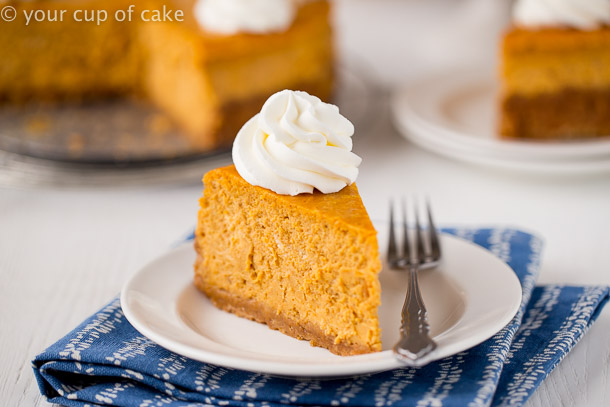 Ultimate Pumpkin Cheesecake
Ingredients
CRUST:

1 1/5

C.

melted butter

2 1/2

C.

graham cracker crumbs

1/4

C.

sugar

pinch

salt

FILLING:

16

oz.

cream cheese. room temperature

2 1/2

C.

sugar

1/4

C.

sour cream

15

oz.

can pumpkin

6

large eggs

room temperature

1

Tbsp.

vanilla extract

2 1/2

tsp.

cinnamon

1

tsp.

ginger

1/2

tsp.

nutmeg

1/4

tsp.

cloves
Instructions
1. Preheat oven to 325 degrees and grease a 10 inch springform pan.

2. CRUST: combine melted butter, graham cracker crumbs, sugar and salt. Dump into prepared pan and firmly press into the bottom of the pan and halfway up the sides. Try to make the crust evenly thick everywhere.

3. Bake for 15-20 minutes or until it's golden brown. Let cool completely and then wrap the sides with aluminum foil and set in roasting pan.

4. Bring a large pot of water to boil on the stove top, you'll use this was a water bath later.

5. FILLING: Beat cream cheese and sugar until smooth. Don't try to rush this step, you don't want lumps in your cake! Scrape down the sides of the bowl as needed. On low speed, add sour cream and pumpkin an mix again. Then add one egg at a time until incorporated. Keep the mixer on low this whole time because you don't want to whip any air into the batter! Add vanilla and all the spices. Once combined, pour into cooled crust. Place the roasting pan (which should have your springform pan in it) into the oven on the middle rack and then pour in your boiling water to the roasting pan until the water reaches halfway up sides of the springform pan. Bake for 1 hour and 45 minutes, the edges should be set but the middle will still be loose. Open the oven door to let out some heat and then turn off the oven and leave the pie in for 1 more hour.

6. Remove from oven and take the springform pan out of the water bath. Let cool for at least one hour and then keep in the fridge until ready to serve. (I always let me cheesecake cool for at least 2 hours before refrigerating because if you put it in too soon it can make a weird texture.)

7. Remove from springform pan and serve with whipped cream!