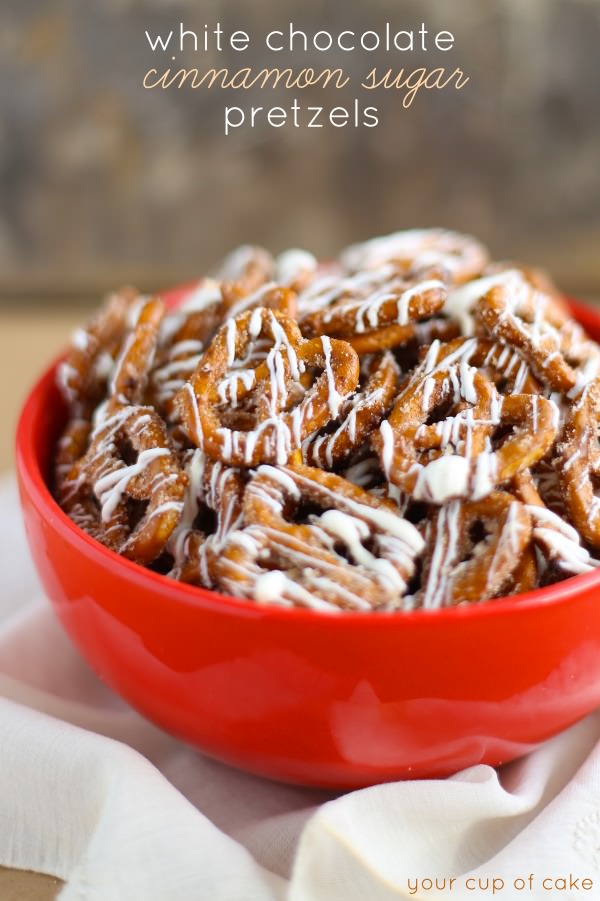 Pretzels covered in cinnamon sugar and white chocolate, just wait until you taste them! You won't be able to stop munching! These White Chocolate Cinnamon Sugar Pretzels are perfect for snacking on during movies or packed up in a lunch.
A few years ago I posted a recipe of these addictive little Cinnamon Sugar Pretzels! Well, the photos were not the greatest and I thought it was time to re-do them. I still remember the first time I tried them at Leigh Anne's house. They just looked like normal chocolate covered pretzels, and then I couldn't keep my hand out of the bowl! They were absolutely delicious. And even better, they're so easy and fast to make. It' a perfect holiday gift to wrap up in a little bag with ribbon and hand out to friends or neighbors because you can make big batches. Plus, it doesn't need to be kept in the fridge so you can buy as much eggnog as you want and the pretzels won't fight for room 🙂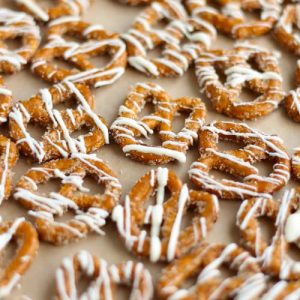 White Chocolate Cinnamon Sugar Pretzels
Ingredients
1

bag pretzels

16-18 oz.

2/3

C.

oil

1/3

C.

sugar

1 1/2

tsp.

cinnamon

1/2

C.

cinnamon-sugar for sprinkling

1

C.

white chocolate chips

I use melts
Instructions
1. Whisk oil, sugar and cinnamon together in a large microwave proof bowl.

2. Add pretzels and stir until coated.

3. Microwave for 50 seconds, stir then microwave again for 40 seconds.

4. Dump out onto two cookie sheets covered in wax, parchment or aluminum foil.

5. While still hot, sprinkle generously with cinnamon-sugar mixture.

6. Let cool, then melt white chocolate chips and drizzle over pretzels.
Gorgeous, right? The more white chocolate you put on them, the better 🙂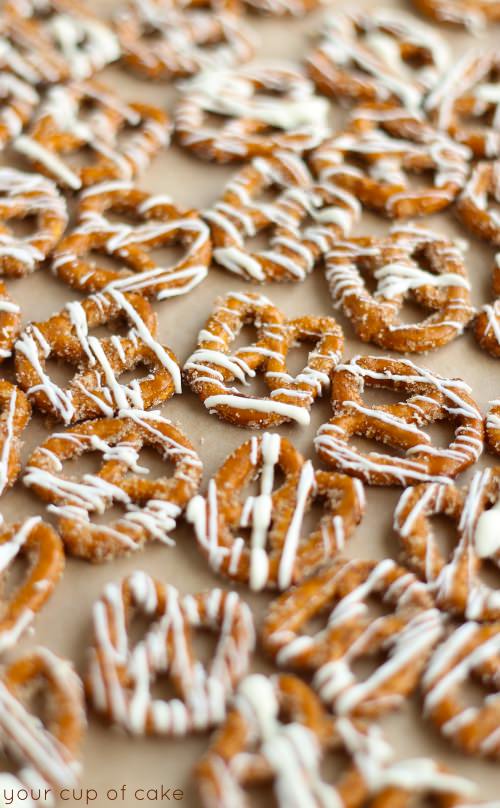 Here's a little step by step of the pretzels in the oil-sugar mixture, then sprinkled with cinnamon sugar and then drizzled with chocolate! Normally when I drizzle the chocolate there's two layers of pretzels, I just spread them out a little more for the photos 🙂 Also, you don't have to cover your cookie sheets with wax paper but it just makes the clean-up go faster.