Everyone loves guac and you can enjoy it with every meal! Here are 10 Ways to Eat Guacamole and avocados!
This post was sponsored by Avocados From Mexico in partnership with the Mom It Forward Influencer Network. However, all thoughts and opinions are my own.

For five days Parker and I will be living in #GuacWorld! We'll be having guacamole with almost every meal. What a dream come true for us!
When Avocados from Mexico gave us this challenge, we wanted to show just how versatile guac is. Now, you may think guacamole only belongs with chips, but you're missing out! We've been having it with salads, tacos, some incredible nachos, soups and more! My favorite will most likely be Guacamole Bruschetta! I can't wait to make it for The Big Game coming up!
Guacamole is just so versatile! Avocados are heart healthy and taste great with everything. Parker and I traded off picking meals to make with guacamole, some are classics and others might surprise you. Come see what we ate in Guac World!
But before we get to the recipes, let me share a few tips and tricks.
Here are 10 Ways to Eat Guacamole with every meal!
How to Ripen Avocados
Finding perfectly ripe avocados at the grocery store can seem impossible sometimes. So a few days before The Big Game head to the store and pick up a few. My favorite trick is to put your unripe avocados into a paper bag with bananas. Close up the bag and wait for the magic to happen! My avocados were perfectly ripe in 2 days!
You'll know your avocado is perfectly ripe if it's soft when you squeeze it and when you take off the stem it's bright green/yellow underneath! If you're at the store and you're using this trick, if you remove the stem and it's brown… don't buy it! It's passed on to avocado heaven. On the other hand, if the stem doesn't come off easily then it's not quite ripe!
Now that you're a guac pro, you're officially ready to head to Guac World! Grab that produce passport!
Monday:
Cucumber, Avocado and Tomato Salad
This is one of my all time favorite salads! It doesn't have any lettuce (though you could add some) and it's always a hit at parties! I somehow haven't made it for my husband though so this was a great excuse to make it. There are avocados mixed up in the salad and it's also topped with some guacamole to make it even more delicious! This is a salad you will make again and again.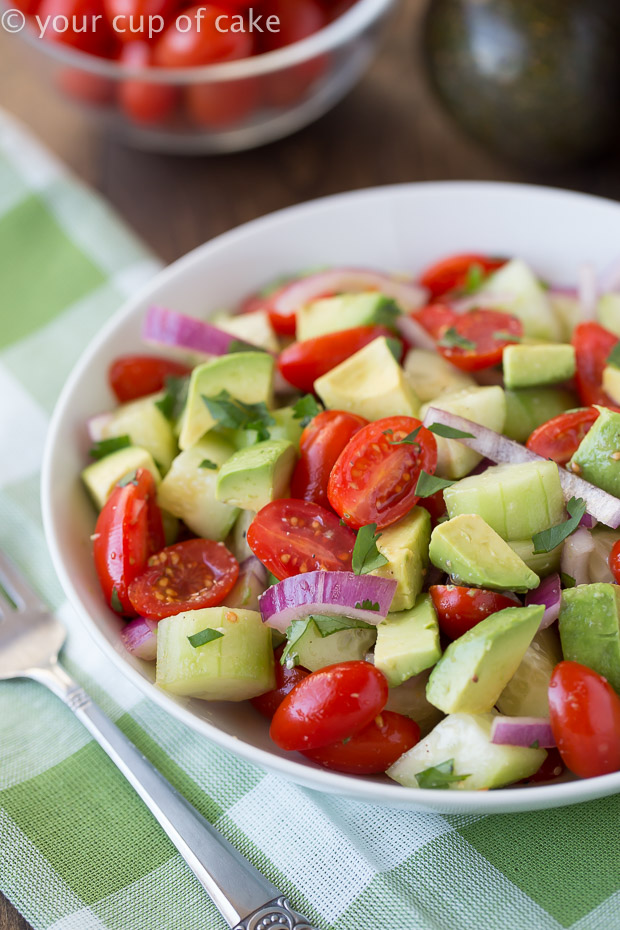 Cucumber, Avocado and Tomato Salad Recipe:
½ C. tomatoes, chopped
½ C. cucumber, chopped
½ C. avocado, chopped
¼ C. red onion, chopped
1 Tbsp. fresh lemon juice
2 Tbsp. cilantro, chopped
Salt, pepper, garlic powder to taste
Dollop of guacamole
Combine all ingredients and top with guacamole. Store in an airtight container until ready to serve to keep avocados from turning brown.
Street Steak Tacos
Tacos are a classic meal that pair great with guacamole! My favorite tacos, steak! There's just something so magical about steak, cilantro, lime juice and creamy guacamole!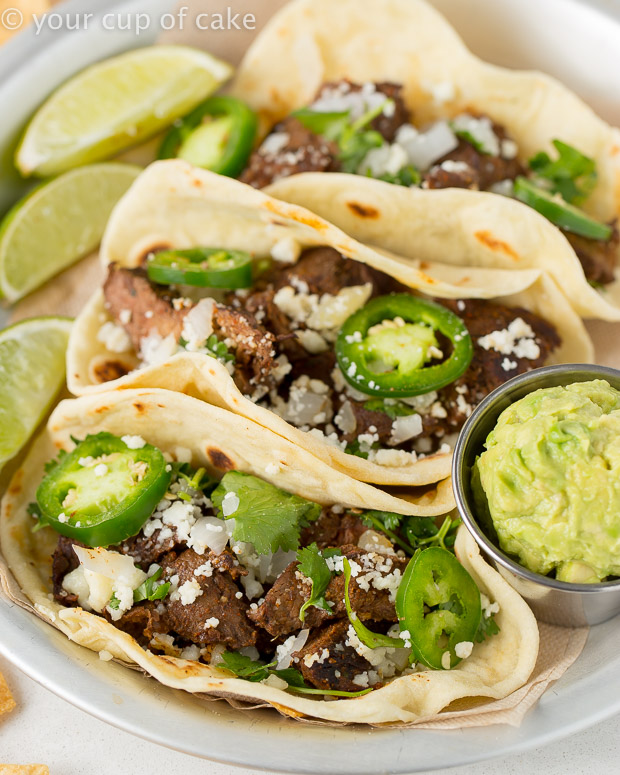 Street Steak Tacos Recipe:
Tortillas, corn or flour
Steak Tacos
Sirloin steak, cooked and sliced
White onion, chopped
Jalapeno chopped
cilantro
Queso fresco
Guacamole
Lime slices
Build tacos by placing all ingredients down the middle of your tortillas. If you're having a taco party, just put all the ingredients in bowls and let your guests build them as they like! Enjoy!
Tuesday:
Guacamole BLT
The classic BLT sandwich just got a huge upgrade! A layer of guacamole makes this no ordinary sandwich but one you'll keep coming back for! You've just gotta make this! The crispy, warm bacon with the crunchy lettuce and creamy guacamole makes every bite a piece heaven.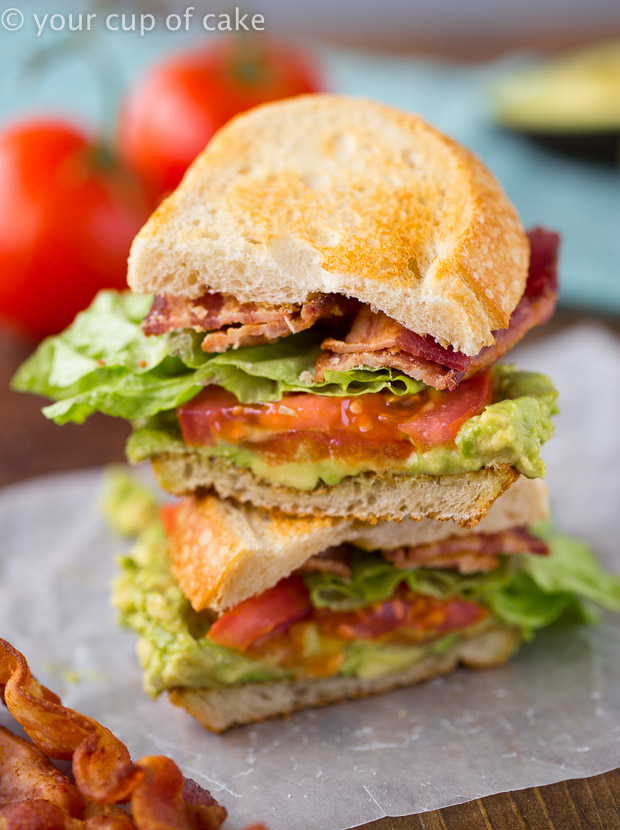 Guacamole BLT Recipe:
Toasted bread
Guacamole
Tomato slices
Lettuce
Bacon, cooked (2 or 3 pieces per sandwich)
Toast bread and then add guacamole, tomato slices, lettuce and bacon! You can add mayonnaise or ranch as a spread for added flavor.
Chicken Burritos
Another classic was to eat that delicious guacamole! Burritos! I love making burritos for big family get togethers or just an evening in with Parker. The guacamole definitely takes these to the next level and it perfect for your Big Game party next week! The leftovers make incredible burrito bowl salads too…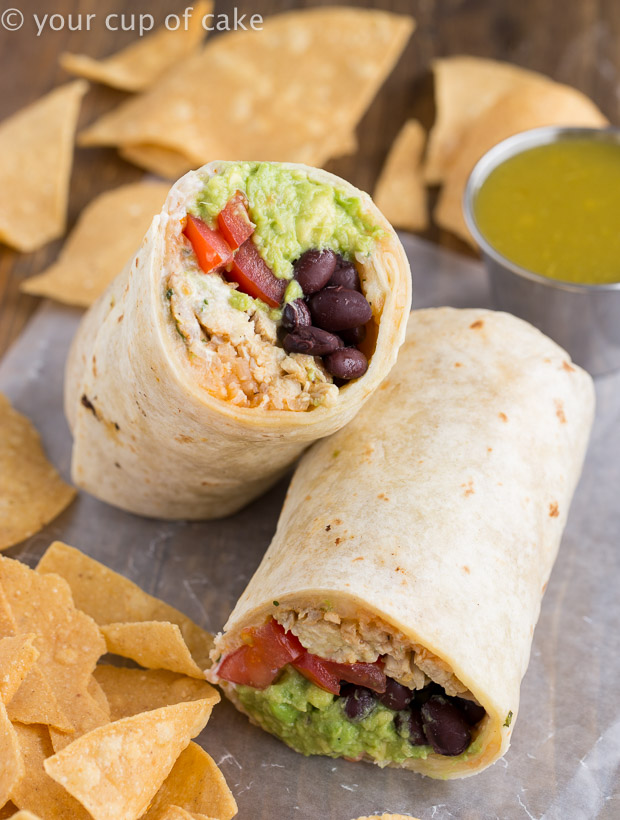 Chicken Burrito Recipe:
Large flour tortilla
Mexican rice, cooked
Chicken, cooked
Guacamole
Chopped tomatoes
Cheese
Black beans
Salsa
Optional additions: Sour cream, corn, cilantro
Layer all ingredients down the middle of your tortilla (but not on the edges) and then roll while tucking in the sides! If you're serving a family and need to keep them warm while you assemble them all, wrap them in foil!
Wednesday:
Ultimate Nachos
This was Parker's recipe! He is a nacho master! He kept referring to himself as "The Nacho Master" while he was making these because they were so incredible and delicious. He wasted no time digging into these as soon as I was done with the photos. The little pockets of guacamole all over the pile are like hidden treasures!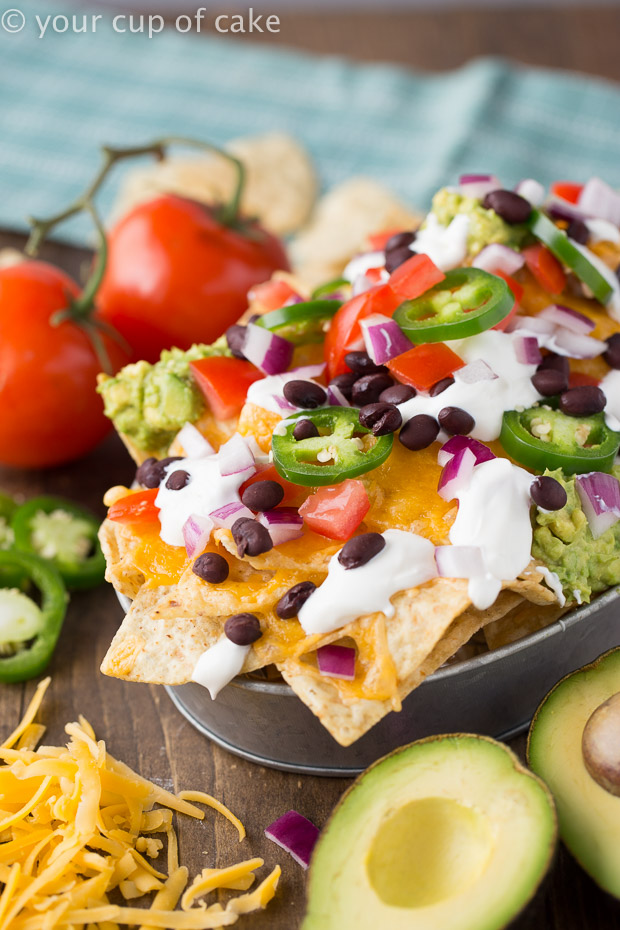 Ultimate Nachos Recipe:
Tortilla chips
Grated cheese
Guacamole
Sour cream
Red onion, chopped
Jalapenos, chopped
Canned black beans, rinsed and dried
Tomatoes, chopped
Preheat oven to 350 degrees. On a cookie sheet or casserole dish lay out desired amount of tortilla chips and cover with grated cheese. Bake for 5-10 minutes or until cheese is melted. Remove from oven and add remaining ingredients. Make it your own, add as much or as little of the ingredients as you want and even try adding more!
Easy Taco Soup with Guacamole
We all need an easy go-to dinner recipe. This one has been my favorite for years because so much of it is canned and I keep it in my pantry! It's a one pot meal that everyone in your family will love and you can swap out the type of meat you use. Use beef, turkey, chicken, or keep it vegetarian! You can also add veggies like zucchini in to sneak more veggies into your family's diets.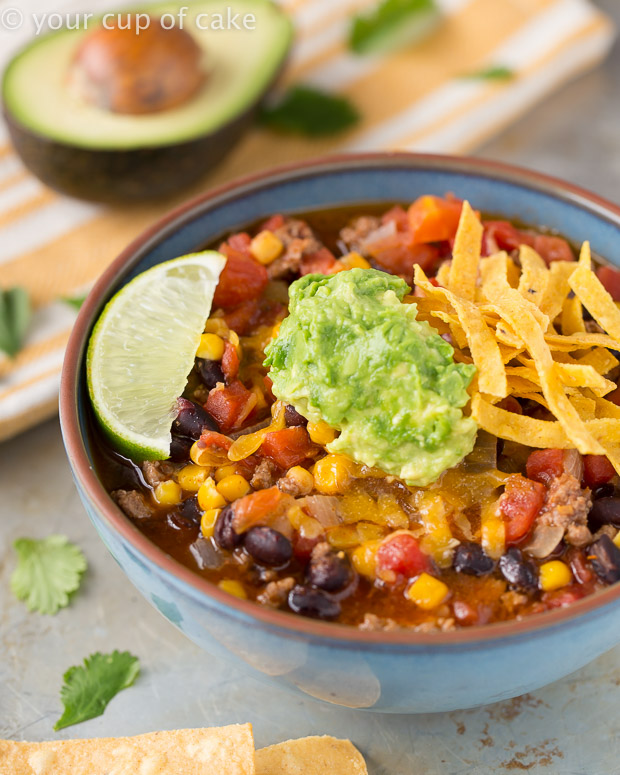 Easy Taco Soup with Guacamole Recipe:
1 small yellow onion, diced
1 lb. ground beef or turkey
1 Tbsp. taco seasoning
1 can petite diced tomatoes
1 can diced tomatoes with chilies
1 can corn, drained
1 can black beans, rinsed and drained
2 C. water
Guacamole
Tortilla strips or chips
Cheese
In a large pot over medium-high heat add 1 tbsp of olive oil and onions. Stir occasionally and after 3 minutes add meat. Break up with a wooden spoon and let cook until browned. Add in taco seasoning and all canned ingredients. Add water, you can add as much or as little as you want depending on how thick your want your soup to be! Let cook over medium heat for 5-8 minutes or until warm. Serve topped with guacamole, tortilla chips and cheese! You can also add cilantro, sour cream and lime slices if you really want to make it a party!
Thursday:
Bacon Avocado Toast
There's a reason so many people are obsessed with avocado toast and breakfast restaurants are now selling different types on their menus! It's beyond incredible! I tried it for the first time 2 summers ago and I was hooked! I ate it almost every day that month because I just couldn't get enough! The biggest tip I'll tell you is that it tastes best when you use coarse salt. I use my Kosher salt and just a sprinkle goes a long way! The luscious guacamole on the warm, crisp toast is a dreamy pair and the bacon on top just sends your taste buds to party town! Enjoy this for breakfast, lunch and dinner! It's perfect for any on-the-go meal.

Bacon Avocado Toast Recipe:
2 pieces of bread, toasted
1 avocado, mashed
Salt and pepper
3 pieces of bacon, cooked and chopped
Toast bread and spread on mashed avocado. Top with salt and pepper and bacon pieces! Eat warm!
Steak Salad with Guacamole Dressing
Avocados are one of my favorite ingredients to use in salad dressings! They make them instantly creamy and taste great on everything. If you haven't had a steak salad before, you're missing out! It's the perfect combination of protein and leafy greens. This is a copycat recipe from on of my favorite restaurants.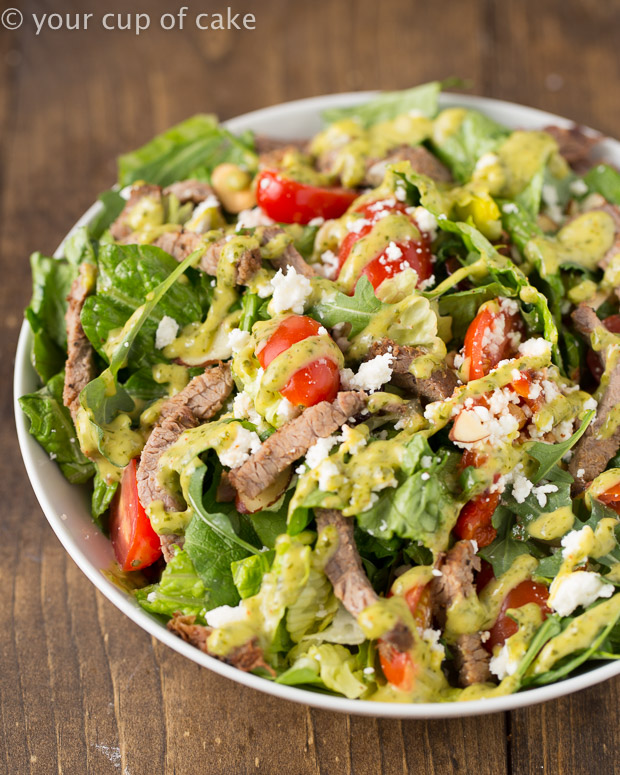 Steak Salad with Guacamole Vinaigrette Dressing Recipe:
Dressing:
1/3 C. olive oil
1/4 Avocado
1 large lemon, 3 tablespoons lemon juice and 2 teaspoons zest
1 large lime, 2 and 1/2 tablespoons lime juice
1 tsp. onion powder
1 + 1/2 Tbsp. white wine vinegar
1/2 Tbsp. honey
1 C. lightly packed cilantro
1/2 tsp. spicy brown mustard
Combine all ingredients in a blender or food processor and mix until smooth.
Salad:
1 lb. tri-tip steak, cooked and sliced
4-6 C. chopped romaine lettuce
2-3 C. Arugula
1 C. halved cherry tomatoes
1 C. roasted red peppers
4-5 green onions chopped
1/3 C. dried cherries or dried cranberries
1/3 C. sliced and toasted almonds
1/3 C. feta cheese
Wash and dry the lettuce then chop into small pieces. Halve the cherry tomatoes. Chop the roasted peppers and green onions.

When ready to serve, toss the lettuce and tomatoes with the dressing. Stir in the dried cherries, sliced and toasted almonds, chopped green onions, and feta cheese. All ingredients best combined right before eating.
Friday:
Banana Pineapple Green Smoothie
I love green smoothies! I was afraid to try them for the longest time, they were just so…. Green. But they can (and usually are) sweet! Yes there's healthy veggies stuffed into them but they're paired with sweet fruits. The avocado in this recipe keeps the smoothie thick and creamy so it almost tastes more like a green milkshake than a smoothie! Parker came home from the gym and looooved this!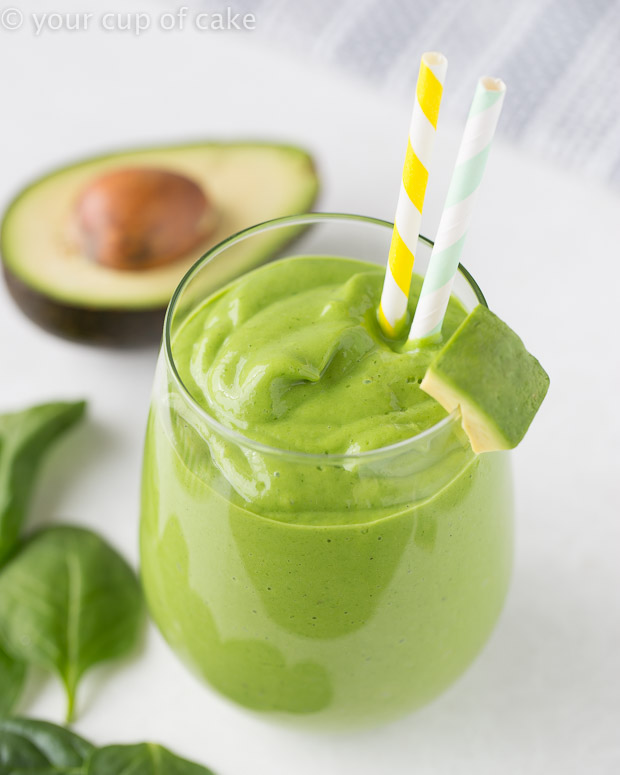 Banana Pineapple Green Smoothie Recipe:
½-1 C. milk of choice
1 banana, sliced and frozen
⅓ C. pineapple chunks with juice (I used canned)
¼ Avocado
Handful of spinach or kale
Using a high powered blender, combine all ingredients until smooth. Feel free to add flax seeds, chia seeds or your favorite protein powder!
Guacamole Bruschetta
Oh my. This was my favorite recipe of the week! All the recipes are good but I've never had Guacamole Bruschetta before! It was Parker and I's little experiment and now we can't wait to make it again and serve to to all our friends and family! All the flavors pair so well together and it's the perfect bite for any occasion. I could see this at a ladies lunch or served in front of the TV while everyone's watching The Big Game!

Guacamole Bruschetta Recipe:
10-15 pieces of baguette
Olive oil
2 avocados, mashed
2 tsp, fresh lime juice
15-20 cherry tomatoes, halved
2 tsp. olive oil
Balsamic reduction
Fresh basil, chopped
Salt and pepper
Preheat oven to 300 degrees. Brush baguette slices with olive oil and bake for 20-25 minute or until golden brown. Combine mashed avocados with lime juice and spread onto toasted baguette slices. Toss cherry tomatoes with olive oil and place on top of the mashed avocado. Top with a drizzle of balsamic reduction, fresh basil, salt and pepper.
Balsamic Reduction: You can buy it or make it! I make mine by placing balsamic vinegar in a saucepan over medium low heat with a little sugar. (I use ¾ tsp for every ½ cup of balsamic vinegar.) Let cook for 20-30 minutes. Let cool and store in the fridge.
I hope you've enjoyed my 10 Ways to Eat Guacamole!