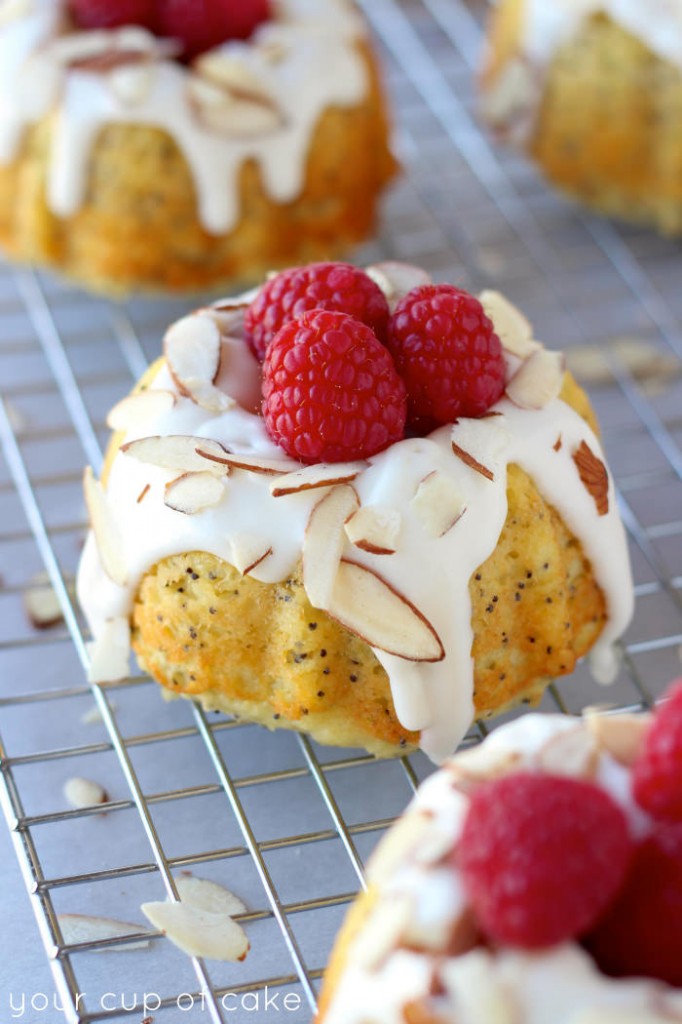 Spring is here! Why not kick off the season right with these gorgeous Lemon Poppy Seed Bundt Cakes with Almond Glaze? As always, I made them with a cake mix so all you gluten free people out there can easily swap out a regular cake mix for a gluten free one!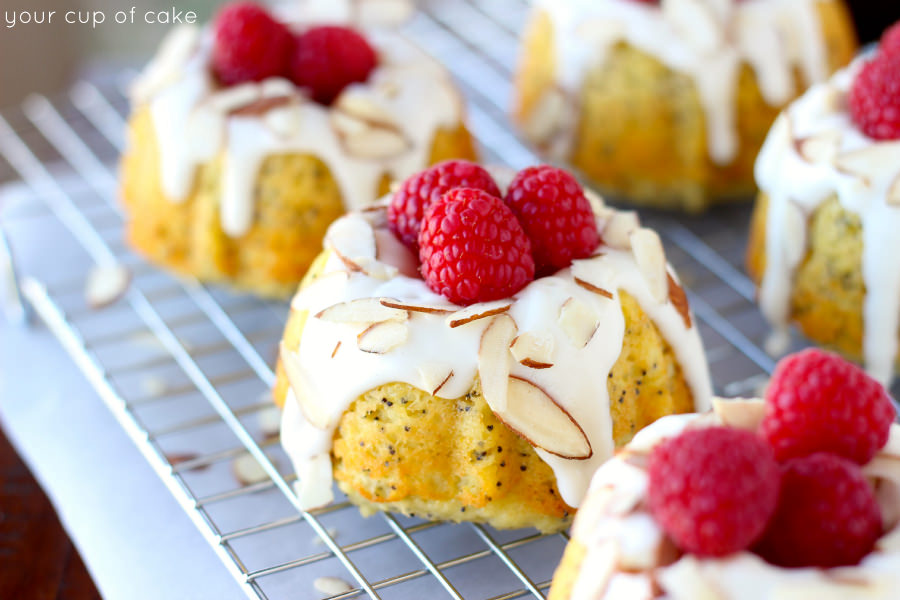 The Story:
I have a theory. Costco keep the best berries under the containers on top. Seriously, give it a shot! I'm always that annoying person who digs to the middle of the crates to get the best ones because I think they leave the oldest berries on top to get bought.
So don't give the person inspecting each container of berries a bad look, because it could be me trying to find the prettiest berries for photos 🙂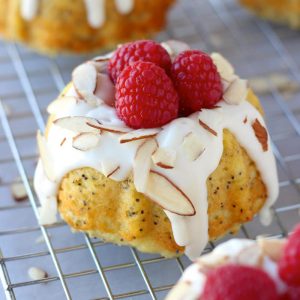 Almond Lemon Poppy Seed Bundt Cakes
Ingredients
Lemon Poppy Seed Bundt Cake:
1

box white cake mix

1

box lemon

white chocolate, or vanilla instant pudding mix (4 serving size box)

2/3

C.

oil

1

C.

Plain Greek Yogurt

I used Tillamook's

4

eggs

zest of two large lemons

1/2

C.

lemon juice

freshly squeezed

2

Tbsp.

Poppy Seeds
Almond Glaze:
1 1/2

C.

powdered sugar

1

tsp.

almond extract

2-4

tsp.

milk

1

tsp.

butter

melted
Fresh fruit and almond slices for decoration
Instructions
1. Preheat oven to 350 degrees and grease Bundt pan (regular or the minis).

2. Sift cake mix to remove any lumps and set aside.

3. In a large bowl, combine instant pudding mix, oil, Greek yogurt, eggs, lemon zest and lemon juice. Whisk until smooth.

4. Add in cake mix and poppy seeds and stir until well combined.

5. Dump into Bundt pans, filling mini pans about 3/4 full. Use a spatula to spread out evenly.

6. Bake for 17-25 minutes for mini bunts (I'm talking about the mid size ones, not the TINY ones) or 45-55 minutes for a large Bundt. Insert a knife and make sure it comes out clean before removing from the oven.

7. Let cool, then turn out onto a serving plate.

8. Almond Glaze: Combine powdered sugar, almond extract, 2 teaspoons milk and butter with a whisk. Add in a little milk (or cream) at a time until you reach your desired consistency.

9. Pour over cooled Bundt cakes and top with sliced almonds and fresh fruit for decoration.
Here's a link to the mini Bundt pan I have, I seriously LOVE it, it's a great size for bridal showers, girl's nights and picnics!
Naked Bundts!!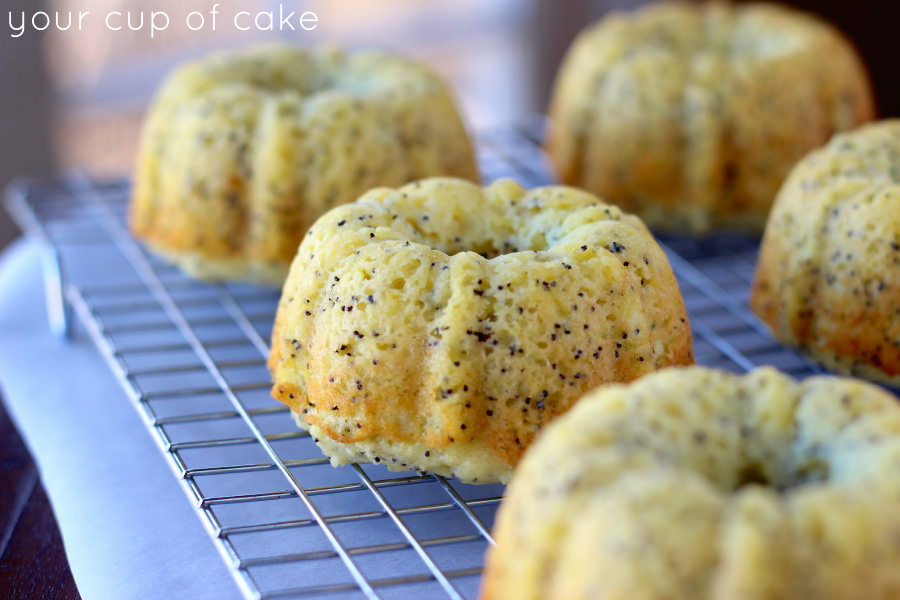 Baking with Greek Yogurt is one of my favorite ways to cut down on some of the calories and fat! Tillamook just launched a new line of Greek yogurt and I am officially obsessed. No joke.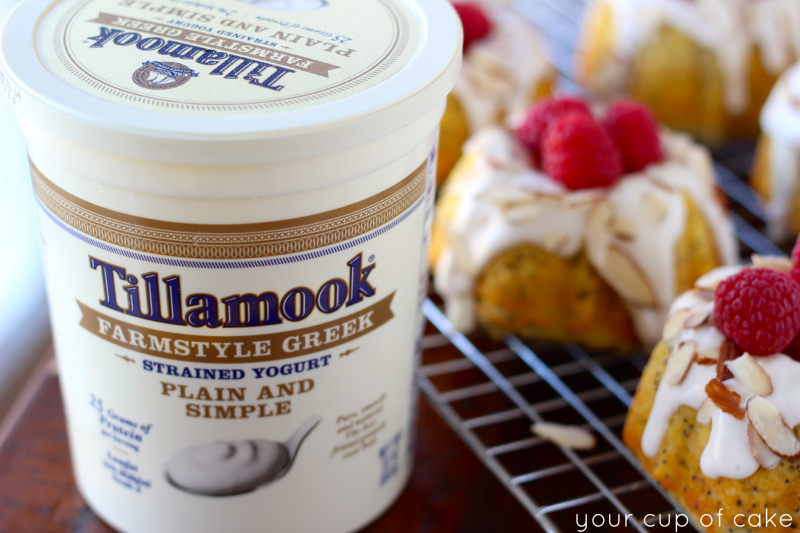 Bundts are one of my favorite things to make because all it takes is a little fresh fruit in the middle to make them just gorgeous!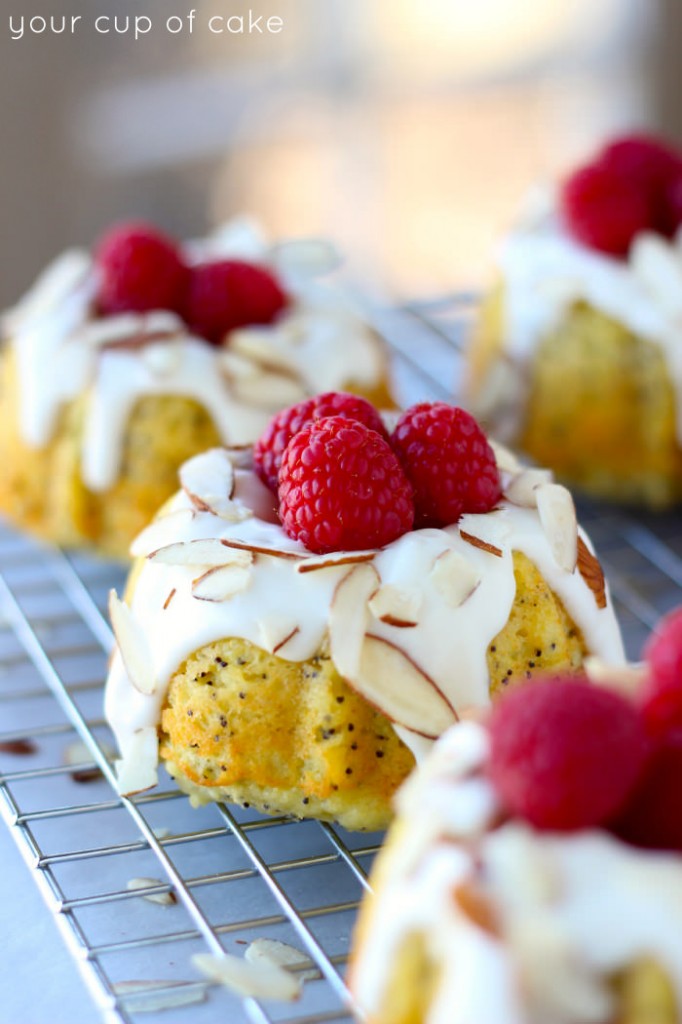 Now who doesn't want to eat that?