Bacon Garlic Green Beans is the side dish everyone will be begging for seconds of! This easy recipe is perfect for Thanksgiving or any weekday dinner!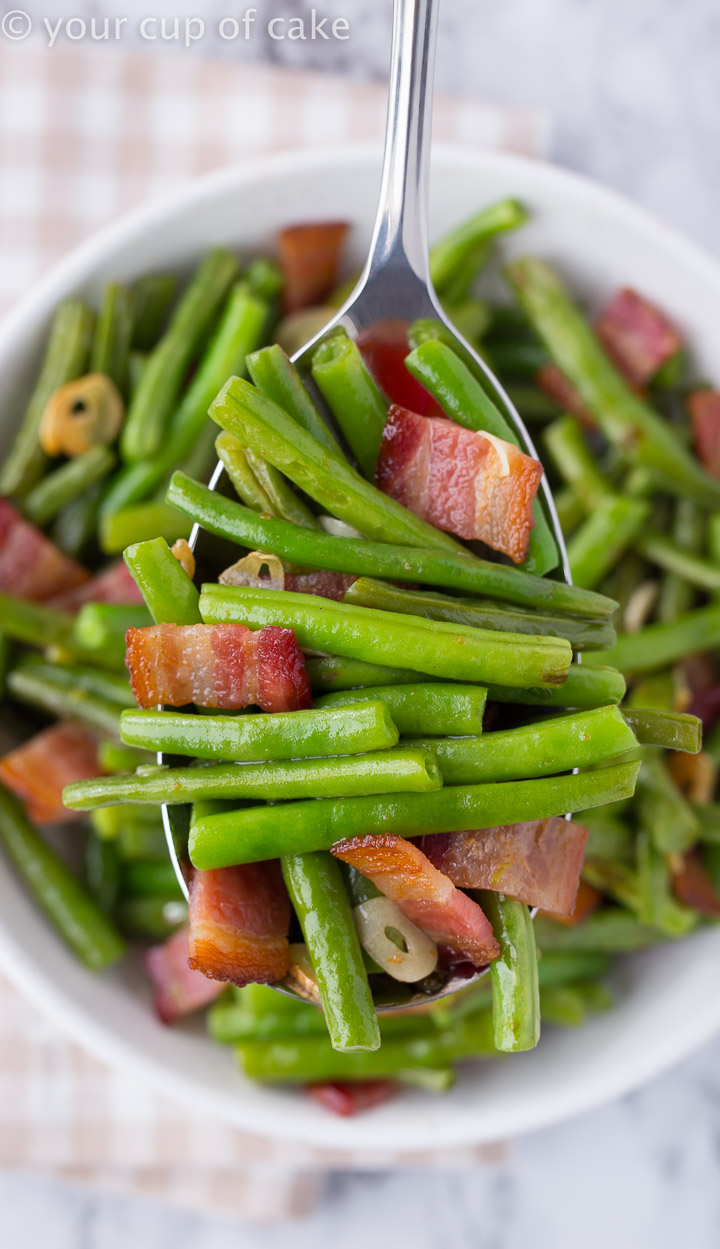 Easy Bacon Garlic Green Beans
Thanksgiving for me is all about the stuffing, my amazing homemade rolls, turkey and gravy! Every year my mother puts green beans on the table and usually take a few to appease her but I'm never that happy about it. My husband Parker is really into green beans though, he made these for me last week and wow, I'm a green bean believer! Bacon Garlic Green Beans is the best veggie side dish you can make for Thanksgiving this year! Plus, it's super easy and quick to make, nothing too fuzzy or crazy in this recipe. Thanksgiving day is hectic enough in the kitchen, keep your recipes simple and fool proof!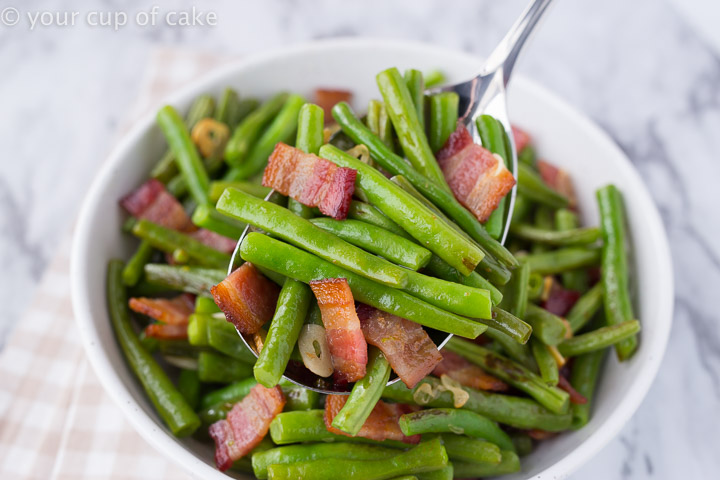 Tips for Making the Best Green Beans
Green beans need flavor added to them. In these Bacon Garlic Green Beans we used salt, garlic, pepper and bacon! The bacon is where a lot of the flavor comes from because the bacon grease helps to infuse flavor. It doesn't take over the favor of the bean, it just enhances it. When you add garlic to your recipe, keep the slices very thin so that your guests don't have to pick out the garlic, they can just eat it! My second tip is probably my most important. Don't over cook them. Nothing ruins green beans faster than over cooking them because they lose their beautiful color (see the next paragraph for how to keep the awesome bright green color) and they get mushy! I'm still a little scared of green beans being mushy when they hit the dinner table!
How to Keep your Green Beans Bright Green
Nothing is more sad than when your green beans turn a dull shade of dark green and they no longer look appetizing. If you're like me you want that bright green color you see in the magazine and on tv… but how do you make that magic happen! Blanching. As soon as your beans are done cooking, stop the cooking process by dunking them into a bowl of ice water. This just zaps them so their skin stays bright green. For this recipe we blanched and then finished them off in the pan with the bacon and garlic!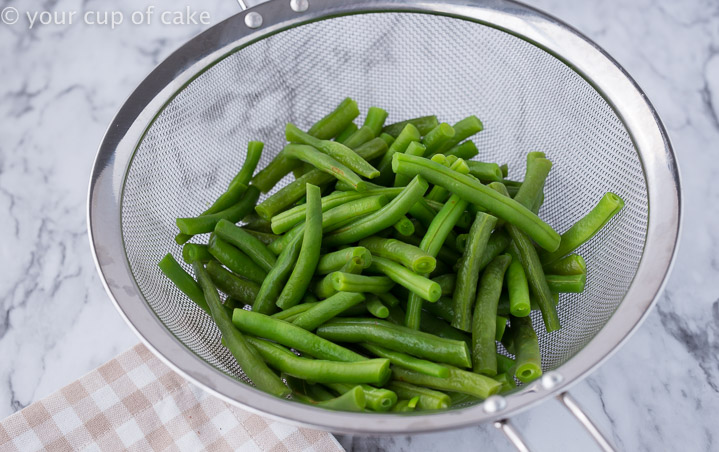 How to Make The Best Bacon Green Beans
Cooking bacon the right way makes these Bacon Garlic Green Beans the side dish of your dreams! You can cook them in a pan but if you want to make it easier on yourself, the oven is the way to go! Bake them on a cooling rack on top of your rimmed cookie sheet. This makes it so that the grease can drip off of the bacon and you get a really even cook.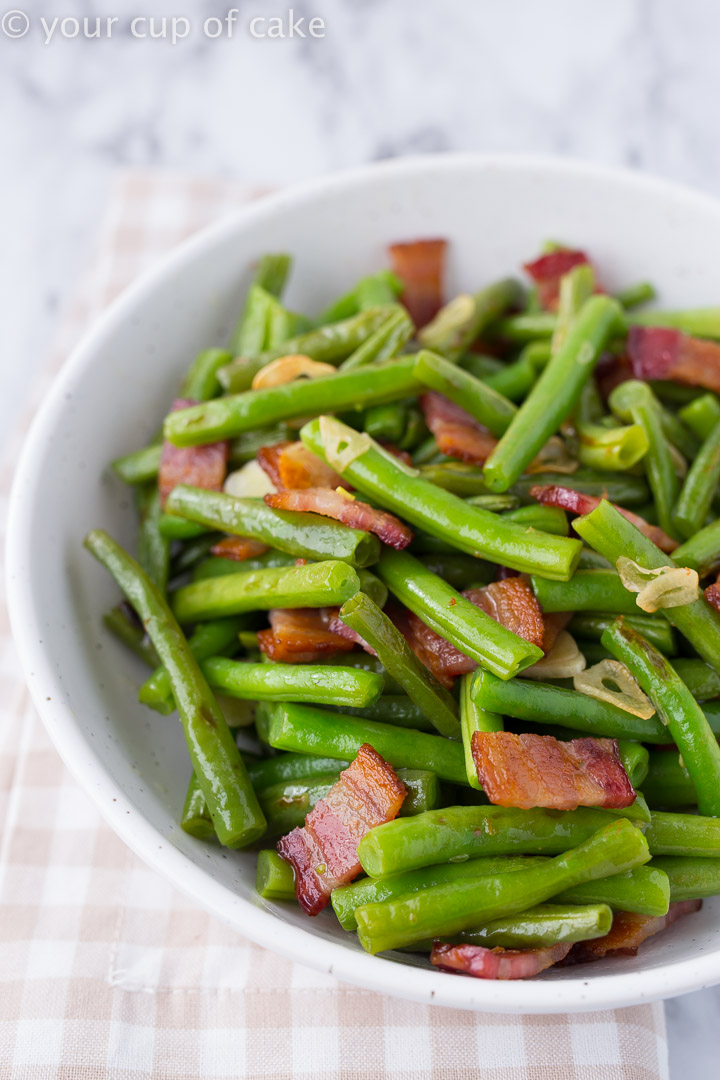 Enjoy our Bacon Garlic Green Beans with your family this Thanksgiving!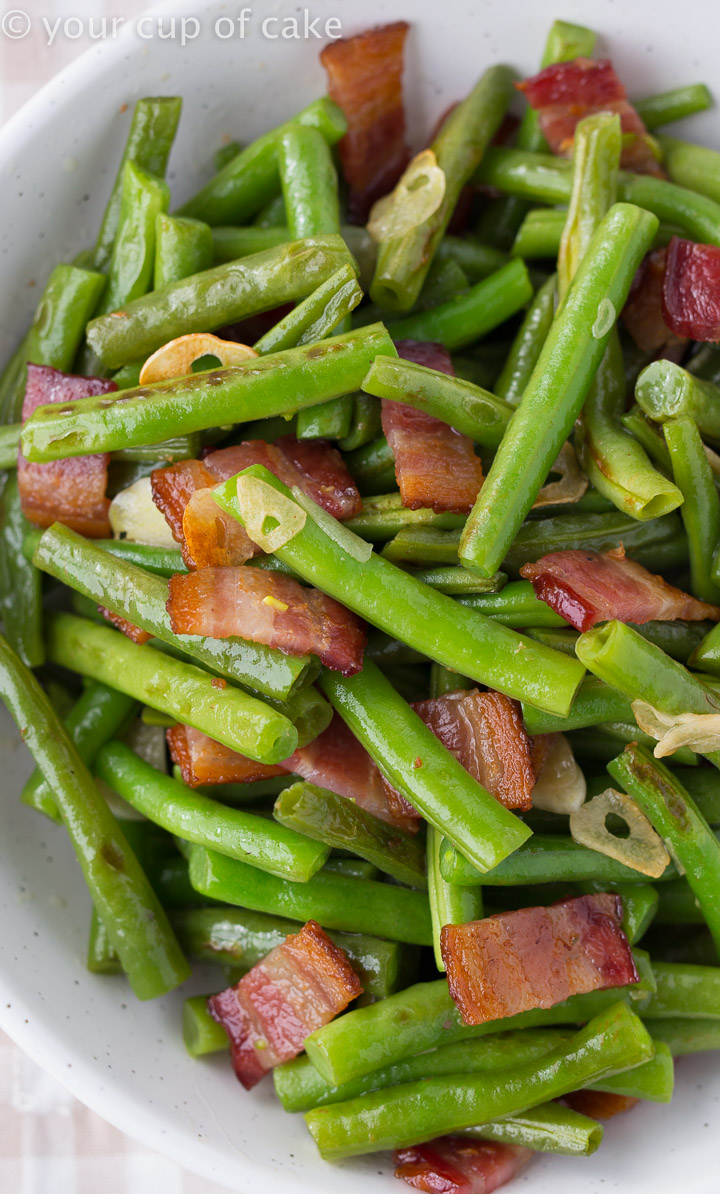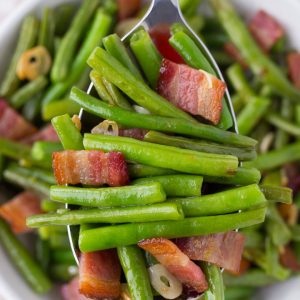 Bacon Garlic Green Beans
The best way to eat green beans, Bacon Garlic Green Beans
Ingredients
1.5

lbs

fresh green beans

rinsed, ends trimmed, cut in 2 inch pieces

5

strips

Bacon

2

tbsp

olive oil

3

cloves

garlic

very thinly sliced

salt and pepper

to taste
Instructions
Preheat oven to 400 degrees.

Roast bacon for 15 to 20 minutes or until the bacon is crisp but no breakable. Remove from oven and cut into 1/2 inch pieces.

Bring a large pot of water to a rolling boil. Boil the green beans for 5 minutes. Strain.

Add olive oil to a hot pan over medium heat. Once the oil is shimmering add the green beans and saute for 1-2 minutes. Add the bacon and garlic and saute for an additional 90 seconds, or until the garlic begins to darken but not burn.

Remove from heat. Plate and serve.