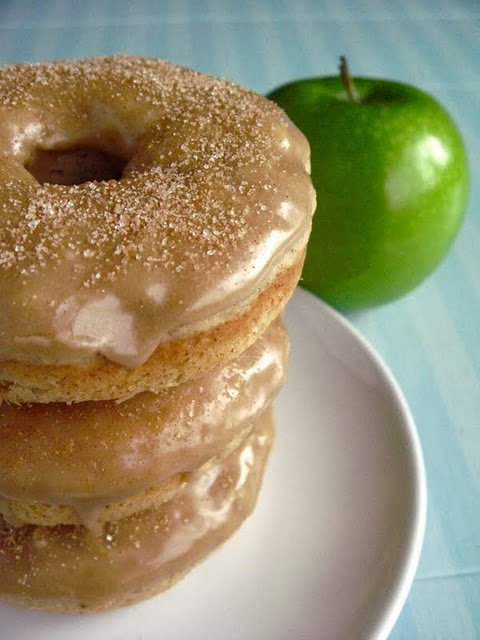 Doughnuts are healthy, right? I mean, they are better than eating a cupcake topped with butter and sugar (which is exactly what buttercream is). And these even offer a serving of fruit! Man, I love healthy recipes…
¼ cup whole wheat pastry flour
1 teaspoon apple pie spice
½ cup whole milk, scalded
1 medium or small apple grated
1 ½ -2 cups powdered sugar
Yield: 4 regular sized doughnuts.
1.
Preheat oven to 350 degrees and lightly spray doughnut pans. (if you don't have doughnut pans, get them! OR you can always just use muffin pans and your doughnuts just won't have cute holes in them.)
2.
In a large bowl, combine flours, sugar, baking powder, apple pie spice and salt.
3.
Using a pastry cutter, cut in butter.
4.
Lightly beat the egg with the vanilla, then stir into batter.
5.
Add scalded (not boiled) milk and yogurt and mix only until combined.
6.
Fold apple into batter.
7.
Use a piping bag to fill doughnut pans about ¾ full and bake for 7-10 minutes or until the tops spring back.
8.
Glaze: Whisk all ingredients together, and adjust consistency using milk and powdered sugar.
9.
After letting doughnuts cool for about minutes, dip warm doughnuts in glaze and let set.
10.
Sprinkle with cinnamon sugar just before the glaze sets.