Decadent, chewy and perfect for fall…these Bakery Style Pumpkin Chocolate Chip Cookies are just what you need after pumpkin patching and pulling on your boots.
Why you Need Bakery Style Pumpkin Chocolate Chip Cookies
I love a super fluffy cake-like pumpkin cookie but the ones I find in bakeries tend to be a little more chewy and more like a cookie instead of a cake texture. I wanted to give you a recipe that was more true to the bakery style. But if you want that fluffy pumpkin cookie I have that for you too! There are a few things that can set your pumpkin cookies apart and take then to that next level! Behold the Bakery Style Pumpkin Chocolate Chip Cookie recipe you'll love!
A Few Tricks the Bakeries Use… and One You won't Want to Use
My favorite trip to give people is using milk chocolate chips in their cookies! These are incredible to use in any cookie because semi sweet is just too strong for delicate flavors like pumpkin sometimes. But if you prefer an intense chocolate flavor go with semisweet or even dark chocolate chips. Something a lot of bakeries do it dye their pumpkin cookies to look even more pumpkin-y… but don't do it! You just don't need to add that artificial stuff. Especially since these will be gobbled up so fast anyway!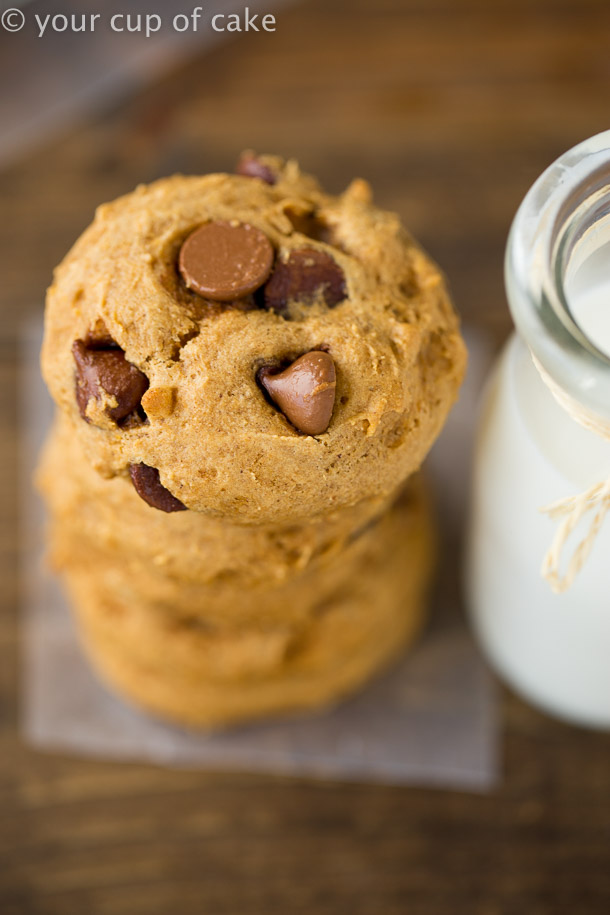 The Secret to Perfect LOOKING Cookies
Okay, your cookies may taste incredible but if you want them to look perfect too, I have one big tip! Don't add all your chocolate chips into the batter when mixing. Save a large handful and once you scoop out your dough balls (using a cookie scoop of course to make sure they're all the same size) press in an extra 2 or 3 chocolate chips so that after they bake, they're easily seen! This will make a huge difference in how you cookies look! All the bloggers and specialty bakeries use this little trick! I mean, look at how gorgeous these Bakery Style Pumpkin Chocolate Chips are…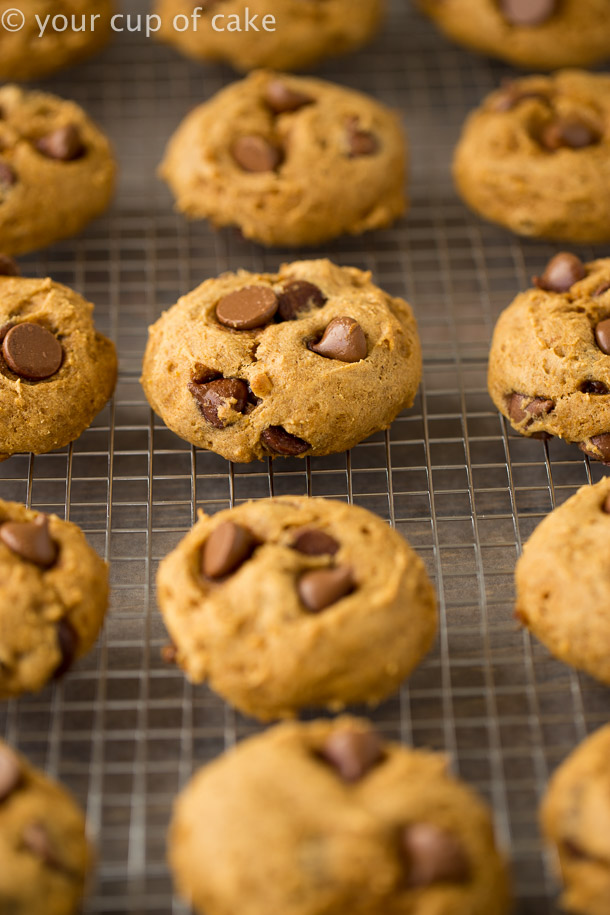 I'm totally getting back to my roots with this photoshoot… I haven't shot with a glass of milk in forever. That probably sounds super silly you all of you but when I live and breathe food styling it's funny what feels nostalgic.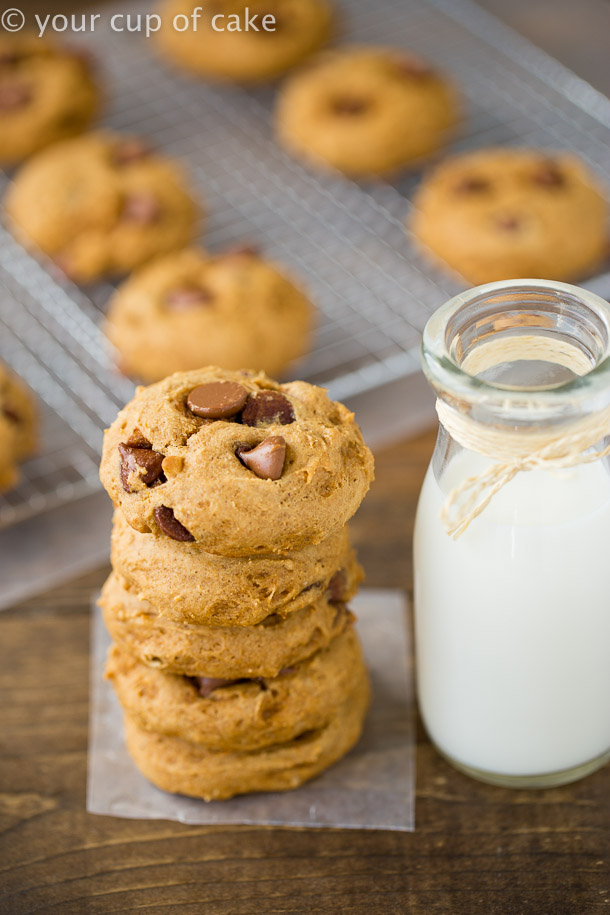 There's nothing quite like a good ole' cookie stack. If only I could find a reason to eat them all myself…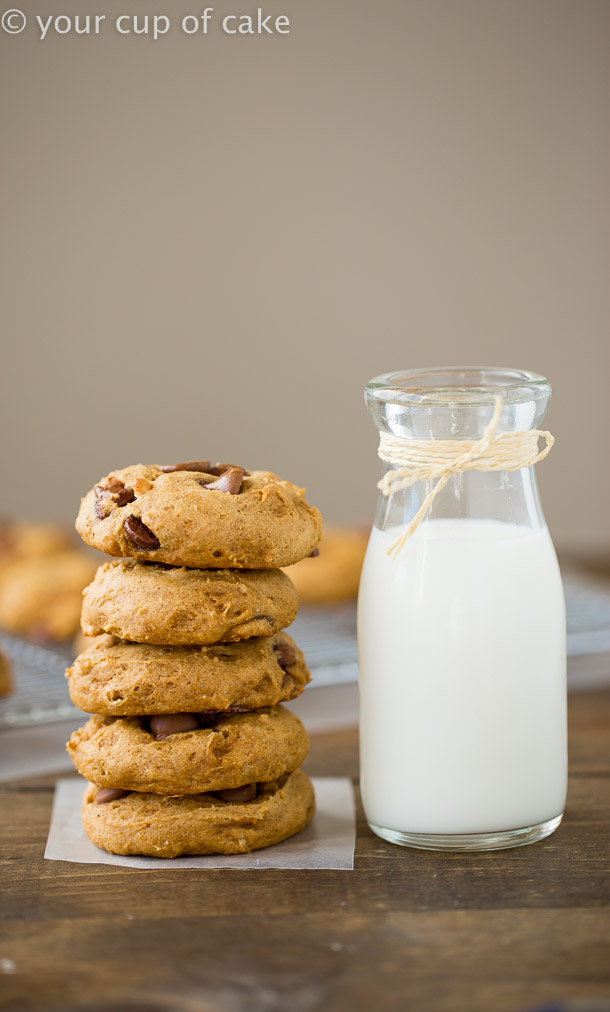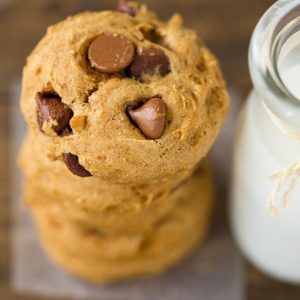 PERFECT Bakery Style Pumpkin Chocolate Chip Cookies
Ingredients
1

C.

canned pumpkin puree

1

C.

sugar

1/4

C.

brown sugar

packed

1/2

C.

oil

1

egg

1

Tbsp.

vanilla extract

2

C.

flour

1 1/2

tsp.

cinnamon

1/2

tsp.

nutmeg

1/4

tsp

ginger

1/4

tsp

cloves

2

tsp.

baking powder

1 1/2

tsp.

baking soda

1/2

tsp.

salt

2

C.

milk chocolate chips
Instructions
1. Preheat oven to 350 degrees and line pans with parchment paper. (You CAN chill your dough before baking, if you do that don't preheat your oven yet.)

2. In a large bowl, combine pumpkin, sugar, brown sugar, oil, egg and vanilla extract.

3. In another bowl, whisk together flour, cinnamon, nutmeg, ginger, cloves, baking powder, baking soda and salt. (You can use pumpkin pie spice instead of all the spices if you want.)

4. Combine wet with dry ingredients, add chocolate chips and stir until combined.

5.

Scoop out

dough balls. You can chill your dough or go ahead and bake for 10-14 minutes depending on how large your cookies are.