So here is the deal, I was slightly deprived as a child.
My brother was allergic to peanut butter, so we rarely had it in the house. (My father loves the stuff, so he would sometimes sneak it in and hide it in the pantry.)
So all of the peanut butter combinations college students love and live off of, are so foreign to me. Peanut butter and jelly has made it's way into my life, but peanut butter and banana still seems so bizarre.
These cupcakes have helped me to see the light and the strange combination.
1 ½ cup plus 2 tablespoons flour
2 teaspoons baking powder
1 stick (½ cup) butter, softened
1 ½ cup plus 2 tablespoons sugar
1 cup mashed banana, about 3 ripe bananas
2/3 cup buttermilk (or 2/3 cup milk plus 1 teaspoon lemon juice)
Peanut Butter Cream Cheese Frosting:
2 tablespoons butter, softened
¼
cup creamy peanut butter
Chocolate Cream Cheese Frosting:
4 tablespoons butter, softened
1 ½ – 2 cups powdered sugar
1.
Preheat oven to 350 degrees.
2.
Sift flour, baking powder and salt together. Set aside.
3.
In a separate bowl, cream butter and sugar until light and fluffy.
4.
Mash bananas well in a small bowl and add lemon juice.
5.
Add one egg at a time and then add mashed banana. (If your eggs are still cold, run them under warm water.)
6.
Alternate adding flour and buttermilk until everything is combined. Don't over mix.
7.
Fill cupcake liners ¾ full and bake for 15-20 minutes or until a toothpick comes out clean. Let cool for 10 minutes and then put directly into an airtight container. The container may steam up, but this will keep the cake moist.
8.
Frostings: For each flavor, beat butters (including peanut butter) and cream cheese for several minutes. Then add all other ingredients. Use only as much milk and powdered sugar as desired.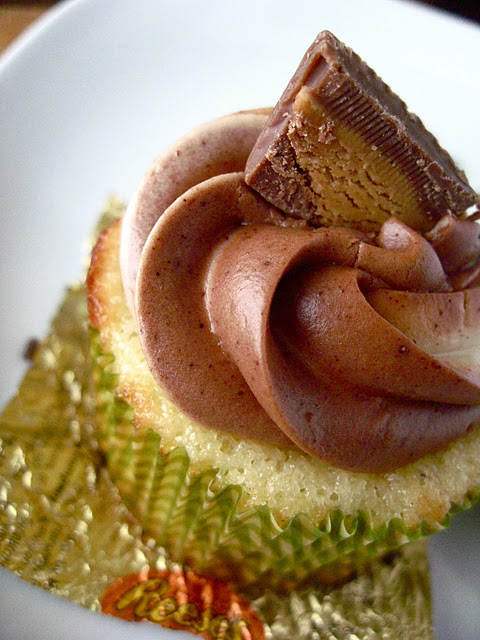 9.
Fill your piping bag so that one side is peanut butter frosting and the other chocolate. It is tricky…
10.
Pipe onto cooled cupcakes.
11.
Use peanut butter cups to top.