This Banana Split Bundt Cake is packed with summer flavors! Banana Cake with strawberries and walnuts, topped with rich chocolate glaze, sweet strawberries and even more crunchy walnuts! Plus, SPRINKLES! Because who doesn't love sprinkles?
I love baking with nuts! And Diamond Nuts wanted me to come up with a new summer recipe, so here it is!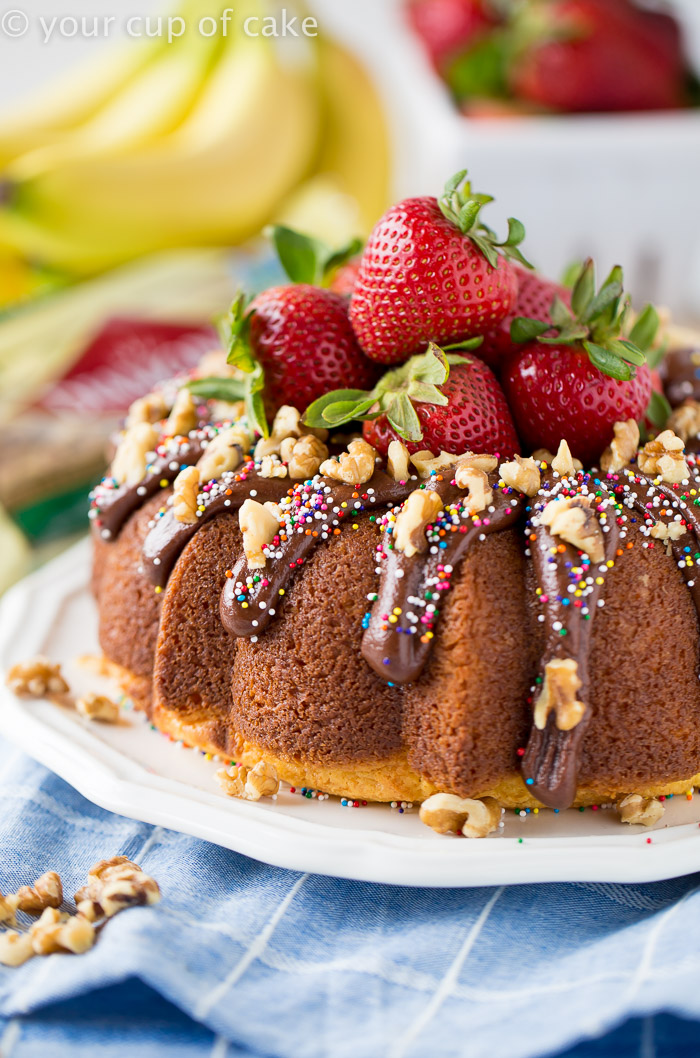 Summer is just around the corner! Sure, we've had a few thunderstorms the last few weeks but the birds are starting to chirp and the flowers are blooming! So it's time to start planning for all those summer picnics and potlucks. Now, I love cupcakes–you all know that! But sometimes I like bringing a dessert thats easy to travel with. Cupcakes sometimes topple in the car and I have to drive like an old lady to get them to my party in one piece, but bundt cakes are perfect for car rides! Just pour on the glaze, nuts and sprinkles and then bring the berries in a bowl and fill up the "hole" when you arrive–tah-dah!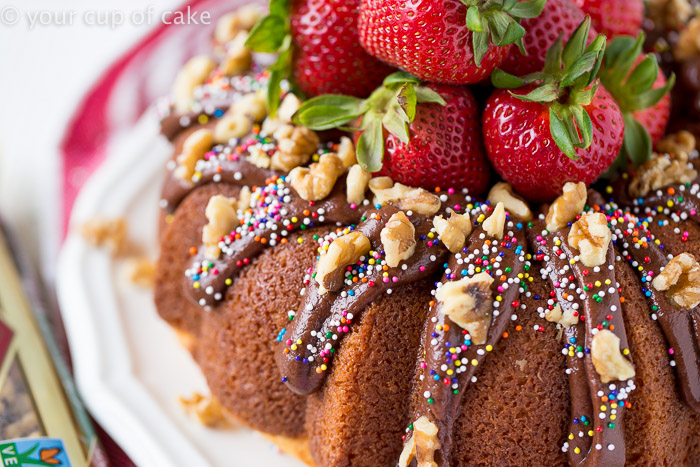 Okay, so my love of nuts in baking comes from two things. First, my father loves walnuts. Whenever I made anything at home his first comment was "Lots of nuts. Don't forget to add lots of walnuts." So I did! But my second reason for loving them is because they add so much texture and dimension! I love biting into a piece of banana bread and hitting a crunchy, crispy nut! It's like an explosion of flavor on top of the already perfect banana bread. Plus… they add protein and tons of good nutritional value!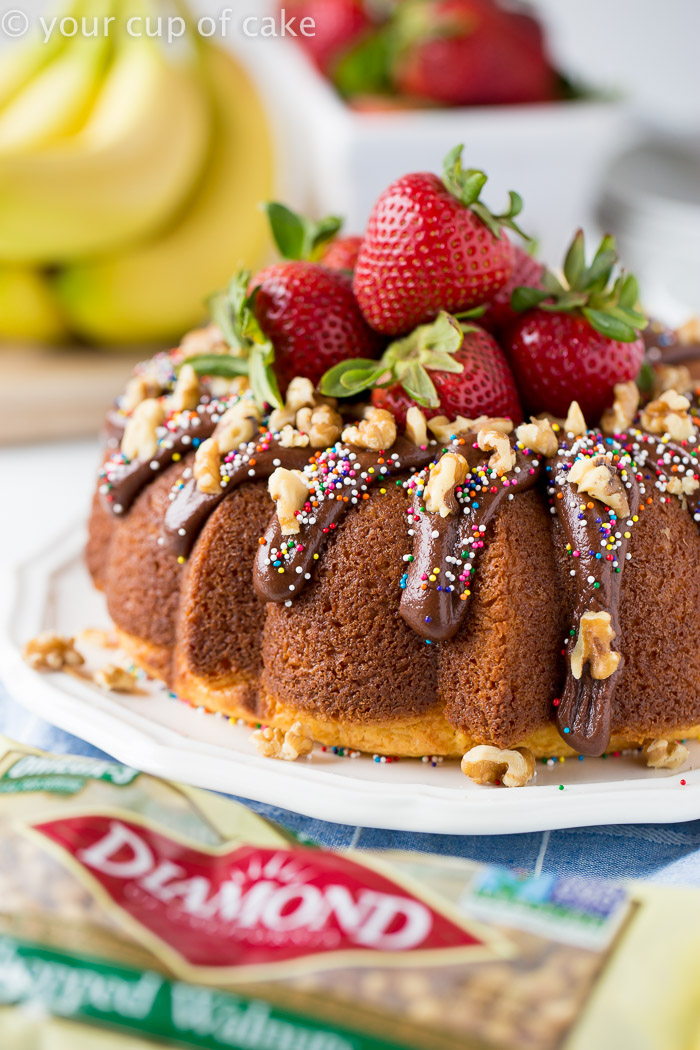 No matter what store I shop at, their baking aisle seems to always have a shrine to Diamond Nuts! There's a reason for that, they're just that good! The nuts taste fresh, crisp and perfect for topping salads or popping in some blueberry muffins. Plus, their flavored snack ones are incredible.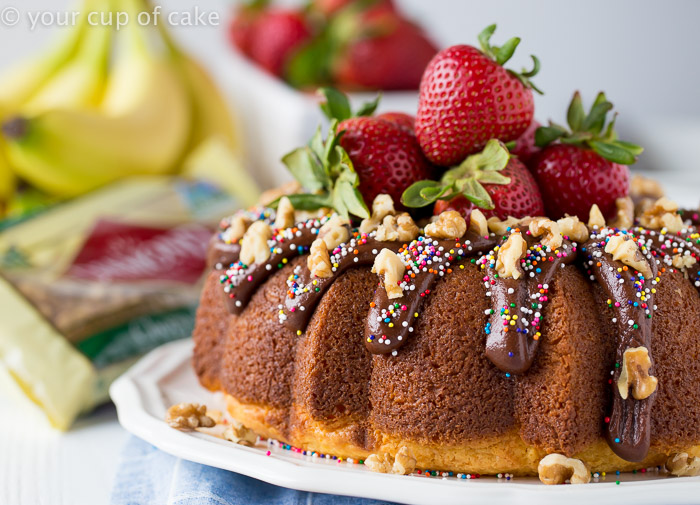 The chocolate glaze! You'll notice in my instructions that you can add as much milk as you want! Some people like their glaze thick like a frosting and some like it runny and soaking into the cake. You get to pick! Plus, depending on the temperature of your house, the milk amount will change. So always add just a little bit at a time until you get the consistency you like.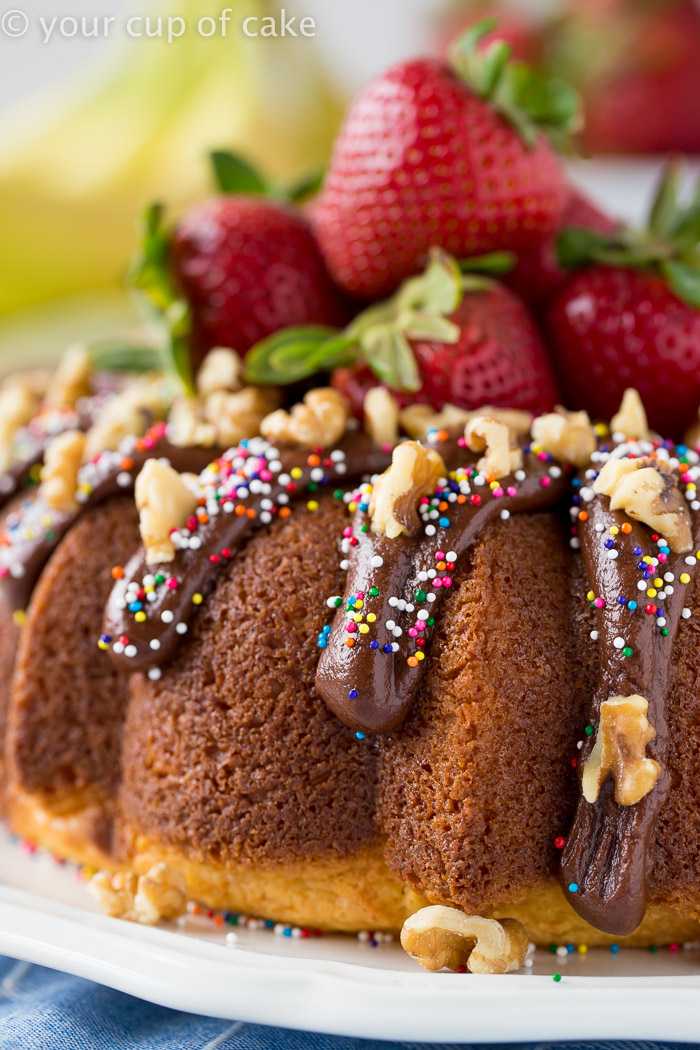 Filling "the hole." You can use fresh berries like I did or you can take it a step further and slice them up and toss them with 1-2 tablespoons of sugar sort of like you would with angel food cake. It just makes for a sweeter topping and the juices that come out of the berries will soak into the cake. So if you're worried that you may have over baked the cake by accident, it's a good way to "save" it 🙂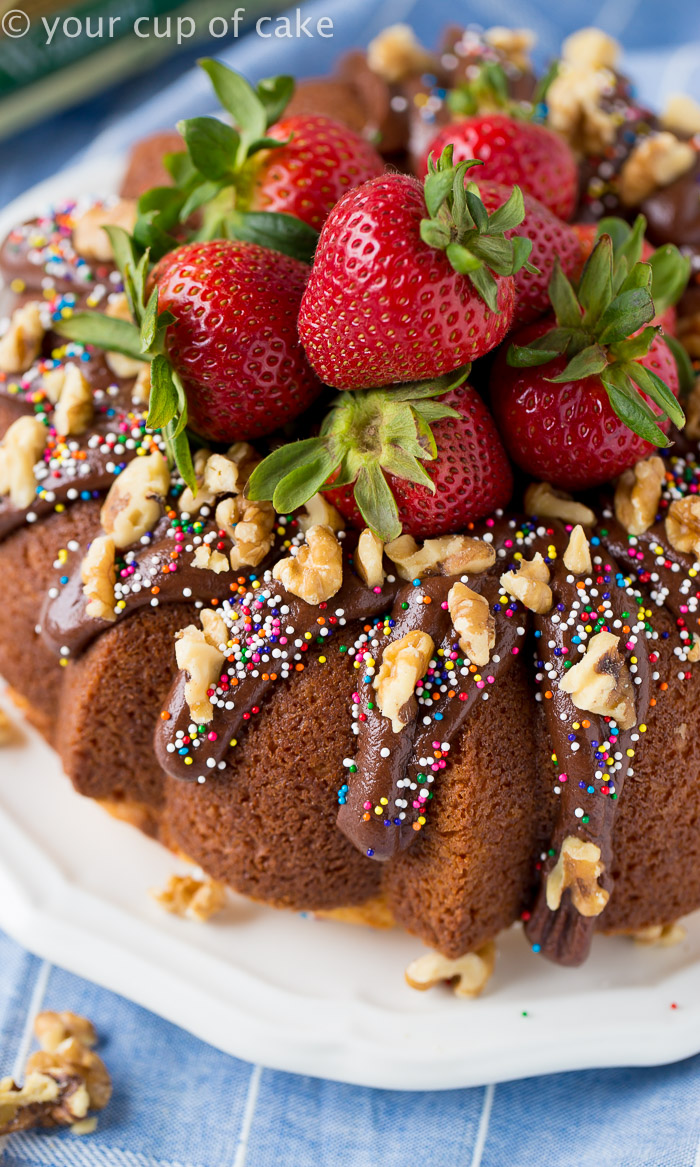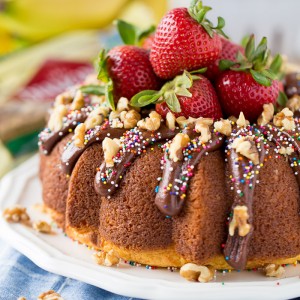 Banana Split Bundt Cake
Ingredients
BANANA CAKE WITH WALNUTS AND STRAWBERRIES:

2

C.

flour

1

tsp.

baking powder

1

tsp.

baking soda

1/2

tsp.

salt

1/3

C.

butter

softened

1 1/4

C.

sugar

2

eggs

I use large, room temperature

2

tsp.

vanilla extract

1 1/4

C.

bananas

mashed (about 3 medium)

1

C.

sour cream

1

C.

Diamond Nuts walnuts

chopped

1/2

C.

strawberries

diced

CHOCOLATE GLAZE:

6

Tbsp.

butter

melted

1/4

C.

unsweetened cocoa powder

2

C.

powdered sugar

1-3

Tbsp.

milk

TOPPINGS:

Diamond Nuts walnuts

sprinkles

strawberries
Instructions
1. Preheat oven to 350 degrees and grease a bundt pan. Sprinkle with flour and then shake out the excess.

2. Combine flour, baking powder, baking soda and salt in a small bowl and set aside.

3. Cream together butter and sugar for 2 minutes or until light and fluffy.

4. Add eggs one at time an then add vanilla and bananas.

5. Add in about half of the dry ingredients and then add sour cream. Add the remaining dry ingredients and stir only until incorporated, don't over mix.

6. Fold in walnuts and strawberries

7. Pour into pan and bake for 40-60 minutes or until an inserted knife or toothpick comes out clean.

8. Let cake cool, and then turn out onto a plate.

9. Chocolate Glaze: In a medium bowl, melt butter. Add cocoa powder and powdered sugar. Slowly add milk and whisk until you reach your desired consistency. You can always "zap" the glaze in the microwave just before pouring to make it looser, but then as it cools it will thicken up again.

10. Top with Diamond Nut Walnuts, sprinkles and strawberries!