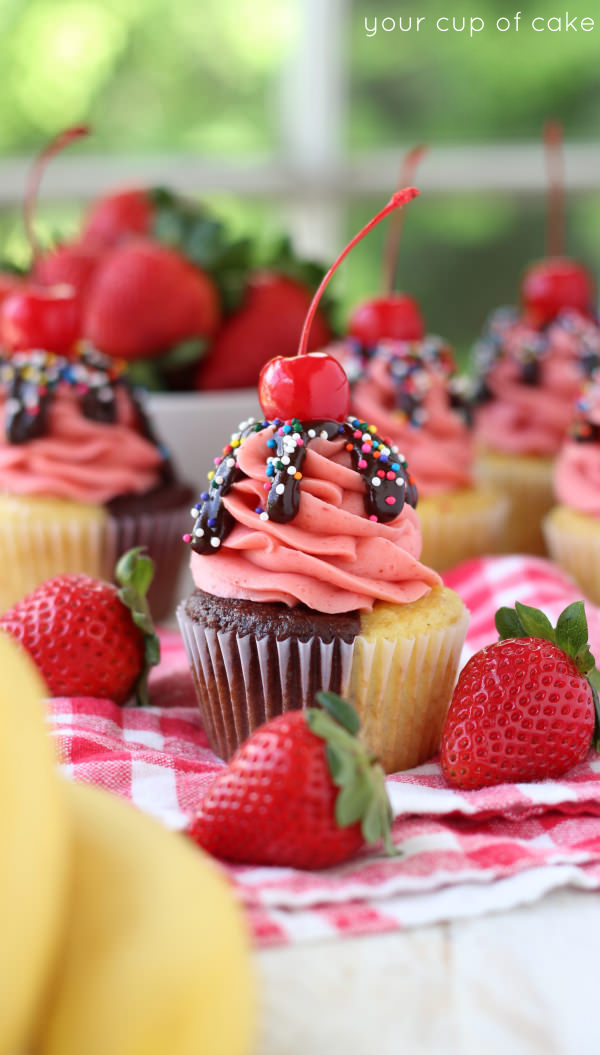 Banana Split Cupcakes–there's nothing else that really needs to be said. They're delicious of course, but they're also beautiful. And did I mention easy?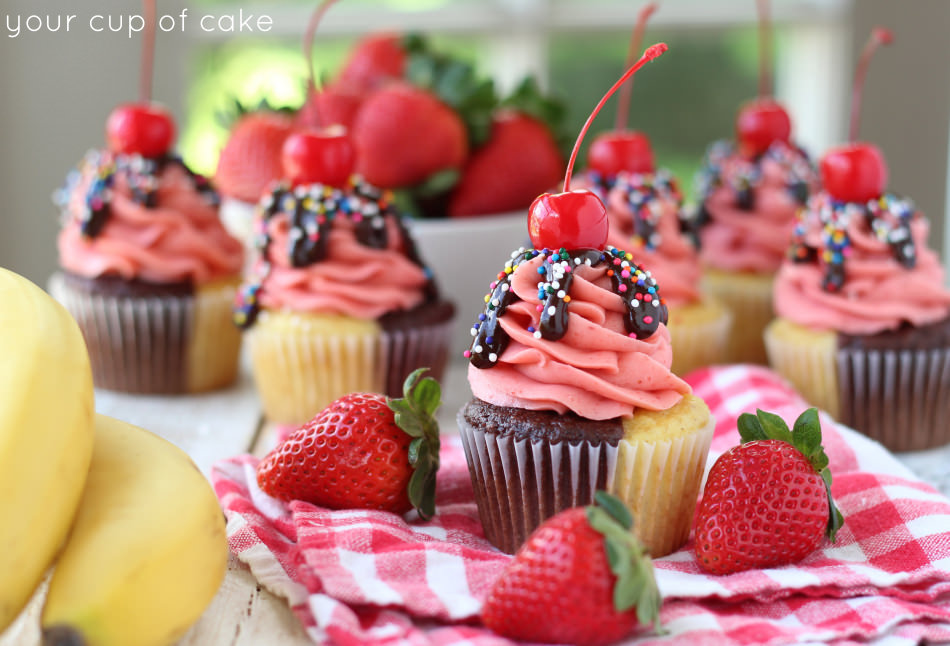 The Story:
My mother has two sides. The more predominant side of her will pick up every penny she sees off the street. Even if she has to stop the car and get out, she will get that dirty, grimy, gunked-up penny and tuck it away for safe keeping. Every penny counts.
But the other side of her–the side that comes out once every few years–will splurge on silly things.
We went to Disney World as family when I was about 10. It was during my "only pink" phase, so the photos we have are a little disturbing with 90's fashion in all hot pink. But on one of the days we went to get ice cream. I was thinking maybe 2 scoops if I was lucky. But my mother said we could order whatever we wanted. My brothers and I went a little crazy. We each ordered the most lavish (and biggest) sundaes we could find on the menu. Mine was as big as my head, and you can bet I finished it all!
I still pick up every penny I see in the parking lot and on the sidewalk. But every once and a while, it's good to spend the pennies on something a little silly. It's worth the memories you make.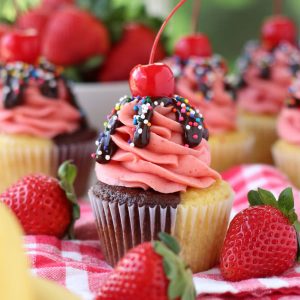 Banana Split Cupcakes
Ingredients
Chocolate Cake:
1

Box Devil's Food Cake Mix

3

eggs

1/2

C.

oil

1/2

C.

milk

1

C.

sour cream
Banana Cake:
1

Box Yellow Cake Mix

2

Large Bananas

ripe

3

eggs

1/3

C.

oil

1/2

C.

sour cream

2

tsp.

vanilla extract
Strawberry Frosting:
2

C.

butter

softened

1/4

C.

Freeze-dried strawberries

crushed in a food processor

6-8

C

powdered sugar

1

tsp.

vanilla extract
Melted chocolate, sprinkles and cherries for decoration
Instructions
1. Preheat oven to 350 degrees and line pans with cupcake liners.

2. Chocolate Cake: Sift cake mix into a large bowl, then add eggs, oil, milk and sour cream and stir until smooth. Set aside.

3. Banana Cake: Sift cake mix into a large bowl. Mash bananas using a fork in a small bowl and then add to cake mix. Add eggs, oil, sour cream and vanilla extract and stir until smooth.

4. Use a small food scoop or a spoon to place a small amount of chocolate cake batter in the side of each cupcake liner. Then scoop a small amount of banana cake batter next to it.

5. Bake for 15-20 minutes or until an inserted knife comes out clean.

6. Let cool.

7. Strawberry Frosting: Beat butter for 2 minutes. Add in crushed freeze-dried strawberries. (See a below recipe for more on these awesome berries!.) Slowly add in powdered sugar until you reach your desired consistency. Add in vanilla extract.

8. Pipe onto cooled cupcakes and top with melted chocolate, sprinkles and cherries!

NOTE: You can half each box of cake mix and add only half the ingredients if you only want 20 cupcakes. You can use the extra cry cake mix to flavor butter creams later or Rice Crispy treats!
Freeze Dried Strawberries:
I get my packages from Trader Joe's, but some Targets and other stores have started to carry them too. They are PERFECT for buttercreams because they have all the flavor and color from berries, but none of the moisture, so you can add as much as you want without making the frosting runny! If you want a few photos on working with them, check out my Strawberry Pop Tart Cupcakes!
Here's my photo set up! I used this white tabletop made for me by a lady who makes food blogger props! How awesome is that?! I have my handy-dandy reflector board as always and then some props (bananas, napkin, fresh fruit) for extra color and texture!
If you want to know more about food photos, check out all my posts about it: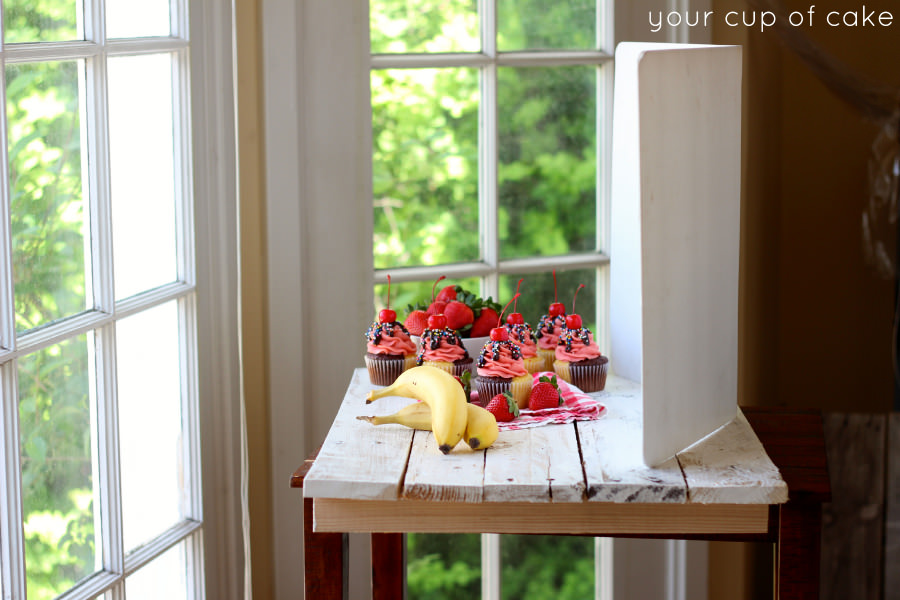 It's not magic! It really does work, I promise! The batter is thick so they don't just blend together 🙂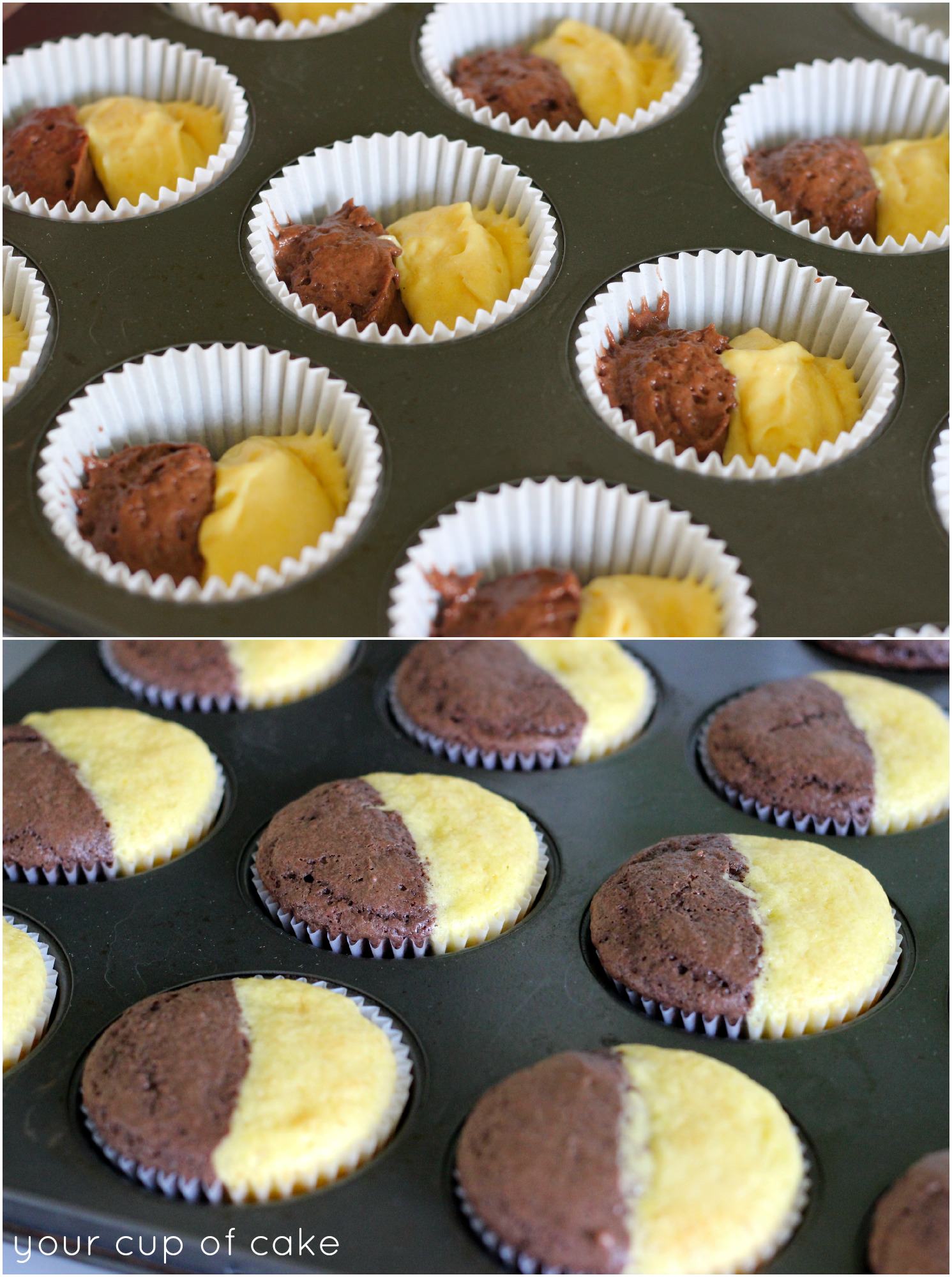 Ta-dah! How gorgeous are those? And they're SO EASY. Everyone will think you're a professional baker if you show up with these.