Better than your Mama's Pecan Pie Bars are the best recipe I've every tried! And they're easy to make too! Toss out your old recipe because this Thanksgiving you'll be using this one!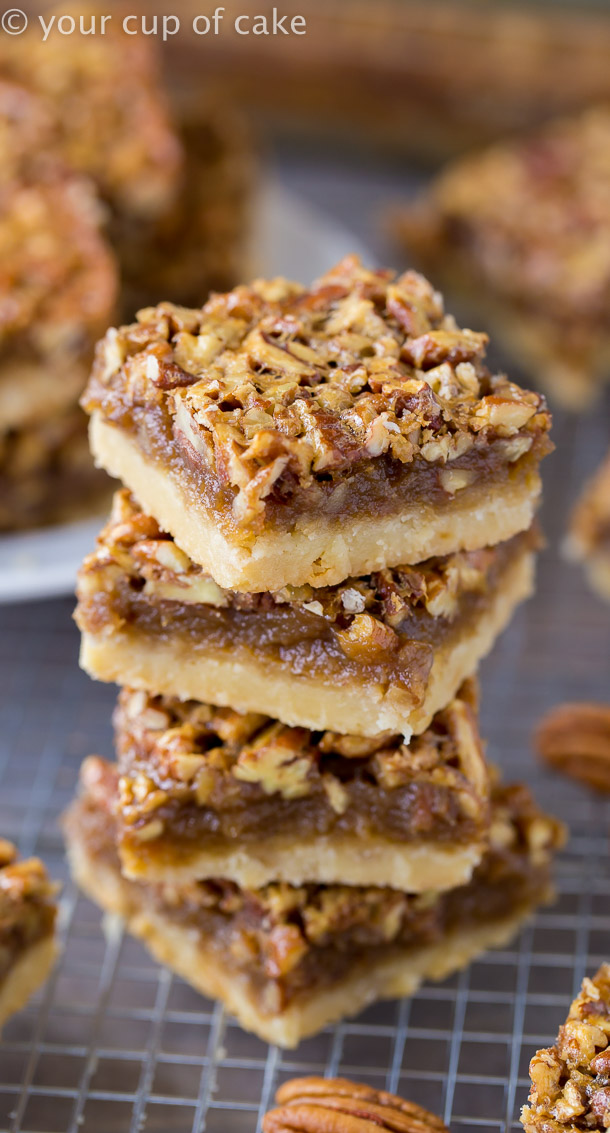 Better Than Your Mama's Pecan Pie Bars
My husband is a big time lover of Pecan Pie Bars. He was sure he had the best recipe… until now. I made these for him and he flipped! He ate more slices than I'll admit and then asked me to make them again later that week! These may just be his new favorite dessert of mine and he's counting down the days until Thanksgiving so he can have them again.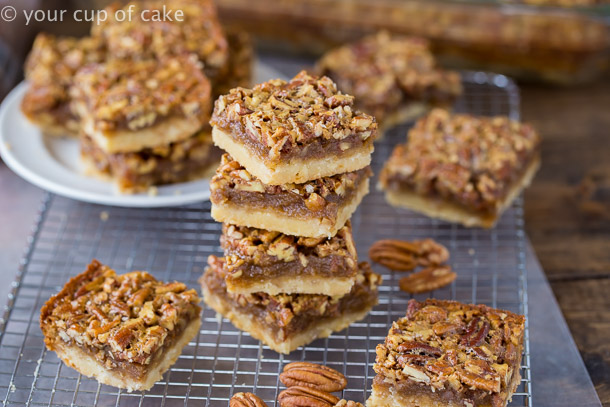 Bring on the Pie.
I'm all about the classics for Thanksgiving. Great rolls, great stuffing, a little turkey, hot gravy and pie is all I need. Well, that and my grandmother's cranberry jello. (That post is from 7 years ago and the photo on it horrifies me… but I'll update that post soon to do the recipe justice!) I'm not a jello person, but for some reason I love this jello concoction and I must have it every Thanksgiving and Christmas. Go figure. Okay, back to pie! How do I even pick though? I don't. I have a slice of pumpkin, apple and now these fabulous pecan pie bars. They're soft, gooey, crunchy and have plenty of crust to go with them.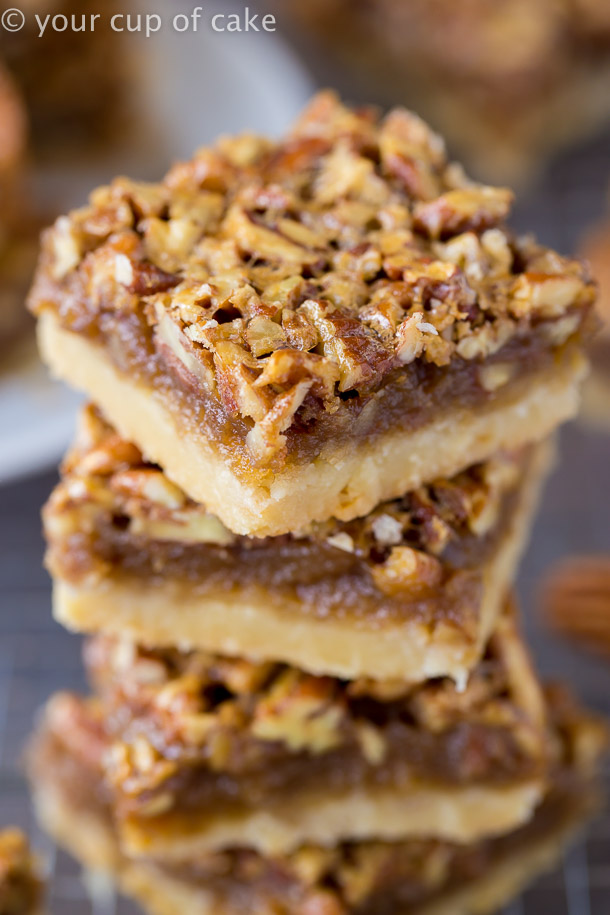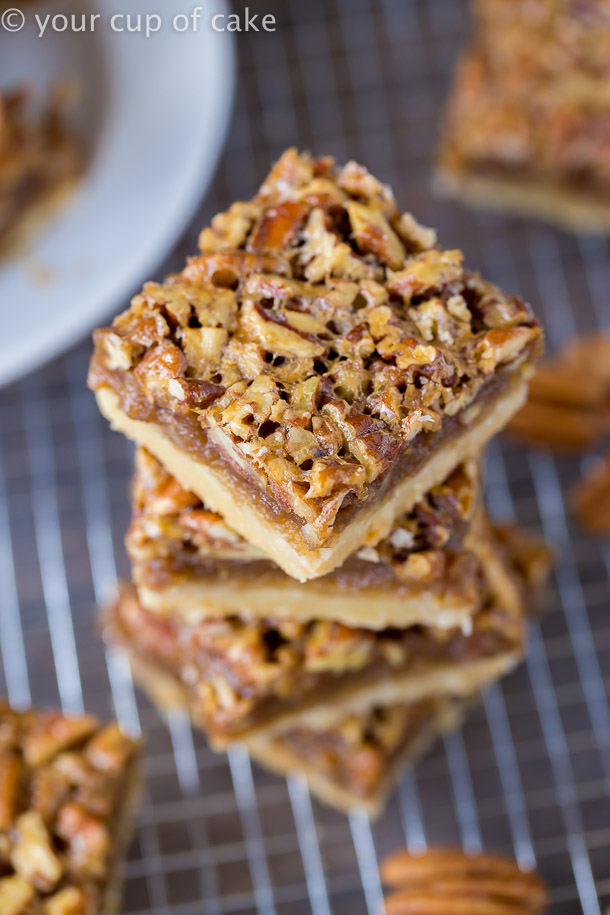 Easy Pecan Pie Bars
Easy. I'm all about an easy, delicious recipe. None of this stove top cooking before it hits the oven nonsense. Also, some recipes call for an entire Costco bag of nuts! That's expensive and more pecans that you really need! The trick to perfect pecan pie bars is enough of the gooey filling! You don't want a pie bar with straight nuts… that will taste for like trail mix than a dessert!
If you're looking for Christmas presents yet for your baking friends/family make sure they have food scoops! They're my favorite for cookies and cupcakes!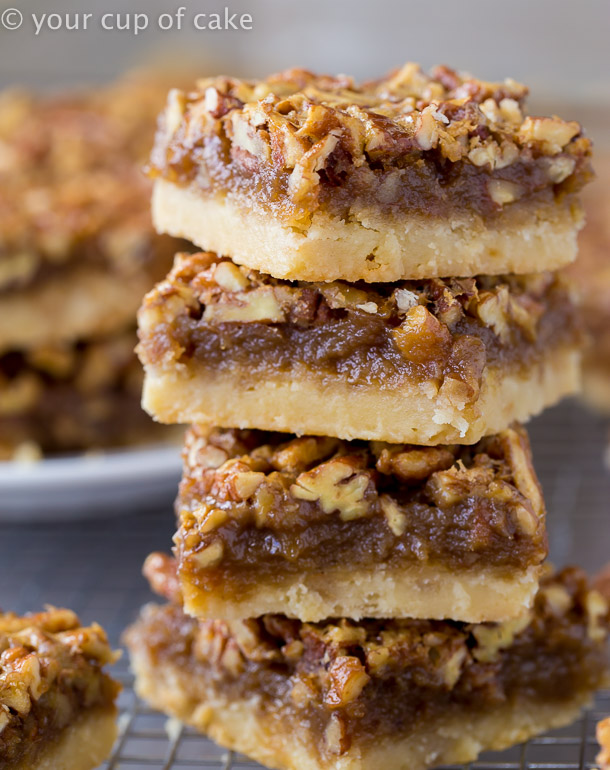 Enjoy my Better Than Your Mama's Pecan Pie Bars this Thanksgiving!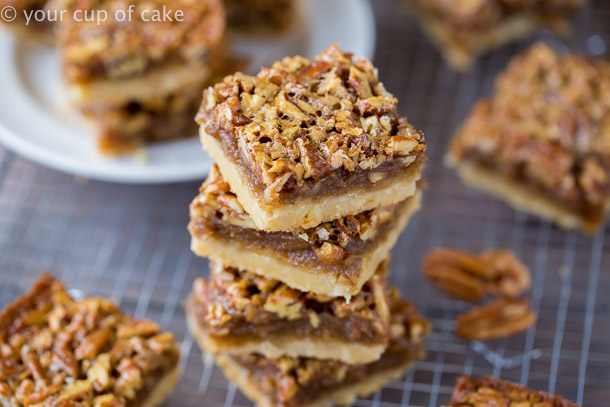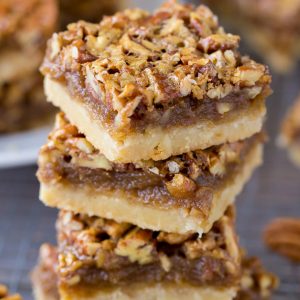 Pecan Pie Bars almost too good to be true
Ingredients
SHORTBREAD CRUST:

2

C.

flour

1/2

C.

powdered sugar

1/4

tsp.

salt

1

C.

butter

cold

PECAN FILLING:

2/3

C.

brown sugar

packed

1/3

C.

+ 1 Tbsp. flour

4

large eggs

1

Tbsp.

vanilla extract

1 1/2

C.

corn syrup

I prefer dark for this recipe

1/2

tsp.

salt

1/4

C.

heavy whipping cream

3

C.

roughly chopped pecans
Instructions
1. Preheat oven to 350 degrees and lightly grease a 9X13 inch pan.

2. Shortbread Crust: Using a food processor or pastry blender combine flour, powdered sugar, salt and cold butter until the mixture is crumbly. It will look very dry, but don't worry! Dump into pan and spread out evenly and then press flat using the bottom of a glass or measuring cup. Bake for 20 minutes.

3. Filling: White the crust is baking in the oven, combine brown sugar and flour. Mix well. Add eggs, vanilla extract, corn syrup, salt and heavy whipping cream. Let sit while crust bakes and stir every few minutes. Roughly chop your pecans and add just before the crust is done baking, stir well.

4. Once the crust is done, pour the pecan filling over the crust. Shake the pan to evenly distribute and use a spoon to spread out the pecans evenly! Bake for 40-50 minutes or until the filling it set. It will still have a little jiggle to it like jello but it shouldn't be liquid! Let cool completely before keeping in the fridge until read to serve!