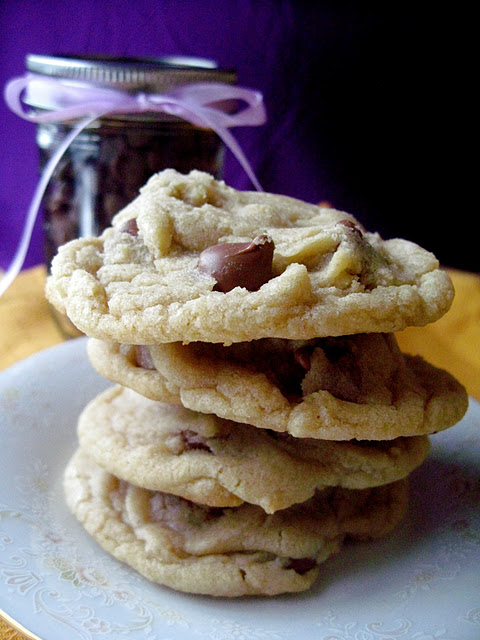 The Story:
First of all, thank you to
FoodBuzz
for making me a part of their Top 9 for March 31
st
. I felt completely honored, and it didn't help my view count either.
Second, I would like to ask something of you. I am a part of a performing group called
Noteworthy
, and I would like to invite you to take 25 seconds and vote for my groups to be a part of the Stadium of Fire, which is the largest 4th of July celebration in the world. Just go to this survey and vote for Noteworthy, video #38. If you want to see what I do when I'm not baking, you can type in "Noteworthy" to youtube and check it out.
Today's recipe is the classic chocolate chip cookie. But this one won't flatten out on you. It is from
AllRecipes
and adapted from the helpful comments people listed. I love it because you can make the dough the night before, and refrigerate it over night and then bake them in the morning. To spice them up, put a scoop of ice cream between two and make ice cream sandwiches for summer!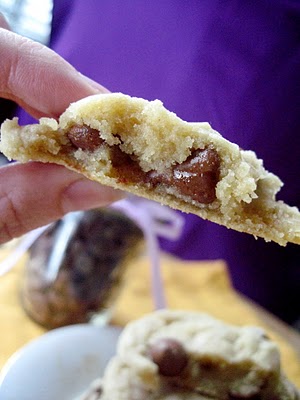 ¾ cup butter, melted and cooled
1 cup brown sugar, packed
1 ¼ cup milk chocolate chips (I use Guittard)
1.
Melt butter, let cool.
2.
In a separate bowl, sift flour, baking soda and salt together.
3.
In another bowl, beat sugars and melted (and cooled) butter together until light and fluffy, about 5 minutes.
4.
Add egg, yolk, and vanilla. Beat again. (If your eggs are cold, run them under warm water.)
5.
Slowly add in dry ingredients, then add chocolate chips.
6.
Form ¼ cup dough balls for large cookies and refrigerate for at least one hour. Or put in the freezer for 30 minutes.
7.
Preheat oven to 325 degrees and line cookie sheets with parchment paper if available.
8.
Place 6 dough balls per sheet and bake for 12-16 minutes depending on how soft you like your cookies.
9.
Remove immediately from cookie sheets and place on cooling racks. Let cool and store in airtight containers.