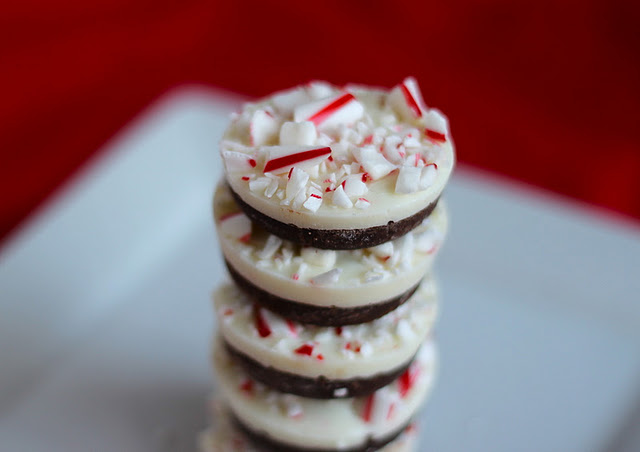 The Story:
I thought this was going to be simple. Nope. I can make fancy cupcakes in my sleep but I cannot make simple peppermint bark to save my life. The ones in the photo turned out fabulously, but I put the extra chocolate in a small dish and the dish was way too small so the bark was too thick to cut. Oh my.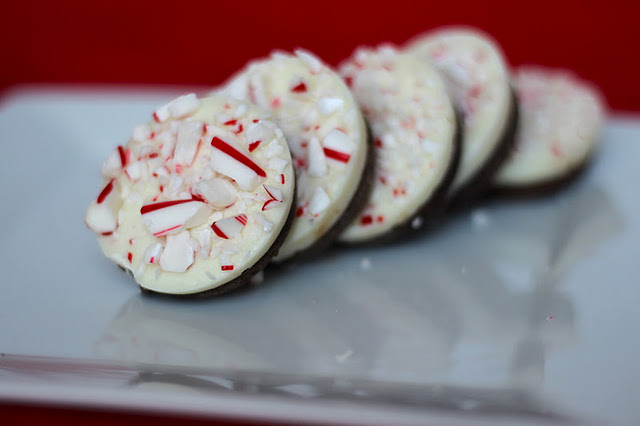 Ingredients:
1 bag White Chocolate Chips
Directions:
1.
Crush candy canes. Use a food processor or if you are like me and don't have one…place them in a plastic bag, cover with a dish towel and whack! (The bag may get little holes in it so you may use a few bags.)
2.
Use a sifter to separate the peppermint candies into larger chunks and peppermint "powder."
3.
Prepare a pan and line it with parchment paper. (If you plan to make little individual ones the like ones in my photos, be careful, they may get stuck when you try to take them out of the mini muffins tins. Fair warning. A commenter, Emma, said putting them in cupcake liners and then peeling them off when set worked perfectly!)
4.
Use a double boiler or microwave to melt the chocolate (semisweet, milk or dark).
5.
Mix peppermint powder into the melted chocolate and pour into dish.
6.
Put in the freezer until firm. About 10 minutes.
7.
Melt white chocolate and pour over frozen chocolate.
8.
Sprinkle the larger peppermint pieces on top and gently press into the chocolate.