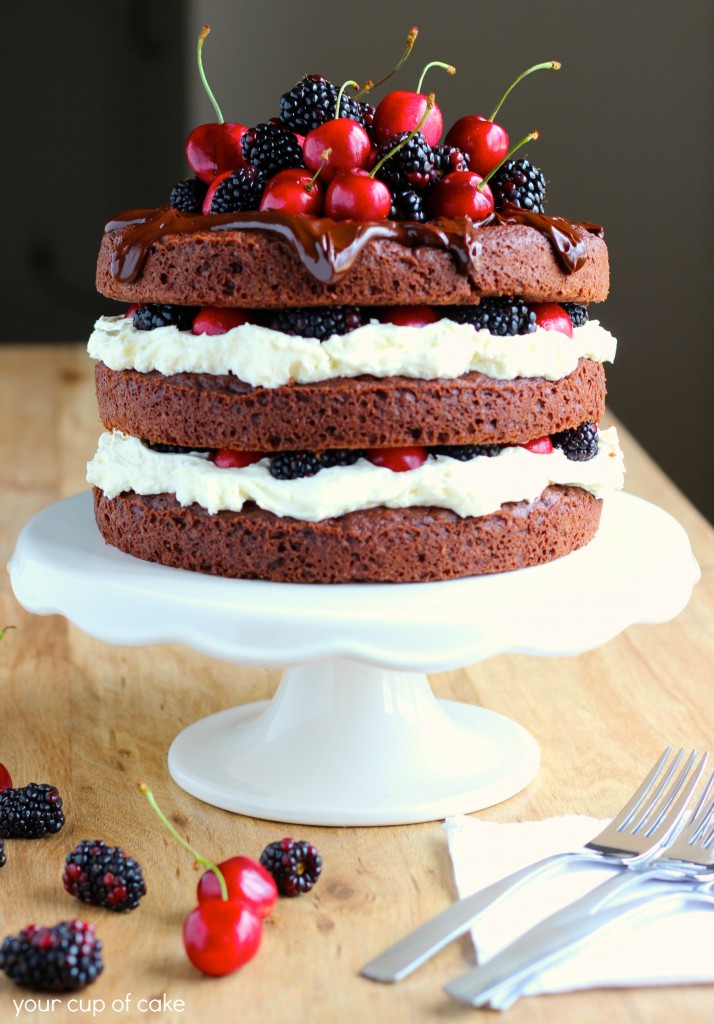 The Story:
I got stood up.
I lost to a soccer ball and it was quite pathetic. An afternoon in the kitchen with me baking this beautiful cake or 2 hours in 110 degree heat watching a bunch of men run around? The guy chose to ditch me and my sweets for the sweaty players in matching outfits.
Ouch.
I guess my track record isn't too good with men given my last few encounters. (The sneak attack and the pansy boy.)
Maybe I should straighten my hair and carry around a plate of vegetables…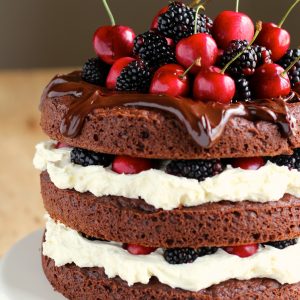 Blackberry Forest Cake
Ingredients
Chocolate Cake:
1

Box Devil's Food Cake Mix

3

eggs

1/2

C.

oil or melted butter

3/4

C.

milk or buttermilk

3/4

C.

sour cream or plain yogurt

1

tsp.

vanilla extract
Whipped Filling:
2

C.

heavy whipping cream

1

small pkg. instant pudding mix

white chocolate or vanilla flavored
Chocolate Ganache:
1

C.

chocolate chips

1/3

C.

heavy whipping cream
Blackberries and Cherries for decoration
Instructions
1. Preheat oven to 350 degrees and grease pans or line with parchment paper.

2. Sift cake mix into a small bowl and set aside.

3. In a large bowl, combine eggs, oil, milk, sour cream and vanilla extract until smooth.

4. Stir in cake mix.

5. Fill cake pans. ! used 3 8-inch pans but you can to 2 9-inch or whatever you have on hand!

7. Bake for about 15-25 minutes, just depending on the thickness of your cake. Test the center of your pan with a knife, poke it through and if it comes out clean (without any gooey batter on it) then it's done!

8. Let cool.

9. Whipped Filling: Using the whisk attachment on your Kitchen Aid or a hand beater, whip your heavy whipping cream and pudding mix until stiff.

10. Chocolate Ganache: Melt chocolate chips and heavy whipping cream together in the microwave until smooth. Heat for about 40 seconds, remove and stir. Continue in 15 second increments until smooth.

11. To assemble, layer cake, whipped topping, and berries until you reach the top of your cake. Then top with warm chocolate ganache and a mound of berries.