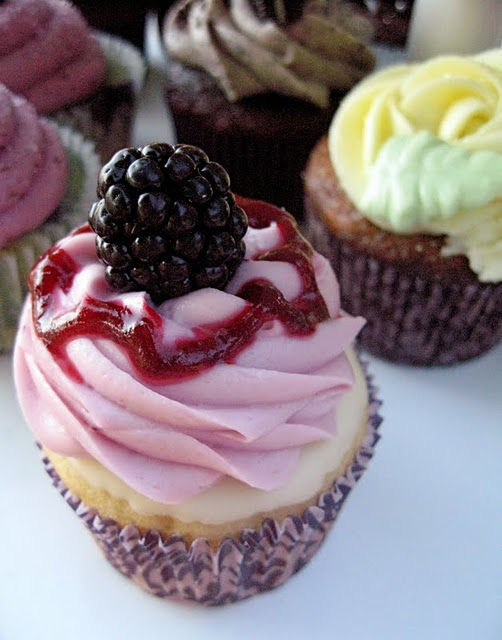 These cupcakes at the wedding were probably the biggest hit. The color scheme of the whole night was purple, so these beauties fit right in, and who could say no to a beautiful blackberry atop a cupcake anyway?
1 TB + 1 teaspoon vanilla
1/3 cup white chocolate chips
2-4 tablespoons heavy cream
4 tablespoons blackberry puree
1 cup fresh or frozen blackberry puree
¼ cup + 2 tablespoons sugar
1 ½ tablespoons cornstarch
1. Preheat oven to 375 and line muffins pans with cupcake liners (yields 24)
2. Beat butter and sugar until light and fluffy.
3. One slow, add eggs/egg whites one at a time until well combined. Add vanilla.
4. In a separate bowl, sift flour, baking soda, baking powder and salt together.
5. Add 1/3 of the dry ingredients, then buttermilk, then another 1/3 dry, sour cream, then last 1/3 dry. Make sure to let fully mix between each addition.
6. Fill cupcake liners ¾ full and bake for 18-21 minutes, or until and inserted knife or toothpick comes out clean.
7. White Chocolate Ganache: On the stove or in the microwave, heat white chocolate chips and heavy cream until melted while stirring, be careful not to heat too fast or it will burn. Add more cream if you want it to be thinner.
8. When cupcakes are cooled, dip the tops in the ganache and wait for the chocolate to set before piping. (I will dip one cupcake, and wait a few minutes to make sure my ganache is cooled/thick enough so it doesn't run off the side of the cupcake as well.)
9. Blackberry Buttercream: Beat butter, powdered sugar, milk and blackberry puree (puree should be strained to remove all seeds) for 2-3 minutes. (If too thick—add more milk or puree, if too thin—add more powdered sugar.)
10. Blackberry Orange Sauce: In a saucepan over medium heat, combine puree (strained), 1/8 cup water, orange juice and sugar. Stir while bringing to a boil. In a small bowl, mix together cornstarch. Slowly add the cornstarch mixture while stirring, and let simmer until sauce is thick enough to coat the back of a metal spoon. Remove from heat and add cinnamon. (You will have extra sauce, so use it on pancakes or waffles!)