For a fancy looking and easy to make appetizer go for this Brie Brûlée! Only 2 ingredients to this ooey gooey cheesy appetizer!


Cheesy Brie Brûlée Appetizer
When I married my husband I knew I was in for a life full of appetizers! His dinner sometimes consists of olives, cheese, crackers, marinated artichokes and fancy deli meats. He loves his finger foods! His family has a tradition on Christmas Eve of an appetizer dinner and it's incredible. A few days ago Parker asked me to make Brie Brûlée so of course I had to share this incredible appetizer with all of you! We've had it twice this week… whoops!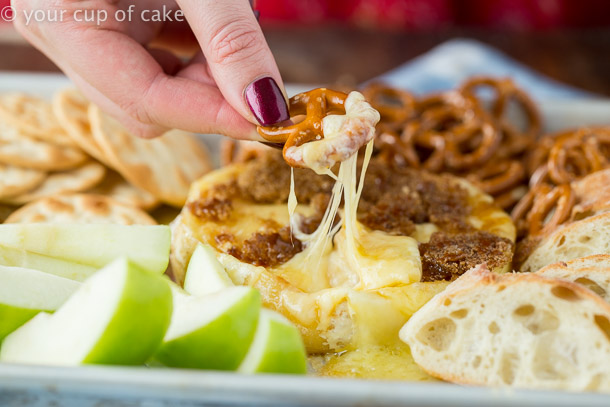 Easy Christmas Appetizer
This recipe is really easy. Cut off the top of the rind, bake, sprinkle brown sugar, broil, serve! And you can serve this Bri Brûlée with all types of crackers and fruits so everyone in the family is happy! It's almost like fondue but you don't need any fancy pots to serve it!
Cheesy Brie for Christmas
No round of Brie is created equal. They come in all sizes so you'll notice that the recipe isn't too specific. Just use enough brown sugar to give the top a good coating, you don't want too much or else it won't melt, but you also want enough to let it caramelize like creme brûlée would!
Look at that cheese! Sweet, salty… it's the perfect bite.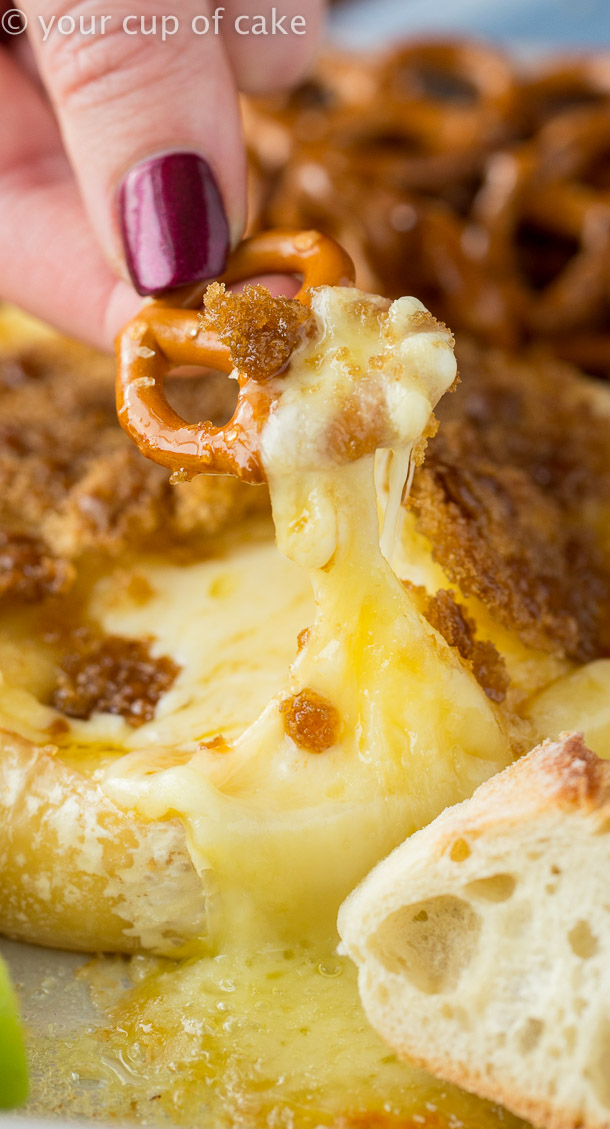 Christmas is just a few weeks away! Our tree is up, our cute advent calendar is entertaining us, and I keep working out to Christmas music! Do you have all your Christmas shopping done? I thought I did but then my husband ripped two of his three pairs of pants, so off to the mall I go! If you need ideas for gifts for bakers, I have a gift list including my all time favorite food scoops for cookies and cupcakes!
But do you want to know my favorite thing in the world? Sitting on the floor, wrapping presents with a sappy Christmas movie on in the background. It's my happy place.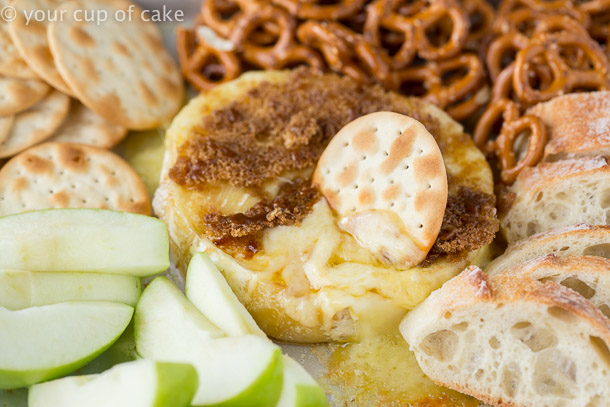 Here's a few step by step photos for all you visual learners out there, this will show you just how easy this is to make!

Enjoy my Brie Brûlée this Christmas season with all of your family! Spend less time in the kitchen and more time with the people you love, so find more easy recipes like these to make that happen! Love you all!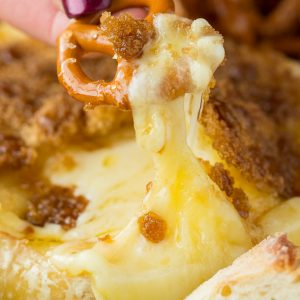 Brie Brûlée
Ingredients
1

round of brie

1/3-1

Cup

Brown Sugar

Crackers

pretzels, apple slices for dipping
Instructions
1. Preheat oven to 350 degrees.

2. Unwrap brie and use a knife to cut of the top rind. The rind is edible so you don't need to get it all off, just most of it. Place onto a cookie sheet.

3. Bake for 10-12 minutes or until you shake the pan and the cheese giggles because it's melted.

4. Sprinkle on brown sugar. Depending on the size of your round you'll need more or less. You don't want the brown sugar layer too thick or it won't melt all the way through.

5. Place in the oven on broil (medium-high) and watch it. Pull it out when the brown sugar has caramelized.

6. Serve immediately with crackers, pretzels and apple slices!