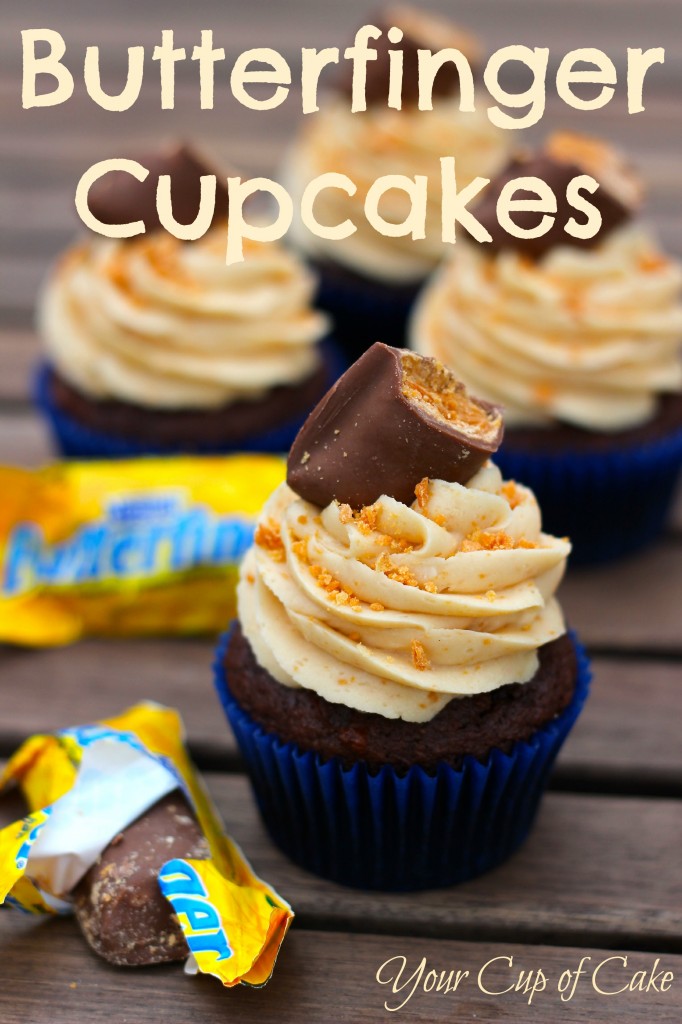 Chocolate cupcakes topped with Butteringer frosting, these Butterfinger Cupcakes will be your new favorite treat! Top them with fun-sized candies and they will be the hit of any party! How do I know? Because I make these all the time for parties and always get rave reviews. The frosting tastes like a DQ Blizzard!
I made a Butterfinger Cupcake Recipe about a year ago and they were AMAZING. But my photos were…not so great back then, so I decided I needed to update them. And now it's perfect time with the Halloween season kicking into high gear. So maybe you can sneak a few Butterfingers from your kid's Trick-or-Treat bag and whip up these babies.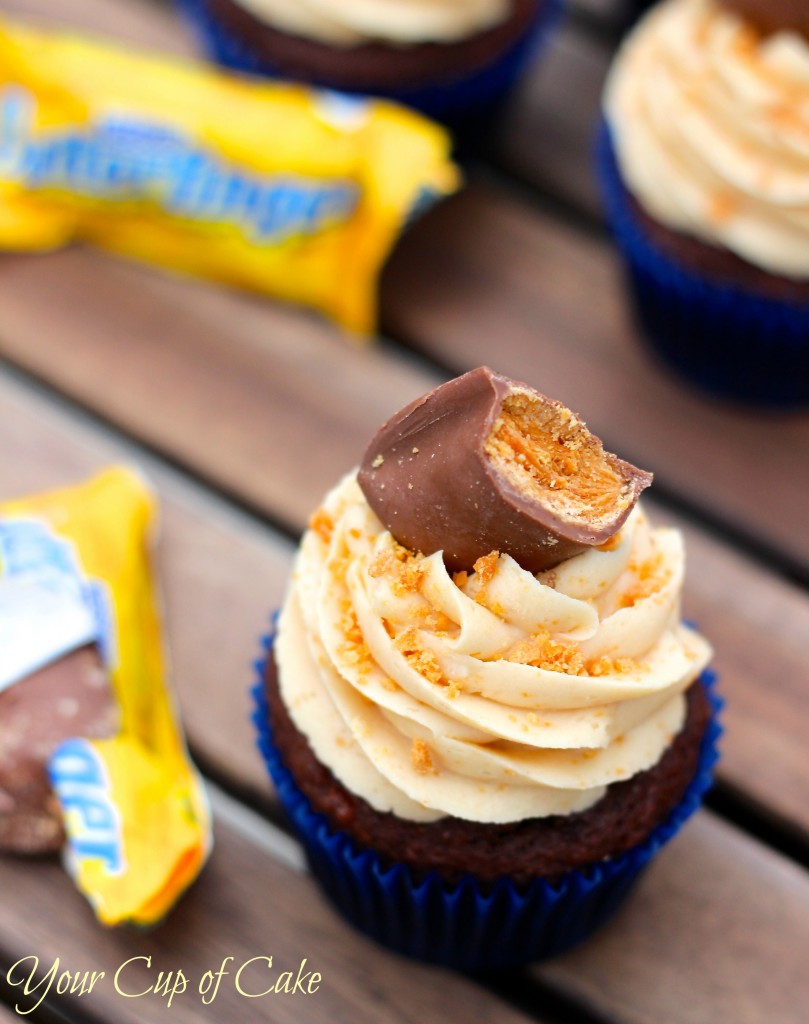 I used my little leftover Butterfinger pieces as sprinkles to top off the cupcakes… but you can just eat the left over pieces if you would rather 🙂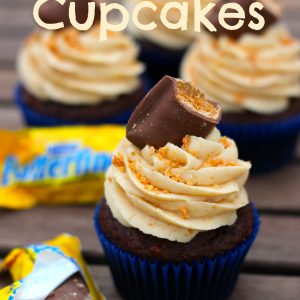 Butterfinger Cupcakes
Ingredients
Chocolate Cake:
1 box Devil's Food Cake mix
3 eggs
1/2 C. oil
3/4 C. milk or buttermilk
1/2 C. sour cream
2 tsp. vanilla extract
Butterfinger Frosting:
2 regular sized Butterfingers
3/4 C. butter softened
1/4 C. creamy peanut butter
1/2 tsp. vanilla extract
3-4 C. powdered sugar
Extra butterfingers to top
Instructions
1. Preheat oven to 350 degrees and line pans with cupcakes liners.

2. Sift cake mix into a small bowl and set aside.

3. In a large bowl, combine eggs, oil, milk, sour cream and vanilla extract.

4. Stir in cake mix until smooth.

5. Fill cupcake liners 3/4 full and bake for 17-22 minutes or until an inserted knife comes out clean.

6. Frosting: Start by prepping your Butterfingers. Unwrap them and zap them in the microwave for about 10-15 seconds. Then use a knife to scrape off the chocolate layer. Take the orange insides and crush them using a food processor or placing them in a plastic bag and rolling over them with a rolling pin. Put them through a sifter so that you only use the smallest "powder" that goes through.(It's okay if not all of the butterfingers pieces go through, you can save them and use them as sprinkles at the end.)

7. Place the Butterfinger "powder" aside and continue with your frosting. Beat butter and peanut butter in a stand mixer. Add vanilla and slowly add powdered sugar until you reach your desired consistency. Add your Butterfinger "powder." If it becomes too thick, add 1 Tbsp milk.

8. Pipe onto cooled cupcakes and top with pieces of Butterfinges.
I've lots more candy bar cupcake recipes!