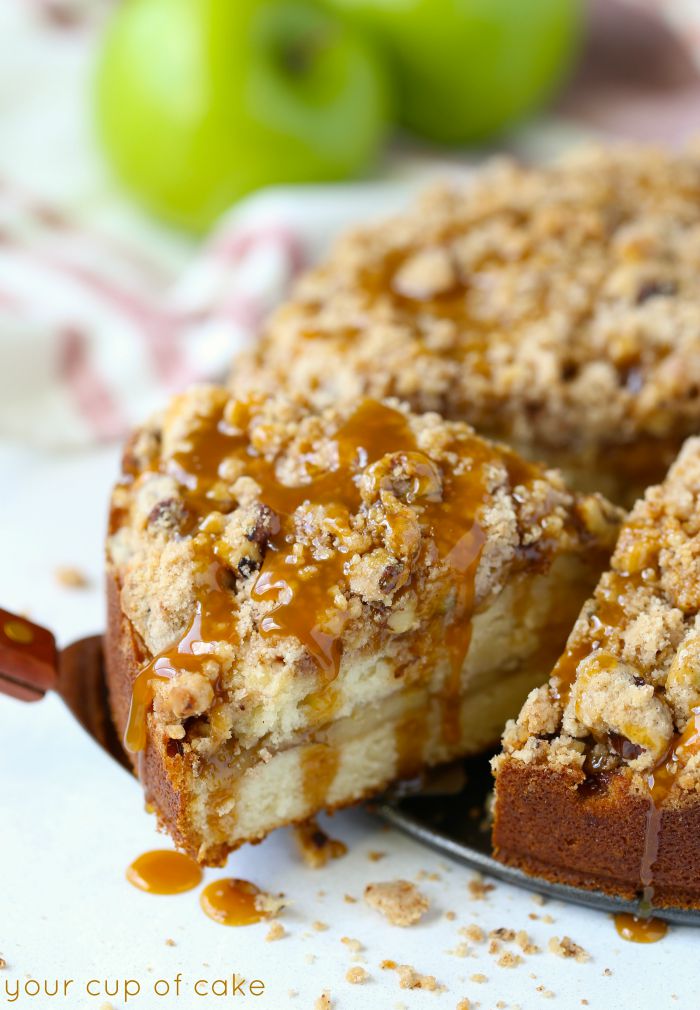 Apple cinnamon cake dripping in caramel sauce and covered in crunchy streusel topping. This is the fall dessert you've all been waiting for– Caramel Apple Coffee Cake. The sautéd apples are layered in, making it elegant and glamorous and perfect for any party from birthdays to book clubs.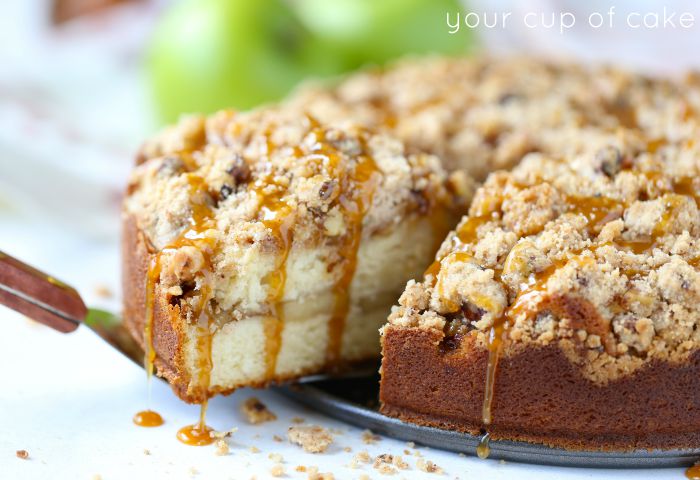 I was in a pinch, so I doused my cake with store bought caramel, but feel free to use your favorite caramel sauce recipe and pour it over the cake warm so it sinks into the cake.
If you wanted, you could always just grate the apples and stir them into the batter or even cup them up smaller and stir them in. I wanted to layer mine so I could see them better in the photos and I like finding big pieces of soft apple in my cake, it just seems more festive to me 🙂
I just eye-balled my batter as I poured most of it into the pan and then layered apples on top. Don't fret too much about it!

The trickiest part about this cake is just knowing when it's done. Because there's layers of apple in it when you go to stick a toothpick or something in the center if you poke an apple, you won't know if it's done or not because you can't get to the middle of the cake! I poked mine a few times until I found a spot without an apple and then I could figure it out. Looking back, I'm realizing if you just don't put any apples in the dead center, then you can easily check the middle of the cake! Problem solved!!
Be generous with your caramel sauce! The cake isn't all that sweet and you'll want the gooey caramel to act as your glaze. If you're serving this at a party, you can even just cute slices of the cake and then spoon on the caramel to individual pieces or let your guests put theirs on.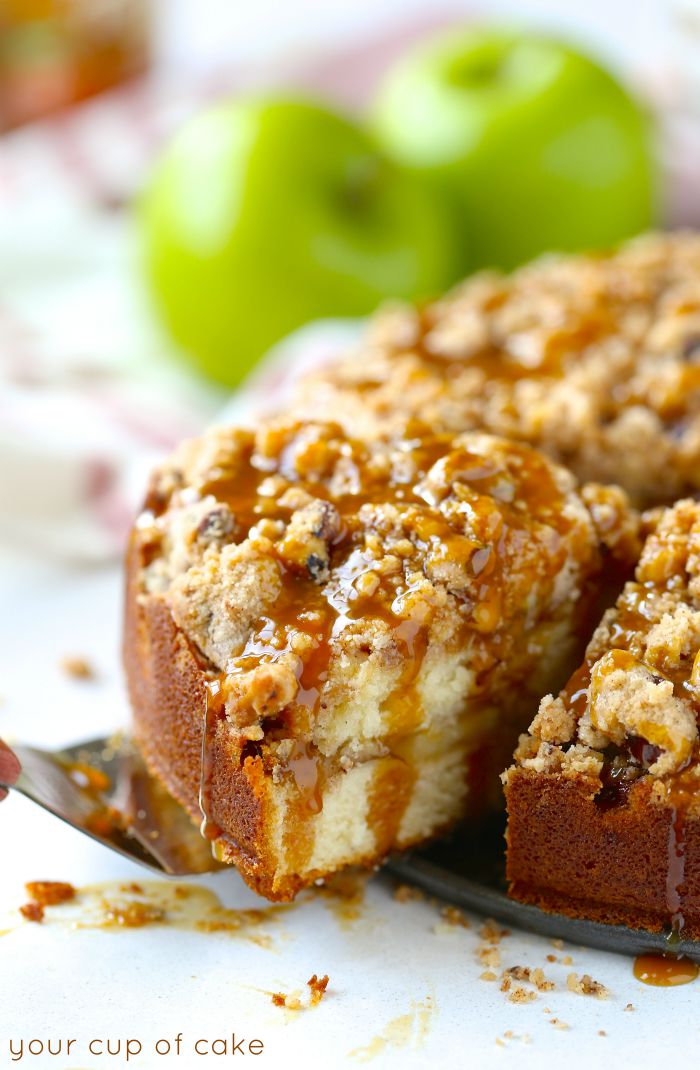 Is your mouth watering yet? I'm so excited for fall!
Fun fact: I love bobbing for apples, I think it's hilarious and so fun! I'm terrible at it but there's something comforting about fall that makes me want to be a 10-year-old kid again.
Caramel Apple Coffee Cake
Ingredients
STREUSEL TOPPING:

1

C.

flour

3/4

C.

chopped nuts

optional (walnuts or pecans work great)

1/2

C.

butter

melted

1/3

C.

brown sugar

packed

3

Tbsp.

sugar

1 1/2

tsp.

cinnamon

pinch

salt

CAKE:

3

apples

peeled and cut

2

Tbsp.

butter

1/2

C.

butter

1

C.

sugar

2

eggs

2

C.

flour

2

tsp.

baking powder

1/2

tsp.

baking soda

1/2

tsp.

salt

1

tsp.

cinnamon

2/3

C.

milk or buttermilk

1

Tbsp.

vanilla extract

Caramel Sauce

store bought or homemade
Instructions
1. Preheat oven to 350 degrees and grease a 9-inch spring form pan or you can use a small casserole dish.

2. Make topping by combining all ingredients, set aside.

3. Sautè apples in 2 Tbsp. butter on the stove and set aside.

4. Beat 1/2 C. butter and sugar together.

5. Add in eggs one at a time, scraping down the bowl as needed.

6. In a separate bowl. combine flour, baking powder, baking soda, salt and cinnamon. Pour half of these dry ingredients into the butter/sugar/egg mixture and gently mix. Add buttermilk and vanilla and the follow with the remaining dry ingredients. Mix only until combined.

7. Pour 2/3 of the batter into your prepared pan and spread out evenly. (See photos above.) Layer in half of the apples and then top with the rest of the batter and apples. Sprinkle on topping and bake for 40-55 minutes or until the cake is set. Check at 30 minutes, you may want to cover with foil to keep the top from browning too much. (read above in blog post for tips on knowing when it's done)

8. Let cool or serve warm. Pour 3/4 C. or caramel sauce over the top just before serving!