'Tis the season for bridal showers!
My cousin is getting married and I was invited to his fiancé's bridal shower. I offered to bring a dessert, so of course I brought cupcakes.
I knew the bride-to-be liked carrot cake, and it seemed dainty enough for a bridal shower. So I topped the cakes with white chocolate (died a peachy color) hearts and S's and B's (for Shayla and Benjamin). I also chopped up the photo strip that came in her wedding invitation and topped some of the cupcakes with the photos of her and Ben. Cute? Well, I thought so.
Carrot Cupcakes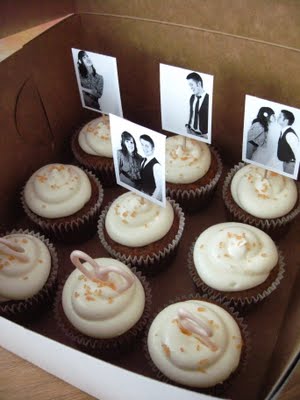 ½ cup applesauce
1/3 cup crushed pineapple (no juice)
2 teaspoons baking powder
Pineapple Cream Cheese Frosting
½ cup butter, room temperature
3 tablespoons pineapple juice
Directions: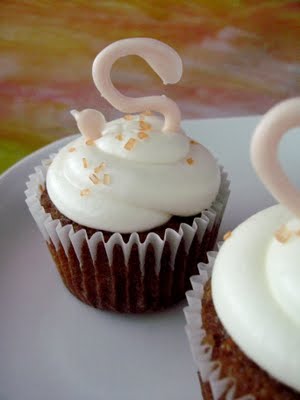 1.
Preheat oven to 350 degrees and line muffins tins with cupcake liners.
2.
In a large bowl, lightly beat eggs.
3.
Add oil, applesauce, sugar, brown sugar and vanilla and beat again.
4.
Stir in carrots and pineapple. (After draining my pineapple, I put it in the blender to puree because I didn't want any visible pieces in the finished cupcake.)
5.
In a separate bowl, sift flour, baking soda, baking powder, salt, cinnamon and nutmeg together.
6.
Slowly add the dry ingredients to the wet, do not over mix.
7.
Bake for 14-18 minutes, or until a knife comes out clean. Let cool on a cooling rack and place in sealed containers until ready to frost.
8.
Pineapple Cream Cheese Frosting: Beat cream cheese and butter for 7 minutes.
9.
Add pineapple juice and powdered sugar. (Add more pineapple juice for a stronger taste. If your frosting is too loose, refrigerate before frosting or piping.)
10.
Pipe onto cooled cupcakes.