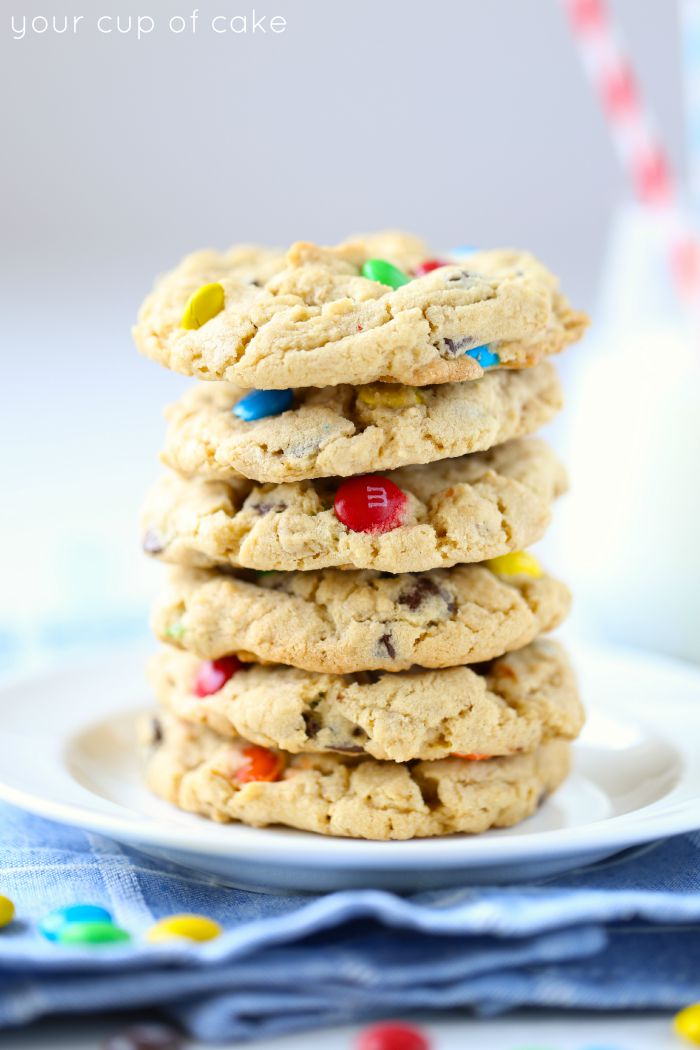 These Chewy M&M Cookies are baked up with oatmeal and chocolate chips to give them a little extra pizzaz! They're the perfect solution to a long day at work or a hard day at school. Or even just a night in watching your favorite movie.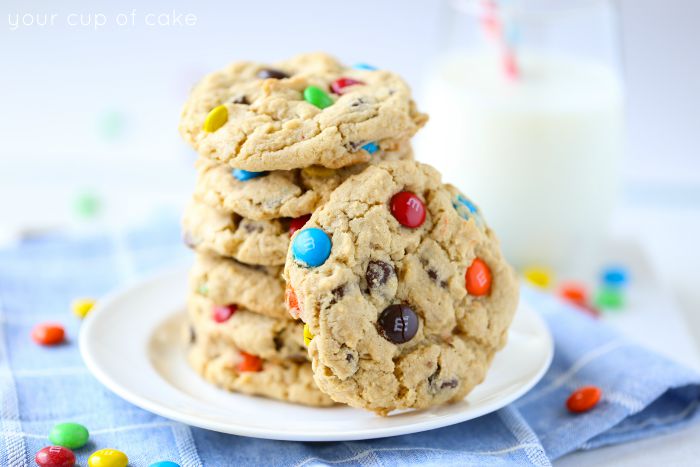 We've all seen those perfect M&M cookies at the bakery, but how do they make them look so good? Well, some of it has to do with the M&M's on top after they're baked! Just press a few into the tops and sides of your cookie dough balls before you bake them (or freeze them). This way, when they bake you'll still be able to see their bright color without all the dough covering them up! I always use a food scoop to make my cookie dough balls, it saves a lot of time and they're perfectly rounded and always the same size! It'a a miracle worker.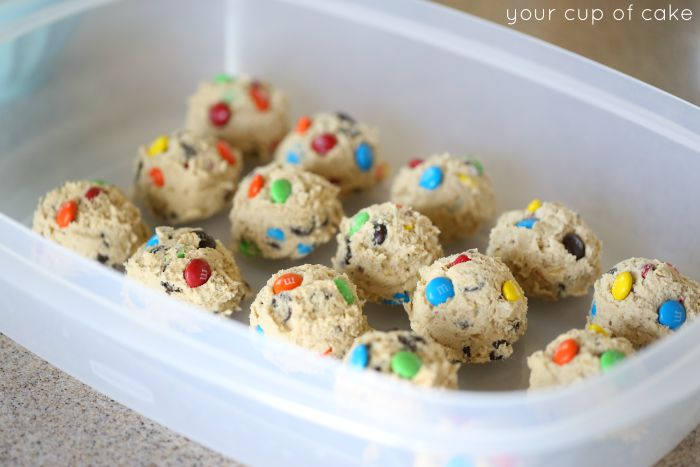 I always freeze my cookie dough balls before I bake them. I'll just pop them in a long tupperware and let them chill while I clean dishes. Why? The cookie tends to bake up a little taller and they have the crispy outside and the chewy, softer inside that most people love and look for in a recipe. I always have a bag full of chocolate chips cookie dough balls in my freezer standing by in case I'm in desperate need of a cookie. Then I can just bake one or two and not an entire batch to fill my craving!
See? You get those cute colored candies on top after you bake them!
Now, this recipe really is incredible. The oatmeal is what makes these so chewy and plus, they're a little more filling because of it, so you don't feel like you have to keep going back for more and more. I ate mine with a mug full of milk and I was one happy girl. And let's be honest, I can't sit there and be all cute dunking my cookie. I just drop the whole thing in and eat the pieces with a spoon 🙂 I'm classy like that.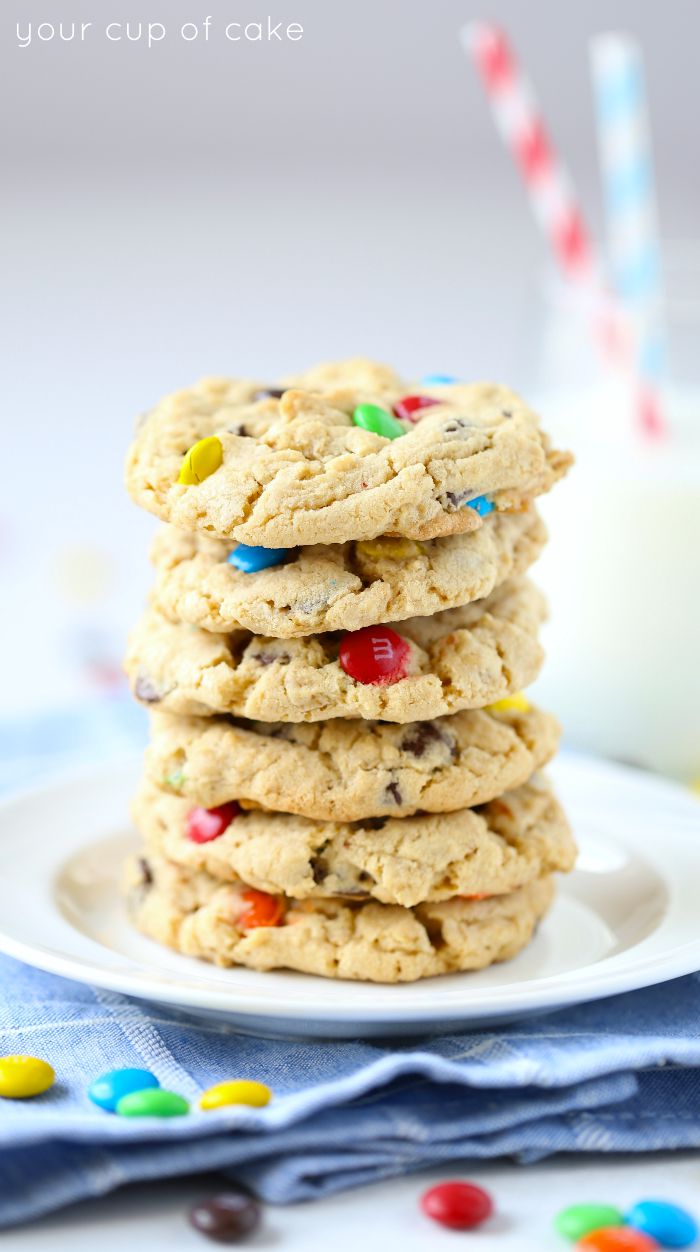 You found your new favorite M&M cookie recipe! They're that good.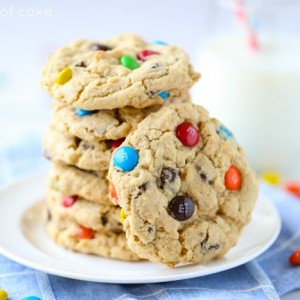 Chewy M&M Cookies
Ingredients
1

C.

butter

softened

1

C.

brown sugar

1/2

C.

granulated sugar

1

large egg

1

large egg yolk

1

Tbsp.

vanilla extract

2

C.

flour

1

C.

old-fashioned oats

you can use quick cooking oats

1

tsp.

baking powder

1

tsp.

baking soda

1

tsp.

salt

1 1/3

C.

chocolate chips

1

C.

M&M's

1/3

C.

M&M's
Instructions
1. Preheat oven to 325 degrees and line cookie sheets with parchment.

2. Using a stand mixer or hand beaters, beat butter, brown sugar and granulated sugar together until creamy. (About 2 minutes.)

3. Add in egg, egg yolk and vanilla extract. Beat a little after each addition.

4. In a separate bowl. whisk together flour, oats, baking powder, baking soda and salt.

5. Add dry ingredients slowly to the butter/sugar mixture and mix only unit just combined.

6. Add in chocolate chips and 1 cup M&M's and stir just until distributed evenly.

7. Scoop out cookie dough balls about the size of a golf ball (maybe a tad bigger) and use the extra 1/3 cup M&M's to stud the dough balls with extra M&M's. This way, when they bake you'll have some candies on the outside that make them look bakery perfect. (See cookie dough ball photo.)

8. At this point you can either freeze the dough balls for 30 minutes or you can bake them right away. I prefer freezing my dough first.

9. Bake for 15-20 minutes depending on how soft or crispy you want your cookies!

10. Serve with milk for the perfect after school (or work) treat!