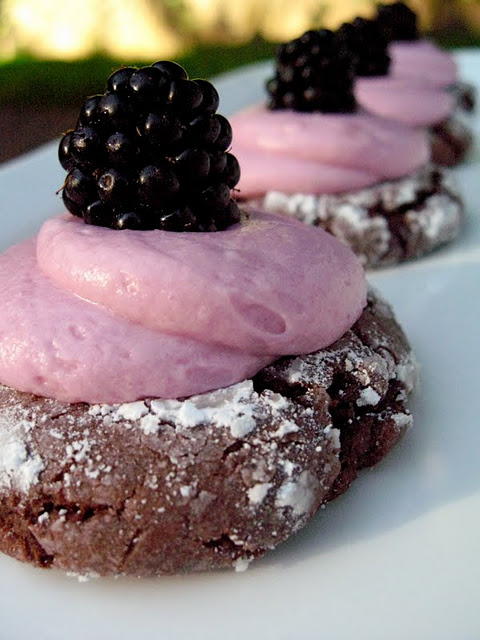 The Story:
Until I was 5, we had blueberry bushes down
our drive way, but after that we
moved to a house where blackberries grew along the other side of the road. My parents still live in that house, and I went and picked blackberries there for the first time in at least 5 years. As soon as I got close to the berries, it started to really smell like summer. Then once I tasted a berry, it was all over. One for me, one for the bowl, one for me….
Chocolate Cookies:
1 box Devil's Food Cake Mix
2 eggs
1/3 cup oil
1 teaspoon vanilla extract
¼ cup powdered sugar
Blackberry Cream:
4 ounces cream cheese
¼ cup butter
2-3 tablespoons blackberry puree, strained
½ teaspoon vanilla extract
2 cups powdered sugar
Blackberries to decorate
Directions:
1. Preheat oven to 350 degrees and line a cookie sheet with parchment paper.
2. Gently combine eggs, oil and vanilla extract.
3. Sift (for easy mixing) in Devil's Food Cake Mix and stir until combined. Dough will be very firm.
4. Make dough balls (about 1 ½ T in size) and then pat them out into disks ¾ thick.
5. Cover the dough in powdered sugar and place on cookie sheets
6. Bake for 7-10 minutes.
7. Blackberry Cream: Beat all ingredients and adjust taste and consistency as needed. (More powdered sugar to thicken, more purree or milk to loosen.)
8. Pipe cream onto cooled cookies and top with fresh blackberries.