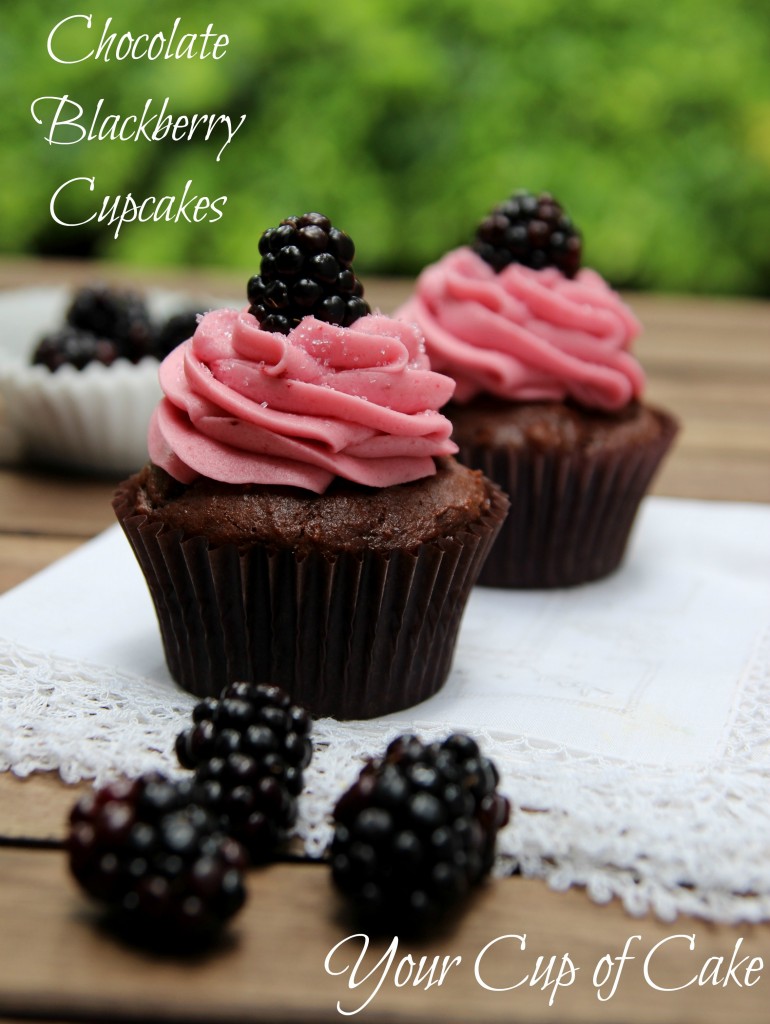 The Story:
My summers seem to have lost their magic. They used to be full of hiking, sleeping in the backyard under the stars, smokey campfires, craft camps and loosing a sense of what day of the week was. But now, all I seem to do is work. When I finally do have time to do something fun, I'm too tired to get out the door. But blackberries always seem to bring back my summer. When they start to grow on the vines in front of my house, I can't help but run out barefooted with a big bowl and fill it to the brim. The taste of blackberries warm from the sun will always bring back a little of that lost summer magic.
Chocolate Blackberry Cupcakes
Ingredients
Chocolate Cake:
1

box Devil's Food Cake mix

3

eggs

1/2

cup

oil

1

cup

milk

1/3

cup

plain or vanilla yogurt

2

teaspoons

vanilla extract
Blackberry Buttercream:
1

cup

butter

softened

3-4

cups

powdered sugar

4-5

tablespoons

blackberry puree

strained
Instructions
1. Preheat oven to 350 degrees and line pans with cupcake liners.

2. Sift cake mix into a small bowl and set aside.

3. In a large bowl, use a whisk to gently combine remaining cake ingredients.

4. Add cake mix to wet ingredients and stir until smooth.

5. Fill cupcake liners 3/4 full and bake for 15-20 minutes, or until an inserted knife comes out clean.

6. Buttercream: Beat butter for 2 minutes. Slowly add powdered sugar until the frosting becomes very thick. Slowly add berry puree a little at a time. Stop once the buttercream becomes the right consistency. If it becomes too loose, add more powdered sugar to thicken.

7. Pipe buttercream onto cooled cupcakes and top with a fresh blackberry.
Recipe Notes
To make blackberry puree, place berries in a blender or food processor and mix until smooth. Put the puree through a strainer to remove the seeds.