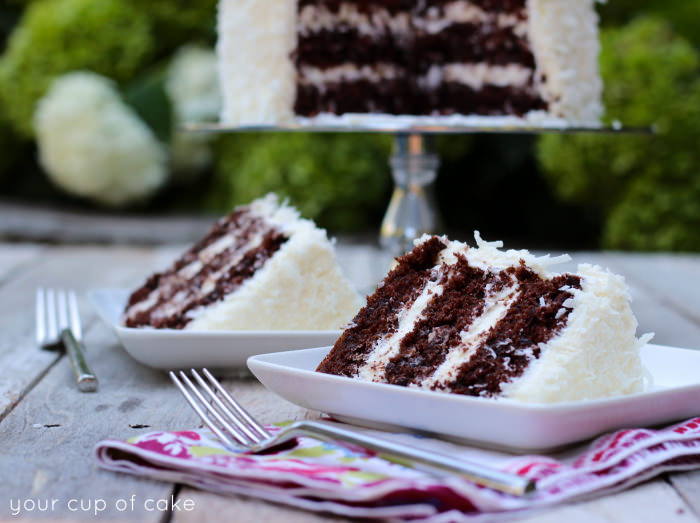 This easy Chocolate Coconut Cake is perfect for anytime you want a little taste of summer! It's made with a cake mix, so it's easy to make AND the way I decorated it was super simple too! So no need to stress because your cake will come out looking like the photos!
On a personal note… sorry I've been MIA! I have been traveling the last two months working for EFY as a youth camp counselor. And during that time my computer died on me, so that didn't help my blogging! But now my computer is fixed and I'm ready to get back to posting recipes every week! As always, please pin and share on fb to show your love and support for me and my blog!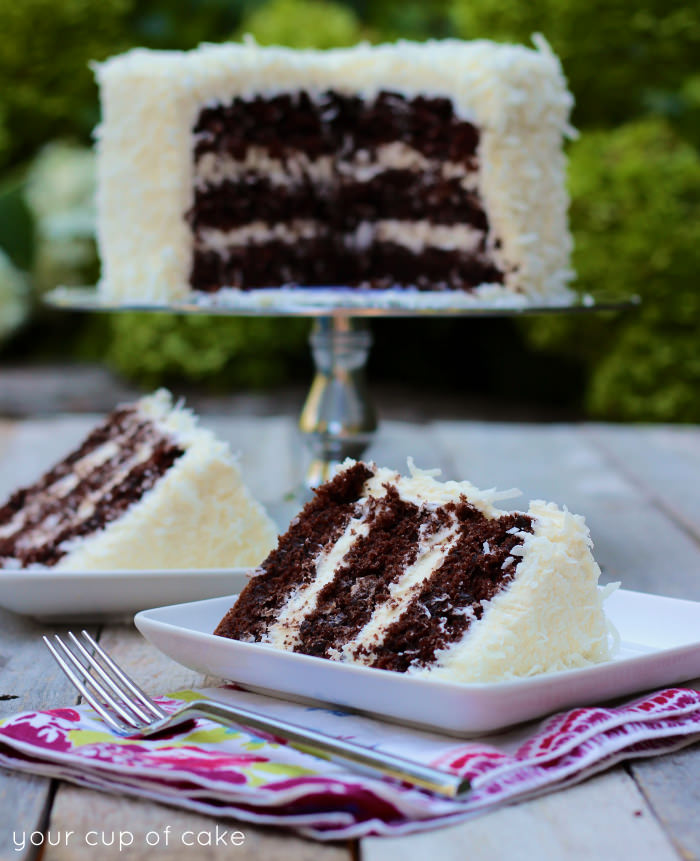 The Story:
I was always that nerdy kid who counted down the days until summer was over. Back-to-School shopping, new pencils, new teachers, new schedules, back on the bus in the mornings–I loved it all! Even when I was in college I would go a few days early and walk from building to building to make sure I knew where all my rooms would be, I didn't want anyone mistaking me for Freshman who didn't know what building was what.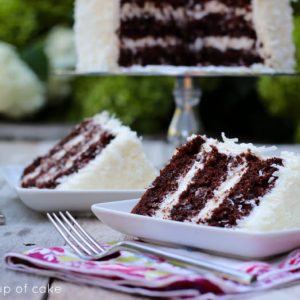 Chocolate Coconut Cake
Ingredients
Chocolate Cake:
1

box Devil's Food Cake Mix

3

eggs

1/2

C.

melted butter

slightly cooled or oil

1

C.

buttermilk

1/2

C.

sour cream

2

tsp.

vanilla extract
Coconut Cream Frosting:
1

C.

butter

room temperature

16

oz.

cream cheese

2

tsp.

coconut extract

more for a stronger taste

1

tsp.

vanilla extract

4-6

C.

powdered sugar
Coconut Shavings for decoration
Instructions
1. Preheat oven to 350 degrees and grease cake pans and line bottoms with parchment paper. I used 3-8 inch rounds but 2-9 inch rounds will work great as well!

2. Sift cake mix into a large bowl and add remaining cake ingredients. Stir until smooth.

3. Divide evenly into pans and spread out.

4. Bake for 15-20 minutes depending on the thickness of the batter in each pan. An inserted knife should come out clean.

5. Let cool.

6. Coconut Cream Frosting: Beat butter and cream cheese until smooth. Add coconut extract, vanilla extract and slowly add in powdered sugar until you reach your desired consistency.

7. To assemble cake, place one layer of cake on your cake stand/plate and frost the top, then place another layer of cake and do the same thing. When your final layer of cake is on top, cover the entire cake in frosting and then take handfuls of coconut shavings and gently pat it into the frosting so that it sticks.

8. Enjoy!

NOTE:You can lightly toast your coconut shavings for more texture and color!
I stacked one more layer of cake on top of this before I frosted the whole thing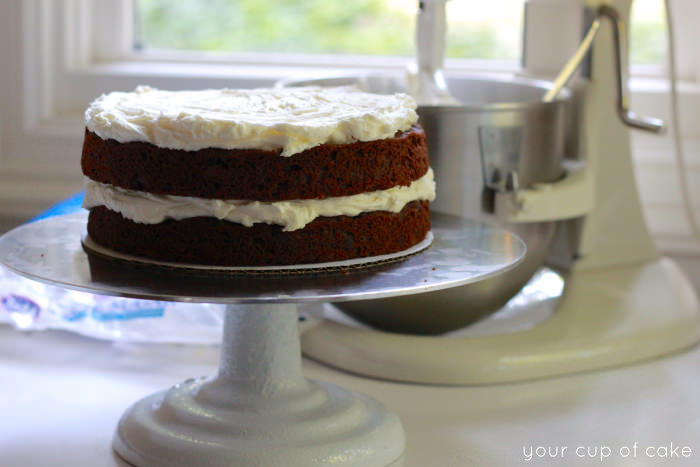 It looks so snazzy! And it really is SO easy to decorate!